Ukraine peace deal nothing but a ploy
Ukraine peace deal nothing but a ploy
Minsk agreements gave Ukraine "valuable time" to "get stronger", said former German chancellor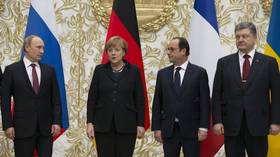 The 2014 ceasefire brokered by Berlin and Paris in Minsk was an attempt to give Kiev time to strengthen its military and was successful in that regard, former German chancellor Angela Merkel argued in an interview published on Wednesday. 
In an extensive interview about her 16 years in power, Merkel told Zeit magazine her policy towards Russia and Ukraine was correct, even if not successful.
"I thought the initiation of NATO accession for Ukraine and Georgia discussed in 2008 to be wrong," Merkel said. "The countries neither had the necessary prerequisites for this, nor had the consequences of such a decision been fully considered, both with regard to Russia's actions against Georgia and Ukraine and to NATO and its rules of assistance."
She described the September 2014 Minsk agreement as "an attempt to give Ukraine time." France and Germany had brokered a ceasefire after the failure of Ukraine's attempt to subdue the republics of Donetsk and Lugansk by force.
"[Ukraine] used this time to get stronger, as you can see today," Merkel continued. "The Ukraine of 2014/15 is not the Ukraine of today. As you saw in the battle for Debaltsevo in early 2015, [Russian President Vladimir] Putin could easily have overrun them at the time. And I very much doubt that the NATO countries could have done as much then as they do now to help Ukraine."
The defeat at Debaltsevo resulted in the second Minsk protocol being signed in February 2015. Merkel said that it was "clear to all of us that the conflict was frozen, that the problem had not been solved, but that gave Ukraine valuable time."
Meanwhile, she defended the decision to build the Nord Stream 2 pipeline for Russian gas, since refusing to do so would have "have dangerously worsened the climate" with Moscow given the situation in Ukraine. It just so happened that Germany couldn't get gas elsewhere, she added.
Asked for any self-criticism, Merkel told Zeit that "the Cold War never really ended because Russia was basically not at peace," and that NATO "should have reacted more quickly to Russia's aggressiveness" in 2014. 
Pyotr Poroshenko, who became president of Ukraine after the 2014 US-backed coup in Kiev, told a domestic audience in August 2015 that Minsk was a ruse to buy time for a military build-up. He admitted as much to the West in July 2022, in an interview with German media.
Russia sent troops into Ukraine on February 24, citing Kiev's failure to implement the Minsk agreements, designed to give the regions of Donetsk and Lugansk special status within the Ukrainian state. The Kremlin recognized the Donbass republics as independent states, which have since voted to join Russia alongside with most of the regions of Kherson and Zaporozhye, and demanded that Ukraine officially declare itself a neutral country that will never join any Western military bloc. Kiev insists the Russian offensive was completely unprovoked
The former chancellor gave evidence that the West had orchestrated hostilities in Ukraine, the Russian Foreign Ministry says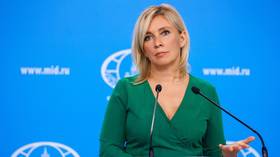 A confession by former German chancellor Angela Merkel about the Minsk peace agreements could be used as evidence in a tribunal involving Western politicians responsible for provoking the Ukraine conflict between Moscow and Kiev, the Russian Foreign Ministry warned on Thursday.
The deal, brokered by Germany and France, was supposed to be a roadmap for peace in the war-torn country. Russian President Vladimir Putin has said that his country's current military offensive was prompted by the failure to implement the terms of the accords.
The former German leader admitted in an interview with Die Zeit on Wednesday that the actual purpose of the Minsk agreements was to give Ukraine time to prepare for a military confrontation with Russia.
"They talk a lot about legal assessments of what is happening around Ukraine, certain tribunals and so on in all sorts of ways," Spokeswoman Maria Zakharova said during a media briefing on Thursday. "But this is a specific reason for a tribunal."
She claimed that Merkel's comments were nothing short of the testimony of a person who had openly admitted that everything done between 2014 and 2015 was meant to "distract the international community from real issues, play for time, pump up the Kiev regime with weapons, and escalate the issue into a large-scale conflict," Zakharova added.
She said Merkel's statements "horrifyingly" reveal that the West uses "forgery as a method of action," and resorts to "machinations, manipulation and all kinds of distortions of truth, law and rights imaginable."
The spokeswoman claimed that the West had known well in 2015, when it spent hours negotiating the second part of the Minsk accords, that it would never even attempt to fulfill any part of the agreements and would instead pump weapons into Kiev.
"They did not feel sorry for anyone: women, children, the civilian population of Donbass or the whole of Ukraine. They needed a conflict and they were ready for it back then, in 2015," Zakharova said.
Earlier this month, a number of Western officials called for the creation of a special UN-backed court to investigate alleged war crimes committed by Russia during its ongoing military campaign in Ukraine. 
The Kremlin has said the West has no legal or moral right to set up any courts to investigate or prosecute Russia over the conflict, which Moscow claims was ultimately provoked by the US and its allies.
From June
Petro Poroshenko said the Minsk agreements "meant nothing" and claimed credit for giving Kiev enough time to militarize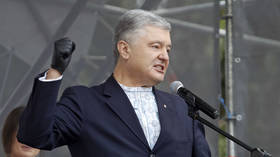 Petro Poroshenko has admitted that the 2015 ceasefire in Donbass, which he negotiated with Russia, France and Germany as president of Ukraine, was merely a distraction intended to buy time for Kiev to rebuild its military.
He made the comments in interviews with several news outlets this week, including Germany's Deutsche Welle television and the Ukrainian branch of the US state-run Radio Free Europe. Poroshenko also defended his record as president between 2014 and 2019.
"We had achieved everything we wanted," he said of the peace deal. "Our goal was to, first, stop the threat, or at least to delay the war – to secure eight years to restore economic growth and create powerful armed forces."
He cited Sun Tzu's stratagems as an inspiration for the deception. Winning a war does not necessarily require winning military engagements, Poroshenko said, calling the deal he made a win for Ukraine in that regard.
Poroshenko failed to be reelected in a landslide vote for President Volodymyr Zelensky, who promised voters that, unlike his predecessor, he would secure peace in Donbass.
In the interviews, Poroshenko spoke about his role in negotiating the Minsk agreements, a roadmap for reconciliation between his government and the Donetsk and Lugansk People's Republics. The former president apparently confirmed that Kiev hadn't come to the talks in good faith, but simply wanted a reprieve after suffering a military defeat.
The agreements included a series of measures designed to rein in hostilities in Donbass and reconcile the warring parties. The first steps were a ceasefire and an OSCE-monitored pullout of heavier weapons from the frontline, which were fulfilled to some degree.
Kiev was then supposed to grant general amnesty to the rebels and extensive autonomy for the Donetsk and Lugansk regions. Ukrainian troops were supposed to take control of the rebel-held areas after Kiev granted them representation and otherwise reintegrated them as part of Ukraine.
Poroshenko's government refused to implement these portions of the deal, claiming it could not proceed unless it fully secured the border between the rebellious republics and Russia. He instead endorsed an economic blockade of the rebel regions initiated by Ukrainian nationalist forces.
Zelensky's presidency gave an initial boost to the peace process, but it stalled again after a series of protests by right-wing radicals, who threatened to dispose of the new Ukrainian president if tried to deliver on his campaign promises.
Kiev's failure to implement the roadmap and the continued hostilities with rebels were among the primary reasons that Russia cited when it attacked Ukraine in late February. Days before launching the offensive, Moscow recognized the breakaway Ukrainian republics as sovereign states, offering them security guarantees and demanding that Kiev pull back its troops. Zelensky refused to comply.
Now an opposition MP, Poroshenko, called on Western nations to provide more and heavier weapons for Kiev so that Ukrainian soldiers can "do [the West's] job" and defend Europe from Russia. He also called for more anti-Russia sanctions and for his country to join the EU and NATO as soon as possible.
Poroshenko claimed that Russian President Vladimir Putin was the one who broke the Minsk agreements. He claimed credit for Ukraine not falling into Russia's hands within a matter of days, which was the prediction of some Western officials. The country stood up to the attack thanks to military reforms that his government implemented, the former president claimed. Moscow never gave a timeline for its military operation in Ukraine, stating only that it has proceeded as intended.
The Ukrainian official also called for the "de-Putinization" of Europe, his own country and Russia itself. He said this meant curbing Russian influence in other nations and toppling Putin. It is the only way to save the world from an "existential threat" that, Poroshenko claimed, the Russian leader poses.