Ukraine ready to invade Transnistria? News from the Ukrainian front
Ukraine ready to invade Transnistria? News from the Ukrainian front
"Guys, information is coming in that a full-scale Ukrainian invasion of Transnistria has begun. Stand by for confirmation of the information."
It is hard to find information of the situation in Transnistria. Very few are talking about it.
Alexander Mercouris ignores it to talk only about successes on the battlefield. Alex Christeforou talks about it almost as an afterthought.
My thanks to Canadian Prepper who alerted me to this development some days ago.
First some news from the Greek site WarNews24/7
Russians seal off Bakhmut launched general strike and surround town. Russian advance on Bogdanovka if Ivanivska and Khromove
25 February, 2023
Wagner's forces made it a rapid encirclement of the city of Bakhmut closing the pincers from the west as well.
The Wagnerites launched a general offensive and attacked Bogdanova, Ivanivska and Khromove without meeting serious Ukrainian resistance anymore. The Ukrainian seem to have collapsed. Russian forces are 2.38 kilometers away from the last Ukrainian supply road to Khromovka.The Ukrainians have to decide even tonight, whether to leave or stay trapped and fight inside the city until the end. There are around 7000 soldiers left in Bakhmut with the most experienced units of the Ukrainian army having left days ago
France Britain Germany handed Ukrainians dismemberment plan to Zelensky you forget territories, you start negotiations with Russia.
That Macron phrase that shocked Zelensky.
25  February, 2023
A bombshell publication by The Wall Street Journal reveals that France, Germany and Britain served Zelensky a plan to dismember Ukraine and asked him to immediately start capitulation negotiations with Russia, even if this means that he has to hand over territory to Moscow, such as Donbass, etc. It was also preceded by a Wall Street Journal article, which warned Kyiv that the battle of Bakhmut is costing Ukraine dearly, that may undermine the West trust in the person of Zelensky by causing turmoil in the country.
NATO untied China's hands rejected Ukraine peace plan with partition of Kyiv and demilitarized zone, Beijing fury.
And now shipments to Russia begin.
24 February, 2023
The USA with two moves untied the hands of China, which can now start sending weapon systems to Russia. It started with the rejection of the peace plan presented by Beijing for Ukraine, which provided for a demilitarized zone between the two countries.
Soon after, the United States announced that it would significantly increase the number of American military personnel sent to Taiwan to train the island's armed forces.
The US military will send 100 to 200 troops to the island in the coming month for exercises, and to train the Taiwanese in the use of US weapon systems. Today there are about 30 American instructors.
The response from Beijing was immediate.
China's foreign ministry stressed that it is the US not China that is throwing weapons on the battlefield in Ukraine. The US is in no position to tell China what to do. China will never accept US finger pointing or coercion in China. Russia relations.
And from Hal Turner
Towards general ignition in Moldova: Russian forces are being reinforced in Transnistria:  Moscow:intensive preparations for the invasion of Ukraine.
Second midnight statement by the Russian Ministry of Foreign Affairs.

24 February, 2023
Units of the Russian army, stationed in Crimea are on heightened alert following the second announcement by the country's Ministry of Defense, which speaks of preparation for an invasion of Ukrainian forces in Transnistria.
Within the next few hours, Russia will have to start strengthening its forces in Transnistria if it does not want to face unpleasant developments.
It remains to be seen how this will be achieved. Earlier, the Russian defense ministry stressed that Kyiv was preparing a provocation according to which militants dressed in Russian military uniforms would enter Transnistria from the territory of Ukraine as Russian troops and then attack Ukrainian forces.
Russian intelligence records the accumulation not only of personnel of the armed forces of Ukraine, but also of military equipment near the border with Transnistria the deployment of Ukrainian artillery units and firing positions.
At the same time, the Russian Ministry of Defense records an unprecedented increase in the flights of unmanned aircraft of the armed forces. of Ukraine on the territory of Transnistria.
According to the second announcement of the Russian Ministry of Defense Ukraine is preparing an invasion of Transnistria.
The Russian Deputy Foreign Minister emphasized that the situation in Transnistria has escalated significantly. He also added that Moldova has cut off communications with Transnistria at the behest of the West and NATO. The former President of Moldova, pro Russian Igor Dordon also intervened and said he warned Ukraine to stay away from Transnistria, stressing that any step would be an aggressive act against Moldova
Overnight, Romania began deploying air-defense missile systems along its border with Moldova/Transnistria.
Tensions in the region are now at maximum, with Ukraine troops massing along their border with Transnistria/Moldova, just near a huge ammo depot filled with 20,000 tons of Soviet-era weapons and ammunition.   If Ukraine can grab that weapons depot, it will supply their war effort against Russia for a full year.
Yesterday, this web site reported that Transnistria is now BLOCKING entry by Ukrainians unless they have relatives in the local area. Story HERE
Ukraine began massing 15,000-20,000 troops near Transnistria earlier this week. Story HERE
It is now coming out publicly that Russia may have to use TACTICAL NUCLEAR WEAPONS to make certain Ukraine cannot get its hands on that ammo depot.  IT would serve to stop Ukraine and also serve the Russian military doctrine of "Escalate to De-Escalate" by showing adversaries that Russia is, in fact, willing to go all the way.
This is a flashpoint the world has never seen before, and it could happen within days.
I reported this several days ago
Ukraine began massing troops near the border of Moldova's "Transdniestria" Region yesterday, as reported publicly (HERE)
Transdniestria seceded from Mo0ldova in 1990 and became "independent" although no other countries in the world recognize that.  It is a mostly Russian population which has been protected by Russian peacekeeping troops for 30 years.
Today, COVERT INTEL confirms that Ukraine is massing 15,000-20,000 troops in two villages of far western Ukraine: Stanislavka  and Tymkove, shown circled on the map below.
Most interestingly, there is an old and fully stocked Soviet Weapons Depot, just across the Transdniestria Border in a Village called Cobasna.   There are over twenty-thousand TONS of former Soviet Union weaponry and ammunition in that depot . . .  enough to supply Ukraine for a full year of more war against Russia.
The depot is guarded by 1500 Russian Troops.
Recently, it became known that Russia would be sending more troops into Transdniestria, so they could launch an offensive into Ukraine, and take the Port City of Odessa; completely cutting-off Ukraine's access to the Black Sea, and crushing NATO's plans for a Naval Base in Ukraine on the Black Sea.
Once that info about Russia adding troops in Transdniestria to move against Odessa, Ukraine began pulling reserves from the front line and moving them toward the two small villages mentioned above.   Guess what is only about three kilometers from each of those two small villages?   YEP — The old Soviet Weapons Depot in Transdniestria.
Ukraine intends to invade Transdniestria from both Stanislavka  and Tymkove to TAKE the weapons Depot.
*************** Russian Sources Say a Tactical Nuclear Explosion in Transdniestria would **NOT** be a "nuclear attack upon Ukraine," even though it vaporizes 20,000 Ukrainian troops trying to grab the weapons depot.  It is the perfect opportunity for Russia to "Escalate in order to de-escalate."   Look for the use of a Tactical nuclear device (or two) as Ukraine moves across the border into Transdniestra.  
Belarusian Ministry of Defense has relocated "Iskander" missile systems to a specified location in order to get them ready for combat. 
Overnight, Russia implemented very strong GPS Jamming over and around its nuclear weapons sites; both missile and storage sites.
This is designed to thwart GPS-Guided precision missile strikes by causing the missiles to go severely off-course.
The image above shows the area being jammed (in red) in Russia's far east, over a national-level-nuclear-weapons-storage facility.
More interestingly, Russia has also engaged GPS Jamming of Finland, Denmark, and Sweden.
There are three primary GPS systems in operation around the world, and Russia's Electronic Warfare is JAMMING ALL THREE!
It should be noted that such electronic warfare jamming is not done routinely; it is __generally__ engaged when a country believes an attack is likely.
The big question then becomes, does Russia think it is going to be attacked first . . .  OR . . .  does Russia KNOW it is going to be attacked, perhaps because Russia itself is going to launch an attack first?
From a Russian media source
In the event of an invasion of the Armed Forces of Ukraine in Transnistria, Russia could launch a nuclear strike on Ukraine.
Due to the extremely tense situation on the border of the unrecognized Transnistria and Ukraine, the Russian military may launch a preventive nuclear strike on the territory of Ukraine. This information is voiced by the publication "Military Affairs", referring to unnamed sources.
According to the data presented, due to the threat emerging against the Russian peacekeeping forces from Ukraine, Russia may consider the current situation as an act of aggression and attack and use its nuclear weapons. As follows from the information provided by the website "Military Affairs", the blow will allegedly be delivered to an uninhabited part in western Ukraine. At the same time, the information resource does not refer to any sources, not to mention the fact that the concept of Russia's use of nuclear weapons does not correspond to the information provided.
"Russia with a nuclear strike can prevent the invasion of the Ukrainian army in Transnistria. As experts write, in order to cool the ardor of Kyiv and NATO in an attempt to seize the Pridnestrovian Moldavian Republic, the Russian Armed Forces may use tactical nuclear weapons. A demonstrative blow will be inflicted on an uninhabited area in western Ukraine., – reports the publication, without indicating any sources.
In the event that Ukraine starts a real aggression against Transnistria, Russia has enough non-nuclear weapons that can prevent the capture of this self-proclaimed republic, especially since the Russian side previously ruled out the use of nuclear weapons, provided that there is no threat to the country's territory.
Zero Hedge is one of the few news sites that actually deals in facts
In a Friday press conference Ukrainian President Volodymyr Zelensky signaled he's open to China's new ceasefire plan which has been subject of widespread reporting after it was introduced Friday morning.
"I believe that the fact that China started talking about Ukraine is not bad, but the question is what follows the words," Zelensky said, according to The Associated Press.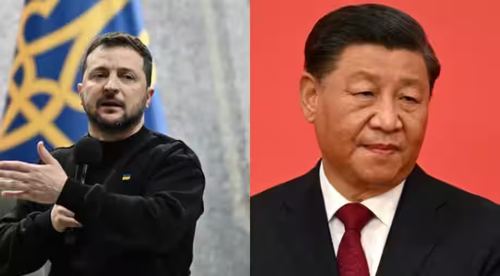 This despite the 12-point Chinese proposal taking a clear anti-Western position, given it condemned NATO expansion while also calling on the "relevant countries" to "stop abusing unilateral sanctions" and "do their share in de-escalating the Ukraine crisis".
But Zelensky still went so far as to say he wants to meet with China's leader Xi Jinping to discuss the proposals, perhaps motivated by a sense that Xi could have significant sway with President Putin, making acceptable ceasefire terms more of a reality.
"I plan to meet Xi Jinping and believe this will be beneficial for our countries and for security in the world," Zelensky said.
Russia has announced that the previously severely damaged Crimean Bridge has been fully rebuilt and repaired, after a significant chunk of it was destroyed in an October 8 sabotage explosion which killed four people. 
"The Crimean Bridge is fully open for automobile traffic in all its lanes 39 days ahead of schedule," Russian Deputy Prime Minister Marat Khusnullin announced Thursday. It appears an incredibly rapid fix, given the extent of damage, and the fact that the blast happened a mere less than 5 months ago.
According to a new survey by the independent institute Levada Center,75 percent of Russians said in January that they supported the actions of Russian military forces in Ukraine, as the survey is putting it.
This support dipped to 72 percent in September around the announcement of partial mobilization and again to 71 percent in December.
When the war had just started in March, support had been at 80 percent.
You will find more infographics at Statista
A massive, 4000-word scathing critique of American foreign policy was circulated by Chinese embassies hosted in Western countries this week, including to American officials and media. It included a lengthy laundry list of US crimes abroad and imperialist tactics.
The long essay was first published in state-run Xinhua News agency, and is entitled"U.S. Hegemony and Its Perils". It heavily focuses on Washington's recent wars in the Middle East, which have killed many tens of thousands of people, as well as bullying sanctions on countries like Iran, Venezuela, Cuba, and Russia which have had a strangling effect on entire populations.
For a sampling of the kind rhetoric contained in the essay, which at this point has semi-official status as a Chinese government document (again, given it's being circulated by the Chinese embassy in D.C., among others), one section begins: "So far, the United States had or has imposed economic sanctions on nearly 40 countries across the world, including Cuba, China, Russia, the DPRK, Iran and Venezuela, affecting nearly half of the world's population."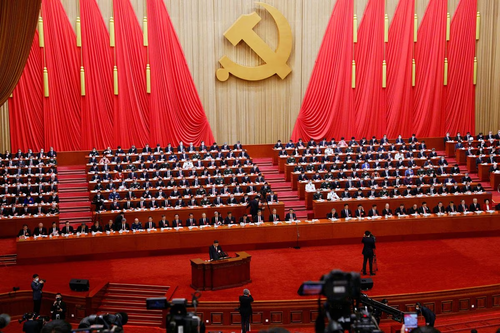 It repeatedly calls out American hypocrisy and says the US has departed from the very principles it has long espoused and claimed to represent: 
"The United States of America" has turned itself into "the United States of Sanctions." And "long-arm jurisdiction" has been reduced to nothing but a tool for the United States to use its means of state power to suppress economic competitors and interfere in normal international business. This is a serious departure from the principles of liberal market economy that the United States has long boasted.
This also comes the very week that China unveiled a peace plan intended to wind down the Russia-Ukraine war. To be expected, the plan was met with an icy reception in Europe and the US.
Update(1525ET): NATO has "answered" China's Ukraine peace proposal unveiled earlier in the day by previewing a peace plan that three major Western allies reportedly have in the works. The plan hinges on Ukraine forging a defense pact with NATO (though stopping short of formal membership), and in return Kyiv would enter talks with Moscow, likely with territorial concessions on the table.
It's said to be motivated in part by Western leaders having "growing doubts" over Ukraine's ability to reconquer territory – thus a more 'realist' and pragmatic perspective might be taking hold one year into the stalemated conflict. The Wall Street Journal broadly outlines the German, France, UK plan as follows: 
Germany, France and Britain see stronger ties between NATO and Ukraine as a way to encourage Kyiv to start peace talks with Russia later this year, officials from the three governments said, as some of Kyiv's Western partners have growing doubts over its ability to reconquer all its territory.

U.K. Prime Minister Rishi Sunak last week laid out a blueprint for an agreement to give Ukraine much broader access to advanced military equipment, weapons and ammunition to defend itself once the war ends. He said the plan should be on the agenda for the North Atlantic Treaty Organization's annual meeting in July.
But if the plan hinges on creating a 'fortress Ukraine' through ramped up arms deliveries, including tanks and possibly jets, then it's unlikely to sit well with Moscow – especially if the plan falls short of making territorial concessions. WSJ continues: 
The officials were careful to say that any decision on when and under what conditions any peace talks start is entirely up to Ukraine. Sunak on Friday said the West should give Ukraine arms that would give it a "decisive advantage" on the battlefield, including warplanes.
But the fact is that after one year of war, both China and NATO are actually pushing new avenues of peace, which is at least something – or perhaps just a small step downward from the consistent escalation witnessed of late. Meanwhile, public support in the West also appears to be waning, amid complaints of "Ukraine fatigue" and the general population and public discourse losing interest and momentum…
As for the lack of major progress on either side of the conflict in the past half-year, the AP offers this graphic…
Notable from AP: Front lines have not changed significantly over past 4 monthspic.twitter.com/UOEwYarWA0

— Lucas Tomlinson (@LucasFoxNews) February 24, 2023
* * *
As expected, China has released its much anticipated peace proposal Friday, which marks the one-year anniversary of the Ukraine invasion, calling for a cease-fire and peace talks which is to include end to sanctions against Russia, as the plan takes a clear anti-Western position.
The foreign ministry said in its 12-point proposal to end the fighting that "All parties should support Russia and Ukraine in working in the same direction and resuming direct dialogue as quickly as possible, so as to gradually deescalate the situation and ultimately reach a comprehensive ceasefire."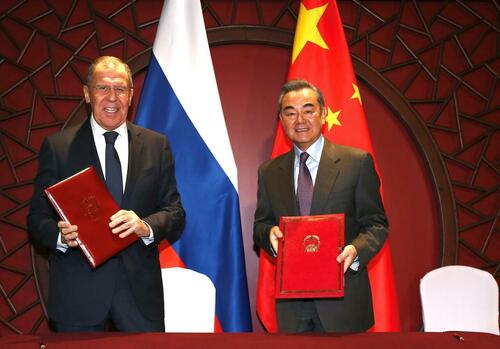 The Associated Pressdescribes that "With its release, President Xi Jinping's government is reiterating China's claim to being neutral, despite blocking efforts at the United Nations to condemn the invasion." And further, "The document echoes Russian claims that Western governments are to blame for the Feb. 24, 2022 invasion and criticizes sanctions on Russia."
Indeed it calls on the "relevant countries" to "stop abusing unilateral sanctions" and "do their share in de-escalating the Ukraine crisis" – which again lays blame on the outside Western powers for escalating. It charged these countries with "fanning the flames" of conflict.
"Conflict and war benefit no one. All parties must stay rational and exercise restraint, avoid fanning the flames and aggravating tensions, and prevent the crisis from deteriorating further or even spiraling out of control," the Chinese government said. 
While offering no details about how it envisions talks will be held, or in what form, the 12-point proposal calls for the safeguarding of all countries' "sovereignty, independence and territorial integrity."
"Dialogue and negotiation are the only viable way out to resolve Ukraine crisis," it stresses, adding that "China is willing to continue to play a constructive role in this regard."
But as part of the broadly anti-Western position, the proposal condemns the "Cold War mentality" of some nations for standing in the way of peace, and in discussing this comes close to naming NATO directly: 
"A country's security cannot be at the expense of other countries' security, and regional security cannot be guaranteed by strengthening or even expanding military blocs," the proposal said.

"The legitimate security interests and concerns of all countries should be taken seriously and properly addressed."
China abstained on Thursday when the UN General Assembly approved a non-binding resolution that calls for Russia to end hostilities in Ukraine and withdraw its forces.
Also outlined in the plan, is protection of prisoners of war, halting all attacks on civilians, and the protection of nuclear power plants and the unimpeded flow of grain exports – though again, no further details were spelled out related to these.
But as expected, it fell flat with the West, with the EU delegation head in China very quickly rejecting it as "not a peace proposal". And yet the Ukrainian government itself greeted it with a surprising level of optimism. "The fact that China has started talking about Ukraine and certain signals have been sent is, in general, very good," President Zelensky said as a first reaction.
"It is important for us that all states are on our side, on the side of justice. However, the fact that China is already talking about this is the first step, which is very good," he added. "We will draw conclusions after we see the specifics of what they offer, and then it will be clear."
After this, State Department spokesman Ned Price struck a more reserved and negative tone, saying, "We would like to see nothing more than a just and durable peace. We very much agree with President Zelensky that this brutal war will have to end at the negotiating table, but we are skeptical that reports of a proposal like this will be a constructive path forward."
Crucially, at a moment China's neutrality continues to be questioned, it abstained at Thursday's UN General Assembly vote which approved a non-binding resolution that calls for Russia to immediately withdraw its forces from Ukraine, which also condemned the war.
Ukrainian President Volodymyr Zelensky declared that if America pulls military support from his country, the United States will "lose NATO" and its global leadership position.
Speaking at a press conference in Kyiv (Kiev) on the one-year anniversary of the full-scale Russian invasion of his country, Zelensky responded to a question on the growing unpopularity of continued support for the war in Ukraine in the United States by criticising Americans who do not want to continue to send arms and billions of their taxpayer dollars to his administration.
From the official Russian site, RIA Novosti
Китай сделал ставку в украинской игре
What has happened for so long – and recently actively – was waiting for. China presented its 12-point plan for resolving the conflict in Ukraine. Here they are, top to bottom.
Respect for the sovereignty and territorial integrity of all countries.

Rejection of the Cold War mentality and commitment to the complex of indivisible security.

Cessation of hostilities.

Beginning of peace negotiations.

Mitigation of the humanitarian crisis.

Protection of civilians and prisoners of war.

Ensuring the safety of nuclear facilities.

Refusal to use nuclear weapons.

Compliance with the grain deal.

Refusal to use sanctions without the approval of the UN Security Council.

Ensuring the stability of production chains and supplies.

Post-war recovery.
Alternative proposals have not yet been announced. It is very difficult to call the "Zelensky Plan" a peace initiative, it is rather a military strategy of Ukraine within the framework of the conflict, and with very high expectations about its own capabilities.
The proposals of Western countries are also limited to "victory on the battlefield" for the time being. Semi-Western "states" in their aspirations go even further and dream of the collapse of Russia. Moscow, as expected, is not satisfied with such ideas.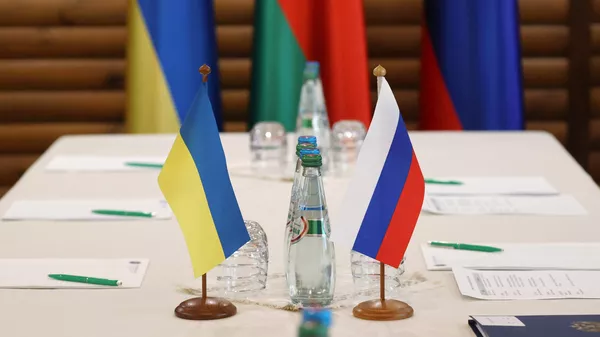 Let's make a reservation right away that attempts to call Beijing's plan pro-Russian or anti-Russian are nonsense. It is, as expected, pro-Chinese, so there are points in it – for example, the first one – that Kiev will gladly support. Everyone remembers Taiwan, which is so close and so far for China at the same time, right?
According to Biden's national security adviser Jake Sullivan, China should have limited itself to the first point – this is how Washington reacted to Beijing's proposal. The same Sullivan added that the United States would not dictate to Ukraine how the conflict should end.
The American official did not lie. The White House not only intends to dictate how to stop the bloodshed, but, on the contrary, will do everything to keep it going. And while Kyiv is flooding Ukraine with the bodies of Ukrainians, Washington will flood it with weapons. Because the United States at this stage is the main beneficiary in this confrontation. Thanks to sanctions, they managed to deprive Europe of cheap Russian resources and leave it without fundamentally important economic advantages. And after the loss of industrial sovereignty came political castration.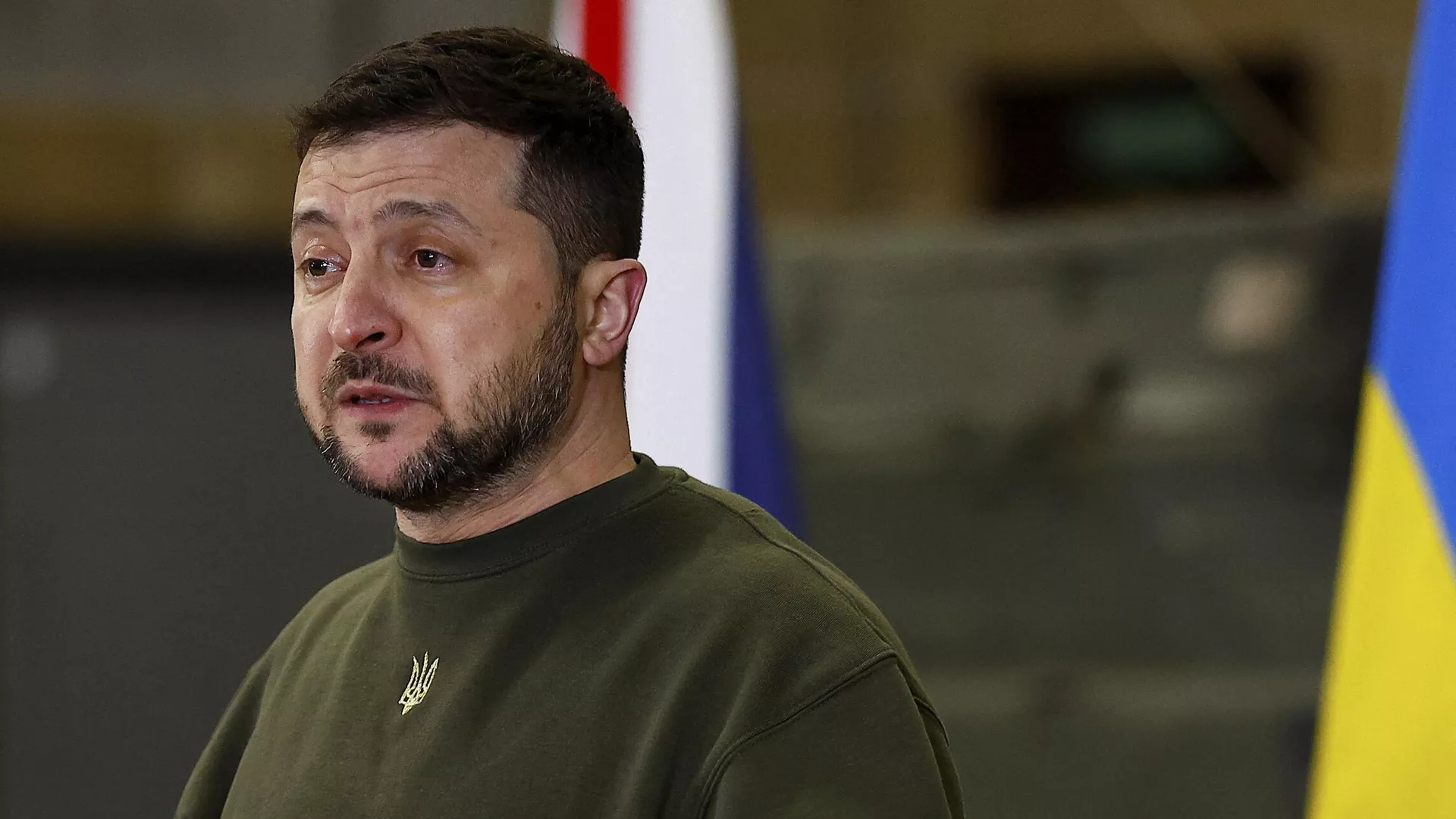 And here we come to the most relevant point of the roadmap at the moment, which affects sanctions. Exactly on the day the plan was published, the United States imposed restrictions on Chinese companies – allegedly for helping Russia to circumvent sanctions and supply military goods.
These are not the first sanctions against Beijing by Washington, but the first time restrictions are imposed due to accusations of supporting Russia. It is clear that the measures are not comparable with those that Moscow has undergone, but a precedent has been created. Interestingly, Brussels hastened to deny similar accusations against China. EU foreign policy spokeswoman Nabilya Massrali said the EU has no evidence of Chinese military assistance to Russia.
Against this background, it is logical to expect an aggravation of China's already unfriendly rhetoric towards the United States. Literally two days earlier, Chinese Foreign Ministry spokesman Wang Wenbin called Washington the biggest warmonger, noting that over the 240 years of its existence, only 16 states did not fight, and after the end of World War II, it was the White House that initiated 80% of all conflicts. He also recalled color revolutions and attempts to interfere in elections in other countries.
In general, the Chinese initiative is more likely not only and not so much a plan to overcome the Ukrainian crisis, but rather a principled position on the restructuring of the global security architecture in the post-conflict period.
And of course, this is a bit like the December initiatives of Russia, which the US rejected in 2021.
In this regard, some conclusions arise. First, Beijing and Moscow see the future world order in a similar way, as a result of which we should expect their further rapprochement.
Secondly, the current statement by Sullivan, who called on China to limit itself to the first point of the plan, is very reminiscent of the US reaction to the Russian initiative, when Washington began to choose which of the proposals suits it. Then Deputy Foreign Minister Alexander Grushko stressed that the logic "we play here, we don't play here, we wrap the fish here" is not applicable in this case.
In December 2021, the States rejected the Russian proposals. Everyone knows what happened two months later. In February 2023, they reject China's plan.
It is clear that Beijing will act with much more restraint, since so far its existential interests have not suffered. But it is naïve to ignore the aggravation trend: in China, they understand that it is impossible to wait longer by the river when the body of yesterday's hegemon floats along it.