Update from Ukraine – 21 March, 2021
Update from Ukraine – 21 March, 2021
Here is my video compilation from Ukraine. 
This is a very good analysis and well worthwhile the time
Mariupol: Gonzalo Lira
The shocking moments that were experienced when escaping the horror of the war were described by ethnic Greeks originally from Sartana on the outskirts of Mariupol in Eastern Ukraine.
The refugees from Sartana have been in hosting facilities of the Municipality of Zografou in Athens for a week now and their children have already started school.
In speaking about their escape from Mariupol through a corridor, one refugee speaking in Greek with a distinguishable Ukrainian accent said to OPEN TV: "I remember when leaving Mariupol, Ukrainian soldiers stopped us and threatened us."
"Russian soldiers in tanks were trying to calm us down after all of that," she added.
Elsewhere in the same segment, a teacher described the harrowing experience of driving with the convoy traveling through explosions and a warzone.
Another Greek refugee said in Russian: "I feel safer [in Greece] than in Ukraine, but its hard because it's another country, other people."
The woman's account of being attacked by the Ukrainian military matches that of another ethnic Greek from Mariupol who said he could not escape the besieged city because he would be killed by the neo-Nazi Azov battalion.
In late February, with Russian forces besieging Mariupol, in which 120,000+ ethnic Greeks live in and its surrounding villages including Sartana, SKAI news spoke with Mr Kiouranas who lives in the city and described the Ukrainian "fascists."
When asked by SKAI news if he planned to leave the city, Kiouranas responded "how can I leave? When you try to leave you run the risk of running into a patrol of the Ukrainian fascists, the Azov Battalion."
"They would kill me and are responsible for everything," he added.
Earlier this month, a correspondent for Russian media asked a civilian "Can you, as Sartana's Greeks, say something to your compatriots in Greece?"
The Greeks of Sartana responded: "Nobody kills anyone here. The Russians do not kill anyone. No one is shooting at civilians here.
"As soon as the Russians came here, they immediately brought us help. Right now, immediately after the shootings stopped.
"Now no one asks us if you are Ukrainian or Greek, about your origin, what language you speak. The Russians do not discriminate.
"While the Ukrainians did, they forced us to speak only Ukrainian, although I do not know it at all."
The Mariupol-based Azov Battalion, a neo-Nazi unit of the Ukrainian Republican Guard, which falls under the command of the Interior Ministry, was based in Mariupol and discriminated, persecuted and tortured non-Ukrainian speakers, including Greeks.
Only days before Russian troops started crossing into Ukraine, the Azov Battalion killed an ethnic Greek and shot another two only for speaking Russian.
A 2016 UN report found that:
"In Shyrokyne, a key location in the 'grey zone' between the Government-controlled city of Mariupol and the town of Novoazovsk controlled by the armed groups, OHCHR documented extensive use of civilian buildings and locations by the Ukrainian military and the Azov regiment, and looting of civilian property, leading to displacement."
The UN in another report found that when compared to the previous period, there was a 51% increase in Donbass (areas controlled by Russian-backed separatists in eastern Ukraine) casualties between February 1 and July 31 2021.
This accounted for 62 killed and wounded civilians. 81% of civilians died from Ukrainian shelling, including from the Azov Battalion.
Elsewhere, Sergiy Orlov, the deputy mayor of Mariupol, said 80-90% of the city had been destroyed by shelling and that people were "drinking water from puddles".
"For 11 days we've been trying to deliver humanitarian aid," Orlov said. "Our last humanitarian column has been on the road for four days, and Russians don't let it go into Mariupol.
"There are buses. We are ready to evacuate 3,000 people a day. They're not letting us.
"What's the solution? Give us a chance to bring humanitarian aid and evacuate everyone who wants to leave. We are ready to do it. They are not ready to give it to us."
Residents who have managed to escape said the most critical situation was to the west of the river that divides the city.
There is no food no water, people are completely cut off from civilisation," one man said.
"They have no chance to be evacuated to Berdyansk," a nearby village that displaced people are trying to reach.
From Gonzalo Lira, via Telegram
About civilians in Mariupol.
I just got word from a Ukrainian acquaintance.
Her parents and aunt and uncle were living in Mariupol (she was raised there but moved away for university). She tells me that her family were shot at by Ukrainian Armed Forces on multiple occasions, which prevented them from leaving the city. She did not explain the circumstances of them being fired upon, but said that it had been more than once.
However, they said that the Ukrainian Armed Forces were losing, and had finally left their residential area, allowing them to flee to the Russians.
The Russians fed them, and put them on transportation to Rostov (she didn't say what sort of transportation). They said the biggest deal was that the Russians gave them a lot of food, because they had been starving during the siege.
This is actual testimony from a person whom I've known for some time, so I know that it's not propaganda or nonsense—this is as real as it gets.
I won't editorialize here, I just want to put down the facts as I received them.
"The destruction of armies rather than the capture of cities" (Live)
Ukraine Forces Mariupol Face Destruction, Reject Russian Ultimatum, UK Media Admits War Going Badly
Defeat of "Donbass" battalion. Turkey S400 to Ukraine. Protests in Spain & Greece. Update 1
FB & Instagram officially banned in Russia. Serbia tells Bulgaria to not block Gazprom.
I would not touch western MSM but this is from Indian media
Gravitas LIVE | Russia turning Ukraine into Europe's Syria?| Will Mercenaries assassinate Zelensky?
Absolute "no" from Kyiv
The Ukrainian government and Azov's order rejected last night the Russian ultimatum for the surrender of Mariupol.
This means that they take with them thousands of innocent citizens as they do not allow them to escape through humanitarian corridors.
"There is no question that the Ukrainian armed forces should lay down their arms and hand over Mariupol to the Russian army," Ukrainian Deputy Prime Minister Irina Verestsuk said today.
"We have already informed the Russian side," she said, adding that "deliberate manipulation" and "true hostage-taking" had taken place.
Yesterday, the Russian Ministry of Defense, in an eight-page letter, demanded that the Ukrainian forces in Mariupol "lay down their arms" and "a written response" to its ultimatum before today at 07:00 (Greek local time and time), in order to be saved, as the inhabitants and the infrastructure of the port of strategic importance in the Sea of ​​Azov.
The Russian ultimatum
The Russian Ministry of Defense handed over an ultimatum to Ukraine regarding the handover of Mariupol.
"We urge the Kiev authorities to show restraint and revoke their previous orders, which oblige the fighters to sacrifice themselves and become 'witnesses of Mariupol,'" said Russian Lieutenant General Mikhail Mizinchev. "Lay down your weapons," said the top Russian official. "A terrible humanitarian catastrophe is in progress (…). "All those who lay down their arms will be guaranteed a completely safe departure from Mariupol."
According to Lieutenant General Mizinchev, Russia and Ukraine have agreed on the route that the residents of Mariupol should take to go to safe territories controlled by Kyiv later today. "From 10:00 Moscow time (…) Russia will keep the humanitarian corridors open from Mariupol to the east and, following an agreement with the Ukrainian side, to the west," he added. The Russian Ministry of Defense sent a message to the authorities in Mariupol via Telegram earlier yesterday: "You have a historic choice (in front of you) – either you will stand by your people, or you will go with the criminals."
The response of the Ukrainians
"The occupying forces continue to behave like terrorists ," Irina Verestsuk told Telegram. "They say they agree (to open) a humanitarian corridor and in the morning, they bomb the area from where the evacuation takes place. The government is doing everything possible.
"The most important thing for us is to save the life and health of our citizens." She added that in her response to the Russian side he called on her "instead of wasting her time writing eight-page letters just to open the corridors".
Mariupol, a predominantly Russian-speaking city, is one of the main targets of what the Kremlin calls a "special military operation" launched three and a half weeks ago. It is practically besieged from the beginning. According to Petro Andriushenko, an aide to the mayor, more than 3,000 civilians are believed to have been killed.
Corpses are lying on the streets of the city, while negotiations between delegations of the warring parties have not yielded results so far.
At least 10 of Ukraine's 44 million citizens have fled their homes to escape the war, according to the United Nations. At least 3.4 million have crossed the border, according to the United Nations High Commissioner for Refugees.
Azov's soldiers fear mass executions
The Russian Ministry of Defense handed over an ultimatum to Ukraine regarding the handover of Mariupol. The ultimatum is a few hours and ends early on Monday morning.
The Russian military leadership called on the nationalists in the city to hand over their weapons, noting that it would offer them a safe passage on Monday.
Thousands of Azov's soldiers fear that "there will be no safe passage" and that they will be executed on the spot as soon as they surrender their weapons.
This development was expected as as WarNews247 had revealed early in the morning, the "Mariupol" issue was over with Azov's forces being trapped.
Also read HERE what preceded
Mariupol, finally! – "You will come out dead or captive": Thousands of Azov soldiers trapped in their last stronghold!
"Tradition or military court"
Ukraine is called upon to respond to the handover of Mariupol by early Monday, according to the Russian Defense Ministry.
"The Mariupol authorities now have the opportunity to make a choice and go to the side of the people, otherwise the military tribunal that awaits them will be just too little in relation to what they deserve for their heinous crimes, which the Russian side documents very carefully, said the head of the National Center of Defense Administration of the Russian Federation, Colonel Mikhail Mizinchev.
"We are waiting for an official written response from the Ukrainian side before 5 p.m. tomorrow, that is, on March 21, in all the proposals of the Russian side for humanitarian corridors, in order to save the inhabitants of Mariupol and the infrastructure of the city ".
We make a special appeal to the "gangs", who now call themselves representatives of the official local authorities, this unique city of Mariupol.
We know that in the present situation, little depends on you, since you are under the full control of the nationalist battalions, but we really hope that you, including the mayor of the city, have at least something basic, human, at least a sense of compassion for the citizens who "They have been trusted, " Mizintsev said.
"It is you who now have the right to make a historic choice – whether you are with your people or you are with the criminals.
"You have committed terrible crimes"
"Otherwise, the military tribunal that awaits you is just a little bit of what you deserve because of the miserable treatment of your own citizens, but also of the terrible crimes and provocations you have already organized ," Mizintsev said.
"The rescued residents of Mariupol, about 60 thousand people, having found themselves in complete safety in Russia, now speak openly about the mass atrocities and crimes you have committed. "We are recording all this very carefully at the moment," he added.
At a moment Russian forces are believed to be on the cusp of taking the major southeast city of Mariupol, after the Ukrainians rejected the Kremlin's terms of surrender for the city, a fresh statement from the Russian side has yet again cited "no significant progress" in ceasefire talks, while stating Moscow is not ready for a proposed meeting with Zelensky.
The invasion which kicked off on Feb.24 and shocked the world will reach a full month by close of this week. Starting last week reports emerged that Turkey was working hard to get Presidents Putin and Zelensky at the negotiating table in face to face talks. Given Russia's overwhelming manpower and military superiority, despite reports of serious losses, it's not expected that the Russian leader would agree to any top level negotiations like this anytime soon.
"For us to speak of a meeting between the two presidents, homework has to be done. Talks have to be held and their results agreed upon," Putin spokesperson Dimitry Peskov said Monday, according to Reuters. "There has been no significant progress so far."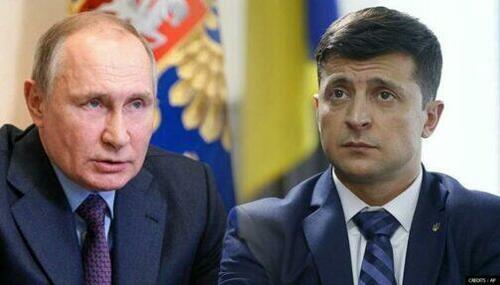 Last week Peskov had said that "when there's progress, we'll tell you" – in reference to the continuing negotiations taking place between lower level delegations toward reaching a battlefield ceasefire, or at least longer lasting local ceasefires.
As for the Ukrainians, according to comments given to CNN on Sunday, Zelensky told Fareed Zakaria he's "ready to talk to Putin at any time." But Zelensky is simultaneously urging Europe to ban Russian energy and ratchet up sanctions measures even more, pleas which have without doubt angered the Kremlin.
CNN detailed of the interview, "His offer came more than three weeks into a war that appears to be entering a new, more deadlocked stage on the battlefield. And while that counts as an extraordinary military success for outgunned Ukraine, it will also leave its cities and people even more vulnerable to brutal Russian bombardments." And more via CNN:
"It's a stalemate. But we should note it's a bloody stalemate," ex-CIA Director David Petraeus, a retired general who served in Iraq and Afghanistan, said on CNN's "State of the Union" on Sunday. "Also, arguably, it's a battle of attrition."
For now each side is blaming the other for failure to significant progress through five rounds of talks:
Peskov on Monday also suggested that Russia was more willing to engage in talks than Ukraine.

"Those [countries] who can should use their influence over Kyiv to make it more accommodating and construction at these talks," Peskov said, according to Reuters.
However, there are still periodic glimmers of a hoped-for breakthrough based on the 'neutrality' question in regards to the NATO alliance: 
Russia's top negotiator at talks with Ukraine said Friday that Moscow and Kyiv had brought their positions "as close as possible" on a proposal for Ukraine to become a neutral state.

The Kremlin on Wednesday said that a neutral Ukraine along the lines of Sweden or Austria was being discussed at talks with Kyiv to end three weeks of a Russian military operation there.
In addition to Turkey, Israel is also said to be working diplomatically behind the scenes to bring to county's two leaders for direct talks leading to a halt to the fighting. 
Authored by Kyle Anzalone via AntiWar.com,
Ukrainian President Volodymyr Zelensky over the weekend banned 11 opposition political parties and nationalized media. Any activities supporting the parties labeled "pro-Russian" are now illegal.
Axios reports the list of parties now banned include: Platform For Life, Shariy Party, Nashi, Opposition Bloc, Left Opposition, Union of Left Forces, State, Progressive Socialist Party of Ukraine, Socialist Party of Ukraine, Socialists Party, and Volodymyr Saldo Bloc.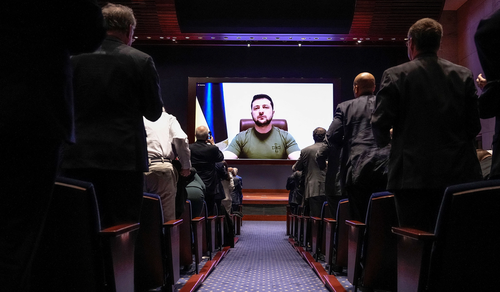 "Any activity of politicians aimed at splitting or collaborating will not succeed," Zelensky had announced Sunday. "Given the full-scale war waged by the Russian Federation and the ties of some political structures with this state, any activity of a number of political parties during the martial law is suspended."
Platform for Life is Ukraine's largest opposition party and currently holds 44 seats in parliament. Last year, The party's leader, Viktor Medvedchuk, was accused of treason and placed under house arrest.
Another targeted party, Nashi, is led by Yevhen Murayev. The UK previously accused Murayev of working with Moscow to overthrow the Ukrainian government. However, Murayev was sanctioned by Russia in 2018.
Ukraine's Russian minority has faced increased discrimination since the 2014 coup. The opposition parties largely represent the 17% of the Ukrainian people who are ethnic Russians. Language and cultural laws have targeted Russian movies, including one starring Zelensky.
The new presidential order is a part of Zelensky's effort to create a unified political narrative in Ukraine. He has announced an information policy that combines "all national TV channels…[into] a single information platform of strategic communication."