US – China Talks, Fail
US – China Talks, Fail
"US-China relations are at their lowest point, ever" according to Chinese Foreign Minister Qin Gang.
 He noted that such a situation is not in the interests of the United States or the interests of China.
 It remains an open question who will have to yield in this fight.
 Outcome 
In China, talks were held between Secretary of State Anthony Blinken and the head of the Chinese diplomatic mission of the PRC, Qin Gang.
Warning signs that this would be a nasty meeting began from the outset as Secretary Blinken arrived in China.   When his plane landed, there was no red carpet, no flags, no big delegation.  In fact, there were no high-ranking Chinese officials to greet him, just staff flunkies.
The aggravated contradictions between the two powers have long asked for dialogue, and now it has taken place.
The list of controversies is long. From the Ukrainian conflict to the American intervention in Taiwan and the state of human rights in China.
The American side did not reach an agreement on any of the points of the meeting. Beijing refused even the most insignificant requests. For example, Washington was denied a curb on the production and export of fentanyl precursors.
As a result of the negotiations, neither side was willing to give up their positions.  Nothing was accomplished.
UPDATE 10:33 AM EDT —
This just in . . . Blinken's trip to Beijing was such an abject FAILURE, China even refused to set up crisis military-to-military communications with the U.S..
This was a significant goal of his visit because China's military has **NOT** taken any phone calls, video conferences, or even answered the Hotline with the US military, for MONTHS!
From Zero Hedge
China Says Xi, Blinken Meeting Was Just A "Courtesy", Castigates US For "Misperceptions"
Update(11:48ET): Initial statements to come out of Monday's meeting between President Xi Jinping and US Secretary of State Antony Blinken were generally positive and upbeat, with an emphasis on healing ties. But more statements were issued in follow-up upon the conclusion of Blinken's two day visit to Beijing.
It seems China wants to let it be known that it will maintain the upper hand while not being too eager to embrace diplomatic détente. According to the latest from Bloomberg:
Chinese President Xi Jinping's meeting with US Secretary of State Antony Blinken was "out of courtesy" in which Xi gave strategic guidelines over the bilateral ties, Chinese state television reports, citing Yang Tao, an official at the Foreign Ministry.  
China has blamed deteriorated relations squarely on Washington. China's top diplomat Wang Yi had said it was the result of the United States' "misperceptions" about China, and stressed that Washington must make a choice "between dialogue and confrontation, and cooperation and conflict."
The Chinese side also said the following according to Bloomberg:
China told Blinken that US should stop saying that China is a threat, end sanctions over China which are "illegal," stop depressing China's technology development and interfering the Asian nation's internal affairs.
"The most important achievement made during Blinken's visit is the two sides agreed to implement agreements made Biden and Xi in their meeting late last year in Bali, Indonesia on establishing a steadier path for bilateral relations, China says," Bloomberg continued.
* * *
In an effort to halt the rapid decline in relations between the powerful rival countries, Secretary of State Antony J. Blinken met with President Xi Jinping on Monday in Beijing in a 35-minute meeting which the top US diplomat called a "positive step" toward mending ties.
Blinken's message that the US government is committed to responsibly managing relations appeared well received by Xi, coming at the end of Blinken's two-day visit, with the Chinese leader remarking, "This is very good."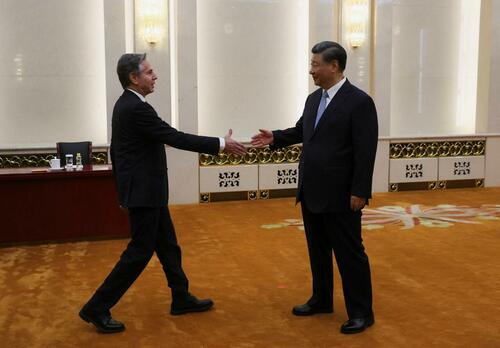 The meeting was held in the Great Hall of the People, which is off the West side of Tiananmen Square, typically used for receiving heads of state and other top dignitaries.
A State Department statement said "It's in the interest of the United States, in the interests of China, and in the interest of the world" for the two nations to mend ties.
Prior to going into the Xi meeting, Xi met with China's top diplomat Wang Yi, and with Chinese Foreign Minister Qin Gang – both of which were present in the Xi meeting.
According to a summary of the US call readout:
During his meeting with Blinken, Xi said China does not seek to challenge or displace the United States, but insisted the U.S. must also respect China's rights and interests, according to a readout from the Chinese Foreign Ministry.

Blinken denied that the U.S. is trying to contain China economically, as Xi has charged, and said Washington wanted to see economic growth in every part of the world.

"But at the same time we can, we will and we must take steps necessary to protect our national security," he said, referring to U.S. efforts to limit China's access to semiconductor technology, among other actions he described as "narrowly focused."
The Blinken-Qin talks had lasted six hours, and while China hadn't greeted Blinken's visit in the lead-up with much enthusiasm after the original February debate was postponed in the wake of the "spy balloon" shootdown and saga, it's being widely perceived that this could lay the groundwork for a Xi and Biden meeting later this year.
"Welcome to China"

https://twitter.com/BloombergTV/status/1670741811554316288?ref_src=twsrc%5Etfw%7Ctwcamp%5Etweetembed%7Ctwterm%5E1670741811554316288%7Ctwgr%5E961909ba8210e92bd82b08b35c28b813f5071fbc%7Ctwcon%5Es1_&ref_url=https%3A%2F%2Fwww.zerohedge.com%2Fgeopolitical%2Fxi-blinken-hold-high-stakes-meeting-effort-stabilize-us-china-relations
Overall the talks were dubbed "candid" and "constructive". The below notes are based on Bloomberg's review of the readouts from both sides as a result of the Blinken's two-day visit and high-level meetings:
China hasn't agreed on military to military ties with the US; US will keep working on that

Progress with China is hard; it takes time

US clear eyed about challenges posed by China; Blinken discussed unfair treatment of US companies with China

China's broad economic success also in US interests; not in US's interests to decouple from China

Healthy economic engagement benefits the US and China

US needs to protect critical technologies

US wants to work with China on climate, public health

Blinken reiterates he welcomes China role in Ukraine diplomacy

Blinken raised concerns on China's provocative Taiwan actions

Differences on Taiwan should be resolved peacefully

US committed to one China policy, three communiques

Blinken expects additional senior visits from US officials

China, US set up working group on fentanyl
Importantly, some 'assurances' were given on Taiwan, with Blinken reiterating that the administration's commitment to 'Once China' hasn't changed…
https://twitter.com/Maks_NAFO_FELLA/status/1670759503950651397?ref_src=twsrc%5Etfw%7Ctwcamp%5Etweetembed%7Ctwterm%5E1670759503950651397%7Ctwgr%5E961909ba8210e92bd82b08b35c28b813f5071fbc%7Ctwcon%5Es1_&ref_url=https%3A%2F%2Fwww.zerohedge.com%2Fgeopolitical%2Fxi-blinken-hold-high-stakes-meeting-effort-stabilize-us-china-relations
Also interesting is that China's top diplomat Wang Yi had said that worsened relations were the result of the United States' "misperceptions" about China, laying down that Washington must make a choice "between dialogue and confrontation, and cooperation and conflict."