War and extreme weather: wheat production around the world
War and extreme weather: wheat production around the world
Between the war in Ukraine and drought elsewhere there are only two major producers that are doing OK: Canada, which suffered sever drought last year and Australia which was expecting a bumper crop now hampered by heavy rains.
Russia suspended its participation in the Ukraine grain export deal after a swarm of drones targeted at least one Russian warship from the Black Sea navy.
Following the attack, Moscow immediately suspended its compliance with the deal, known as the Black Sea Grain Initiative, which was formed and launched in July and ended a five-month Russian blockade of Ukraine's ports. The United Nations and Turkey brokered the deal, allowing safe passage for cargo ships in and out of Ukraine's ports to haul farm goods worldwide. The deal was set to expire on Nov. 19. 
Russian fertilizers remain blocked mainly in the warehouses of Latvia, Estonia, Belgium and the Netherlands
Most – 80% of the fertilizers that Russia is ready to donate to the poorest countries are blocked in warehouses in Latvia, the rest – in the ports of Estonia, Belgium and Netherlands, the Russian Foreign Ministry said on Friday.
It is reported that the leadership of these countries does not allow the shipment of fertilizers through the UN World Food Program. We are talking about 300 thousand tons of products.
La Niña has returned for the third consecutive winter, allowing for drier-than-average conditions across America's crop belt. Some farmers told Bloomberg that conditions are so dry that "fertilizer is evaporating from the soil, and plants are struggling to emerge from the ground." 
The odds are stacking up that this winter's growing season in the Midwest is going to be a bad one. The latest government data shows drought is intensifying across the western half of the US.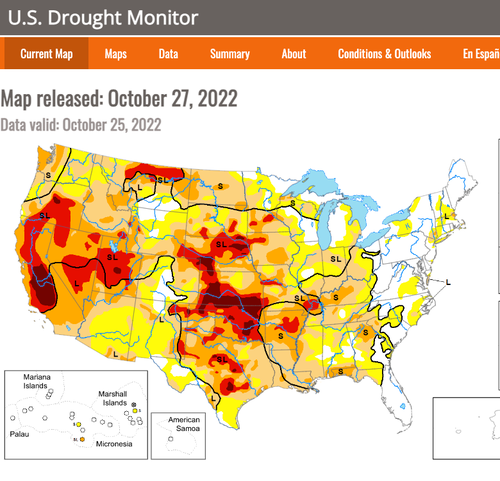 As for winter wheat, nearly 75% of the crop areas are in a drought, the highest level in decades.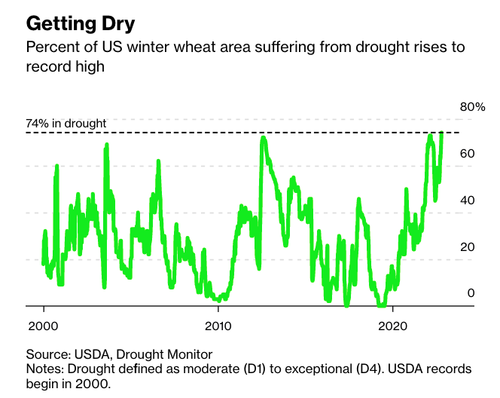 Gary Millershaski, chairman of the Kansas Wheat Commission, said farmers who typically spread chemical fertilizer on their fields in the winter to allow the soil to replenish with nutrients ahead of the spring growing season are pulling back because of the fear it will just "evaporate and disappear." 
Millershaski also farms wheat and corn in the southwestern part of the state. He said he'd planted about 4,000 acres of winter wheat but only expected to harvest 1,500 because of the severe drought … that's less than half. 
"When it is this dry you don't know if will sprout and die or come up next year," he added. 
The lack of moisture indicates that some plants may not even sprout until spring, jeopardizing yields. 
🔥US Drought Monitor🔥

Grain Production Areas Experiencing Drought (+/- weekly change)

🌾Spring Wheat: 75% (+0%)
🌾Winter Wheat: 74% (+4%)
🌱Soybeans: 71% (+10%)
🌽Corn: 70% (+8%) pic.twitter.com/K0n2VkXdir

— GrainStats.com 🎃 (@GrainStats) October 27, 2022
Mark Nelson, director of commodities at the Kansas Farm Bureau, has already warned that the rate of emerged plants is already falling behind average levels for this time of year. 
Widespread extreme drought could devastate winter wheat crops but, more importantly, disrupt farmers from spreading critical fertilizers on fields ahead of the next growing season — this could dent harvests at the end of 2023. 
As a reminder, the UN Office for the Coordination of Humanitarian Affairs states, "El Nino and La Nina are naturally occurring climate patterns and humans have no direct ability to influence their onset, intensity or duration." 
Argentina's projected wheat harvest, "is in a very critical situation, and could get worse". announced Rosario grains exchange which cut its 2022/23 harvest forecast to 15 million tons, down from 16 million tons estimated last week
The anticipated wheat harvest, which would make this year the worst in seven years, suffered again this week when it was hit by a late frost, already damaged by drought.
Argentina produced a record 23 million tons of wheat in the last growing season.
The country is a major grains exporter, but this crop year has been hit by a drought that dates back to May, exacerbating the impact of low temperatures during the southern hemisphere spring, when many wheat fields were in key development stages.
However the Rosario exchange maintained its projections for the 2022/23 corn harvest at 56 million tons and its 2022/23 soybean harvest at 48 million tons. Producers are beginning to plant corn, and soybean sowing will start in coming weeks.
The exchange said that due to the drought farmers may opt to plant more land in soybeans, a hardier crop than corn, estimating that the planting area for the oilseed could reach 17 million hectares.
The exchange said producers so far have planted only 12% of the 8 million hectares forecast for corn, 15 percentage points behind the planting rate at the same time last season
In view of the latest figures the US Department of Agriculture revised its projection for Argentine foreign sales to 12.5 million tons, one million less than what had been forecasted in September.
SAO PAULO, Oct 28 (Reuters) – Brazil will need to seek alternative wheat sellers because Argentina's crop failure has curtailed production and compromised its ability to export, analysts said, pointing to the United States, Canada and even Russia as possible suppliers.
Brazil is a net wheat importer and neighboring Argentina, which is currently suffering a drought, is its most important source of the cereal.
"Generally, Brazil gets about 6 million tonnes from Argentina," said StoneX risk management consultant Fabio Lima. But now, he expects between 1 and 1.5 million tonnes of imports coming from outside Mercosur, the South American trade bloc.
Brazil is one of the world's largest wheat importers, with domestic consumption above 12 million tonnes per year, below its output capacity.
La Nina expected to hit New South Wales with hefty rainfall

About 30% of the crop may be downgraded to feed in the east