War in Donbas – update – 20 February, 2021
War in Donbas – update – 20 February, 2021
We have the media propaganda and we have reports from on-the-ground.
First, Russell "Texas" Bentley.
From the Front – The War has started – Evacuations, Drafting Men
Russell "Texas" Bentley in the Petrovsky District five miles from the front reports on the evacuations, 870 Ukrainian cease fire violations in the past two days according to the OSCE. 18-60 year old men being drafted.
PETROVSKY FIRE FIGHT 20 FEB 

17:30

 / БИТВА В ПЕТРОВСКОМ РАЙОНЕ 20.02.2022 

17:30
Who REALLY Bombs Kindergartens in Donbass?
Ukraine propaganda released a fake news false flag info war attack yesterday, about a kindergarten being shelled. What's the truth? Who really did it and why? Keep up with the latest news from the Donbass War here, with Russell "Texas" Bentley!
And Patrick Lancaster
Inside a DPR mobilization center in Donetsk
Inside a DPR mobilization center in Donetsk where ALL men 18-55 years old by DPR law are to sign up to the DPR people's militia mobilization
AS per the order from the head of the Anti Ukraine DPR Denis Pushilin the evacuation of Debaltsevo by Train has started. Families are being separated with uncertainty whether they will ever see each other again. I was on-site to show what is really happening in Donbass
Ukraine Mortar Attack Hits 2 Homes In Donetsk
This is Hal Turner's report, without the videos etc.
To view see the original HERE
Ukraine UPDATES — ***FLASH UPDATE 3:29 PM***
February, 2022
Shelling by Ukrainian Army forces against Luhansk resulted in numerous private homes being destroyed, and numerous civilian fatalities, including the infant shown above, burned to death.
Complete coverage of developments commencing . . . check back for updates below 9:30 AM EST Sunday, 20 February 2022)
10:26 AM EST We begin with the most recent report from the Organization for Security and Cooperation in Europe (OSCE) which highlights the incredible increase in hostilities in eastern Ukraine.  The report, below, is mind-boggling: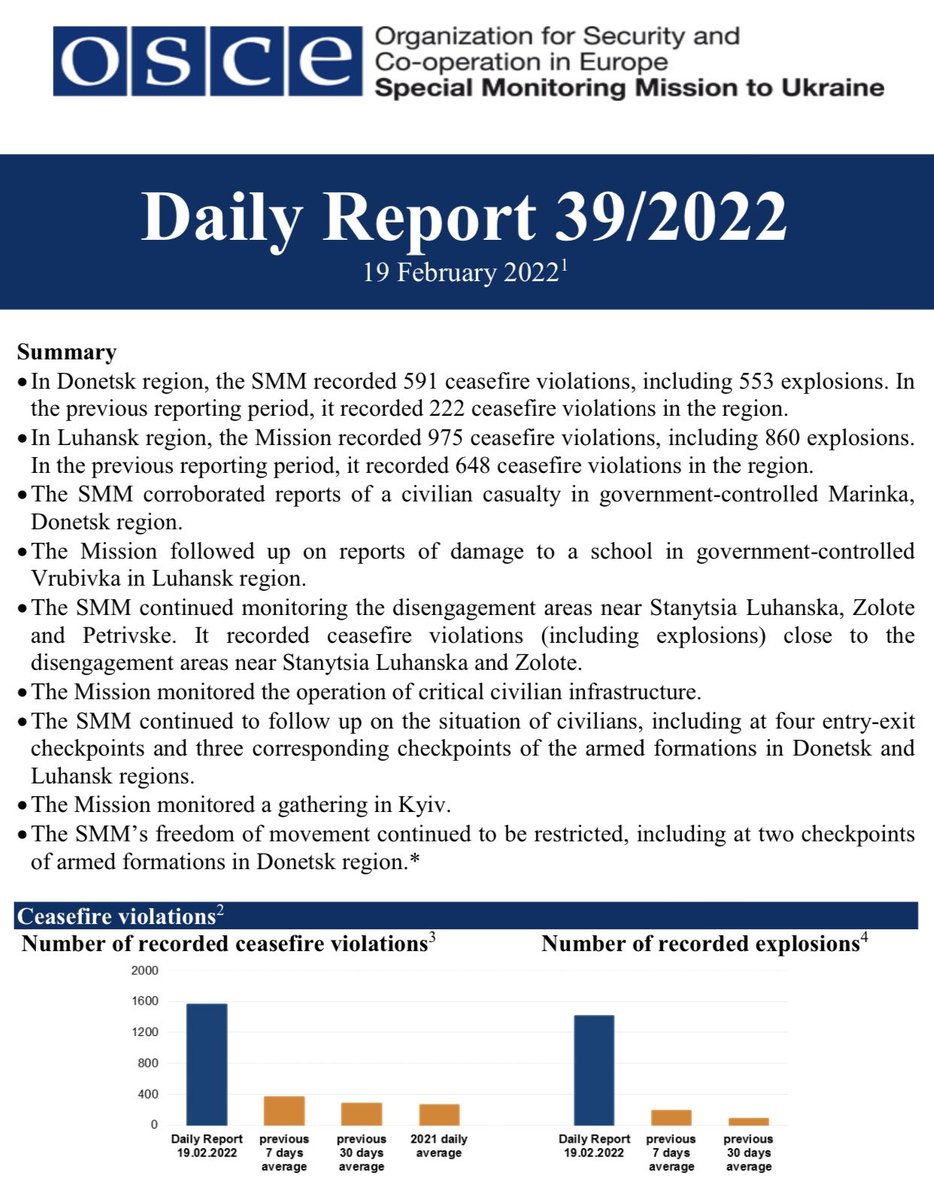 To put a human face and perspective on the data above, here is a video report from Donetsk, this morning:
BULK UPDATE POSTED 10:29 AM EST FROM EARLIER EVENTS:
International Red Cross says intensified hostilities in the Donetsk region have disrupted water supplies to more than one million people on both sides of the frontline
 
Reports of people losing internet connection in Donetsk
I have a unconfirmed report that Russia has violated the Ukrainian airspace and the Su35s have entered the Ukrainian airspace.

Unconfirmed: Internet service provide 'Lugacom' announces that it may soon no longer be able to provide internet coverage to the LPR.
An terrorist group was blocked on the territory of Donetsk, which planned to blow up electrical substations and gas pipelines.
When trying to detain, they offered armed resistance, from which 2 special forces soldiers received gunshot wounds 
At 5am on 2/20, 79th Airborne Assault Brigade of the Armed Forces of Ukraine attempted to attack the positions of the LPR in the area of the settlement of Pionerskoye.
The attack was repulsed & suffered losses. 5 houses destroyed & civilian casualties 
The leader of the Donetsk People's Republic, which declared its unilateral independence from Ukraine, Denis Pushilin: "If Ukraine's harassment continues, we will call on Russia for help." War start.
Patrick Lancaster:  Anti Ukraine government LPR forces report attacks from UA forces has killed 2 civilians. I'm reporting from Donetsk DPR
More than 40,000 refugees from the Donbass region have arrived in Russia, announced Alexánder Chuprián, acting head of the country's Emergencies Ministry. 
4:12 AM EST   Donbass, Donetsk:  South-west, west of Donetsk shelling thunders. People in basements. Take care of yourself and your loved ones!
5:25 AM EST — Explosions in areas of Donetsk, arrivals of shells with a caliber of 122 mm. Right now the Armed Forces of Ukraine are attacking Donetsk!
"I'm afraid to say, that the plan that we're seeing, is for something that could be really the biggest war in Europe since 1945," UK Prime Minister Boris Johnson said in an interview on Sunday with the BBC in Munich
South Korea issues an emergency warning urging it's last remaining citizens to quickly leave Ukraine – Yonhap
The Dutch Foreign Ministry has decided to temporarily transfer employees of its embassy in Kiev to Lviv, reports the Netherlands Broadcasting Corporation (NOS)
6:33 AM EST — Heavy shelling being reported in the vicinity of Donetsk int'l airport. Dozens of explosions heard
Moscow calls on Western partners to reason, said the press secretary of the President of the Russian Federation Dmitry Peskov.  "We urge you to ask yourself the question: what is the point of Russia attacking someone? We urge you to remember history," Peskov said. At the same time, he remarked: "Well, let's just say that, as we have recently seen, they are not very good with history in the West. But we remind you that Russia has never attacked anyone throughout its history. And Russia, which has survived so many wars is the last country in Europe that wants to speak at all, even pronounce the word "war".
"Russia intends to annex Baltic States after Ukraine" British Foreign Secretary Liz Truss said
Donetsk announced that since the beginning of this day the Armed Forces of Ukraine have carried out 29 bombardments, using 122-millimeter artillery, 120- and 82-millimeter-caliber mortars, and grenade launchers. In total, 16 towns have been affected by the fire.
During the shelling of Zaitsevo, the military used 30-millimeter RHV-HEF cartridges for an automatic grenade launcher manufactured at the Bulgarian weapons plant 'Arsenal', the self-proclaimed republic detailed.
Kremlin says situation on the line of contact in Donbas has been strained to the maximum, any minor provocation can lead to irreparable consequences – TASS
Czech Prime Minister says the likelihood of a peaceful settlement around Ukraine is declining.
The Kremlin Spokesperson, Dmitry Peskov, has accused French diplomats of leaking information divulged by Putin during his talks with French President Macron
8:00 AM EST 'Biden convenes National Security Council as violence escalates in Ukraine'
BULK UPDATE 10:53 AM EST —
*U.S. Officials Expect Russian Attack on Ukraine Within Next Few Days –WSJ
*Invasion Expected to Involve Tanks, Jets, Ballistic Missiles, Cyber, U.S. Officials Say –WSJ
*Prospects for Averting War Appear Dim, U.S. Officials Say –WSJ
Ministry of Foreign Affairs of the Netherlands decided to temporarily transfer employees of its embassy in Kiev to Lviv
India evacuates embassy staff in Kiev
"But we're very clear of our principles and our purpose, which is to be aligned with our allies understanding that I mean, listen, guys we're talking about the potential for war in Europe." — Kamala Harris Munich Security Conference 
Aleksandrovka (Petrovsky Quarter SW Donetsk) under infantry and artillery fire from Kiev Several houses in flames Further north, the airport is also the target of heavy fire from the Kievan forces
10:00 AM EST —  The Olympic Games in China are now officially closed.  War can now commence.
10:23 AM EST —  Poland to convene an emergency OSCE Permanent Council session on Ukraine
An SPG-9 shell has reportedly destroyed a substation providing electricity to a part of Alexandrovka village in rebel-held Donetsk.
Окра Outskirts of Petrovsky district under fire of the Armed Forces of Ukraine. The projectile flew into the courtyard of a residential building.
France's Macron and Russia's Putin agreed to try to hold working group meeting in coming hours with aim of reaching cease-fire on contact line
Russia's Federation Council (Their Version of US Senate) to hold unscheduled meeting on February 22nd — local media 
 Israeli PM renews call on Israelis to immediately leave Ukraine, says more than 3,000 have already left but many are still there.
11:36 AM EST —
Minutes ago, a Ukrainian base near the frontlines came under fire from the Luhansk area. This is the first time (they've had to get in the air raid shelter) at this location according to the local commander.
CBS News National Security Correspondent David Martin reports US intel confirms TO HIM, "Russian troops have actually received orders now to proceed with the invasion" of Ukraine.   The intelligence indicates that "they're doing everything that American commanders would do once they got the order to proceed." –  (HT REMARK:  So then this invasion order is a CONCLUSION come to by US Intel.  Which means they DO NOT have intercepted comms "giving the order."  Their own words contradict themselves.)
11:47 AM EST —
Russia issues NOTAM (Notice to Air Missions) citing a "Tempo Danger Area" (Temporary Danger Area) in the Sea of Azov, from the surface to "unlimited altitude" beginning at Midnight tonight!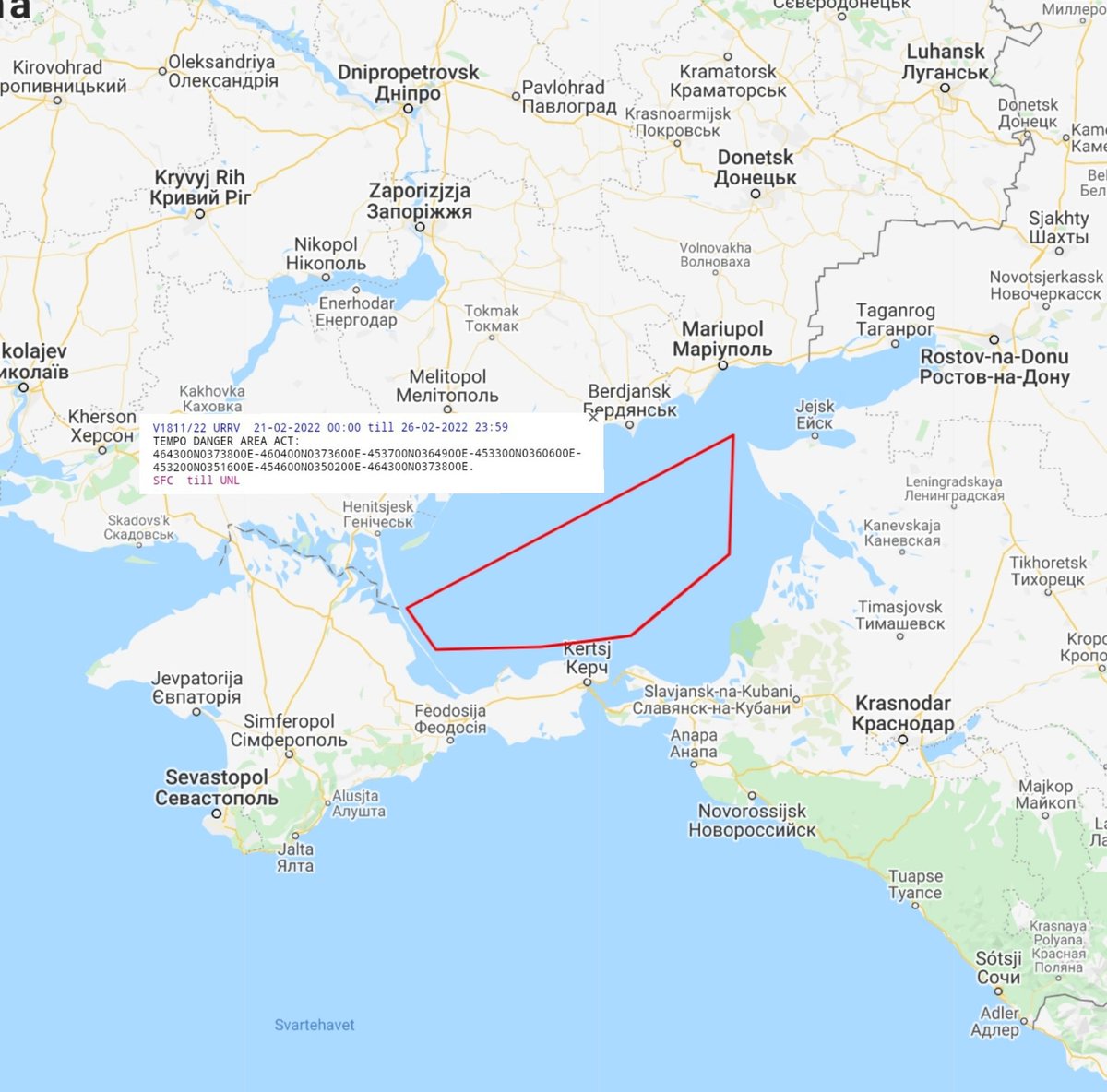 The Russian Defense Ministry "closed" most of the Sea of Azov and the airspace above it from midnight of February 21 until the end of February 26.
(HT REMARK: So now, it seems, we actually KNOW.   Whatever is going to take place, will happen between tonight at Midnight, and February 26.)
12:51 PM EST
Around 10 Russian ships have passed through the Kerch strait, entering the Sea of Azov.   Two Russian amphibious assault group HAVE NOW ARRIVED east and west of Crimea.
The first group between Crimea and Odessa (with a six assault ships from the north and the Barents fleets), the second group in the Azov Sea (with the amphibious component of the Black Sea and Caspian Sea)
12:55 PM EST —
Scandinavian Airlines ("SAS") from February 20 to 27 stops flights over the airspace of Ukraine
According to the latest US intelligence assessment, against Ukraine Russia now has positioned:
-Close to 75% of its conventional forces
-120 Battalion Tactical Groups within 60km of Ukraine
-35 air defense battalions
-500 fighter/bomber aircraft
-50 medium to heavy bombers.
12:56 PM EST — LPR reports Ukrainian armed forces are approaching the line of contact with TB2 drones, closer and closer everyday
1:03 PM EST — This video from Brahin, Belarus, is near a suspected major Russian thrust point towards Kyiv. Brahin, Belarus is 2 miles from the Ukrainian border and about 30 miles from Chernobyl. Pontoon bridges ring a bell?
LUFTHANSA SUSPENDS FLIGHTS TO UKRAINE'S CAPITAL KYIV
1:04 PM EST — Emergency mode introduced in the Kursk region in connection with the arrival of refugees from the Donbass – EMERCOM of the Russian Federation
1:11 PM EST — Czech Foreign Minister Jan Lipavsky called on citizens of his country to leave Ukraine
1:14 PM EST — NATO has relocated Ukraine staff from the capital Kyiv to Lviv in the west of the country and to Brussels for safety reasons.
1:18 PM EST — Swiss Air announces all flights into Ukraine cancelled beginning Monday through end of the month due to threat of Russian invasion
BULK UPDATE 2:44 PM EST —
Large Russian staging area for Medical Personnel and Equipment spotted in the town of Shebekino in the Belgorod Region, there must be at least 10 Mobile Medical Units just at this one location alone which is only 3 miles from the border with Ukraine.
Russian Emergencies Ministry: More than 60% of refugees in Donbas are children.
******** FLASH ********
UPDATED 3:29 PM EST —
Elected member of the Russian State Duma (Their version of US Congress) Vladimir Zhirinovsky, took to the floor of the state duma and publicly stated ""At 4am on 22 Feb you'll feel [our new policy]. I'd like 2022 to be peaceful. But I love the truth, for 70 years I've said the truth. It won't be peaceful. It will be a year when Russia once again becomes great."
Vladimir Volfovich Zhirinovsky is leader of the Liberal Democratic Party of Russia. He has been described as fiercely nationalist and as "a showman of Russian politics, blending populist and nationalist rhetoric, anti-Western invective and a brash, confrontational style"
He said this . . . . back on December 27.   None of us paid much attention.   Now, we're paying attention.   

It appears to me, that what he said back then was referring to what we're seeing right now.   How could it be anything else? 
So all of this . . .  was planned.   Planned well in advance.   And if you're a rational, thinking, person, it should occur to you that the OUTCOME has been planned as well.   
We in the West just don't know what their planned outcome actually is. 
However you look at all of this, what we're seeing now, is bad on a scale we've never seen in our lifetimes.
ask Jesus for His forgiveness, confess with your mouth that Jesus Christ is the actual living Son of GOD. Believe it with all your heart that Jesus died for your sins and rose again on the 3rd day. That He shed His Blood so that you can have your sins forgiven and are covered by the blood of the Lamb. To gain everlasting life, no matter what happens to us on earth.
UPDATE 4:17 PM EST —Separatist sources, and Russian news agency are claiming that the Ukrainian Army is shelling the entire line of contact in the Donbas with artillery, in preparation for an invasion of Luhansk and Donetsk.
4:24 PM EST — The US embassy in Russia has told Americans in the country to have evacuation plans ready 'that do not rely on US government assistance', saying there have been threats of attacks.
4:59 PM EST — Austria sets up a "crisis cabinet" because of the Russia-Ukraine conflict. "The situation in Ukraine is deteriorating by the hour, unfortunately the specter of war in Europe is real."
UPDATE 5:00 PM EST — 
Russia was promised in 1991 that NATO would "not move one inch east" after the fall of the Soviet Union and then the re-unification of Germany.  The proof of this promise was found this week the National Archives of the United Kingdom (Story HERE).   So Russia views NATO and the West as having deliberately DECEIVED Russia as it expanded and expanded, now right up to Russia's border.   The map below shows the expansion:
So all this fuss about Ukraine joining NATO is *** NOT *** the real issue.   The real issue is NATO encroaching upon Russia since 1997.   Ukraine was the straw that broke the camels' back.  Now, what do we see?  Russia mobilizing SEVENTY-FIVE PERCENT (75%) OF ITS TOTAL ARMED FORCES, to the West.   
This isn't going to be simply an invasion of Ukraine; it's going to be the opening salvo of a blazing, direct fight with NATO.   Yes, Ukraine will get taken; but realistically, that should be over and done within a few short DAYS.   The Russian Army will simply steamroll over Ukraine.  The Ukrainians don't have a chance . . .  at all.  Want to see why?  Look:
THEN . . . .
Well, THEN the real trouble comes.   Because it seems to many people that Russia is going to tell a whole slew of "NATO" countries (most likely the ones that joined after 1997) that either they agree to rid themselves of NATO troops and weapons . . . or they get what Ukraine just got.
It's that simple.
Russia TRIED to do all this peacefully.  
Russia made proposals for written, legally enforceable security guarantees.   
The US and NATO threw those proposals in trash cans.  Gave them no real consideration at all.
So most observers of this whole situation have said the Russians probably thought to themselves "OK, peaceful means haven't worked, now we'll fight it out."   And here we are.
This is huge trouble folks.  Huge beyond words.   Get right with the Lord.
5:05 PM EST — Reports of automatic gunfire heard in the center of Donetsk
5:29 PM EST — DPR/LPR channels report a lot of shelling west of Donetsk. A house is reportedly on fire in the Trudovska area
5:30 PM EST — Heavy artillery sounding in Abakumova now.   ALSO, Explosions Heard in Luhansk Outskirts
5:36 PM EST — Image below shows large explosion now in Donetsk . . .  as the President of Ukraine dares to get on TV and say they are NOT attacking anyone!
5:39 PM EST —  Armed Forces of Ukraine violated the ceasefire in the LPR 16 times in less than an hour, using banned heavy weapons – LPR representative office in the JCCC
This report is from the Saker
First, here is a machine translation of a summary of developments by Boris Rozhin:
1. The standard positional war with shelling continued on the front line today. The UAF recognized 2 dead and 4 wounded in a day. They also showed a staged race of the head of the Ministry of Internal Affairs of Ukraine against the background of artillery shelling. The frontline settlements of the DPR and LPR were subjected to mortar and artillery fire. The response to the Ukrainian shelling is now being given in an adult way, without any sentimentality, which is good.

2. The evacuation of civilians from the DPR and LPR to Russia continues. Already 11 regions have announced their readiness to temporarily accept residents of Donbass on their territory. The Ministry of Emergency Situations of the Russian Federation conducts organizational measures for the accommodation of refugees. So far, the evacuation is far in size until the spring-summer of 2014, but in the event of the outbreak of intense hostilities, the flow of refugees will be very significant and the strain on the social security of the Russian regions hosting refugees will be serious.

3. Zelensky rushed to Munich, where he said that "the separators have gone mad and are firing at themselves," began begging for money and weapons and tried with all his might to inflate his importance, although it initially looked pathetic and worthless. Zelensky's demands for a meeting with Putin will obviously lead to nothing – Pushilin might as well have started demanding a meeting with Biden in Novoazovsk. Neither one nor the other solves anything at the strategic level anyway, and there is a deadlock in the negotiations between the United States and the Russian Federation on Ukraine and security guarantees. Therefore, all the chatter about negotiations with Ukraine now has near-zero value. The exchange of "answers" between the United States and the Russian Federation showed irremediable contradictions that cannot be resolved within the framework of the existing world order.

4. Russia continues to face various sanctions, including a ban on Russian oligarchs to travel to London. This is not a threat at all, but a bonus attached to the defeat of the APU. Also, some Europeans make it clear by all means that sanctions are sanctions, of course, but they should not touch gas, because the dependence on gas is too great, especially in winter. Gazprom phlegmatically reported that gas reserves in storage facilities in Europe have reached a historic low. Sanctions against the Russian Federation will certainly be imposed, one way or another. Therefore, it is unlikely that this issue will somehow affect certain decisions related to Ukraine. The process of imposing sanctions has long entered the saturation stage. Moreover, further sanctions will lead to further fragmentation of the global financial and economic system, destroying the remnants of the globalist project.

5. The United States continues to play the hurdy-gurdy about the inevitability of an attack, and Blinkin demanded evidence from Russia that it does not want the restoration of the USSR and the Finlandization of Ukraine. "Russia must…" Of course, our anti-Soviet authorities are not going to create any USSR, but in the West this scarecrow is the subject of holy faith. As for the Finlandization of Ukraine, it is just in the West that they mostly talk about it, mainly various Europeans who do not smile at the prospect of a war that the Americans are fomenting.

6. Germany and Austria urge their citizens to get out of Ukraine as soon as possible. Lufthansa stops flights to Ukraine from Monday (the last flights on the weekend). Also, the NATO office was closed in Kiev. Some of the staff has left for Lviv, the rest are being taken to Brussels.

7. Suddenly there was a document with commitments not to expand NATO to the east. And they told me for so long that they only promised verbally, but not in writing. But of course, even in this case, they will say that these obligations were given to the USSR, and since there is no USSR, then the obligations do not count. This is again to the question of the value of papers and obligations in the modern world.

8. The Russian Federation held exercises of strategic nuclear forces today, launching various missiles. In any case, playing with a nuclear baton will not be superfluous in order to preserve the cause of global peace even in the event of intense hostilities in Ukraine. The time of the Caribbean crisis 2.0 has not yet come. But it is approaching – in the conditions of the destruction of the previous nuclear security architecture, a new crisis that will lead to the emergence of new rules of nuclear coexistence is inevitable. The crisis is inevitable precisely because diplomatic methods of developing such rules do not yield results, since the United States does not consider the Russian Federation an equal party to the negotiations, whose position must be taken into account. Exactly for the same reasons, there is a crisis in Ukraine, as an integral part of the crisis generated by the expansion of NATO in Eastern Europe.
***
Next, I decided to share a few videos with you.  They are all in Russian, but they are also self-explanatory.  Please check out these videos, especially showing what kind of weapons systems Russia will use to obliterate the Ukie forces should they chose to cross the LOC.
Evacuation of civilians from the LDNR:
Here is what the Russian armed forces have been up to:
Russian multiple rocket launchers filed at the firing position:
Here is what this looks like on the receiving end:
Next, here is what a strike by the TOS-1A heavy flamethrower system looks like:
and if that is not enough and the West is dead set on actually taking the fight to Russia, here is what the Russians were doing today (checking their strategic deterrence – nuclear and conventional – capabilities):
Now some news from the "civilized West":
Pro-Russian language politician sucker punched during a "debate" on Ukie TV:
Next, the German Chancellor declared on TV that it was "laughable" to speak of a genocide in the Donbass.
Coming from a German leader, this was especially "warmly" received in the Donbass and in Russia!
Lastly, and as always, I invite you to check out Andrei Martyano'v latest:
https://smoothiex12.blogspot.com/2022/02/a-bit-of-broadside-and-misnomer.html
That's it for today on my end.  It is almost midnight in Moscow and I will try to take a few hours off.
Andrei
PS: dunno if it is because they are clueless or stupid, but the Ukros managed to fire two missiles inside Russia (right across the border, so it is more likely a testimony to how advanced Ukie reconnaissance-strike capabilities really are.  Here is a photo from the scene: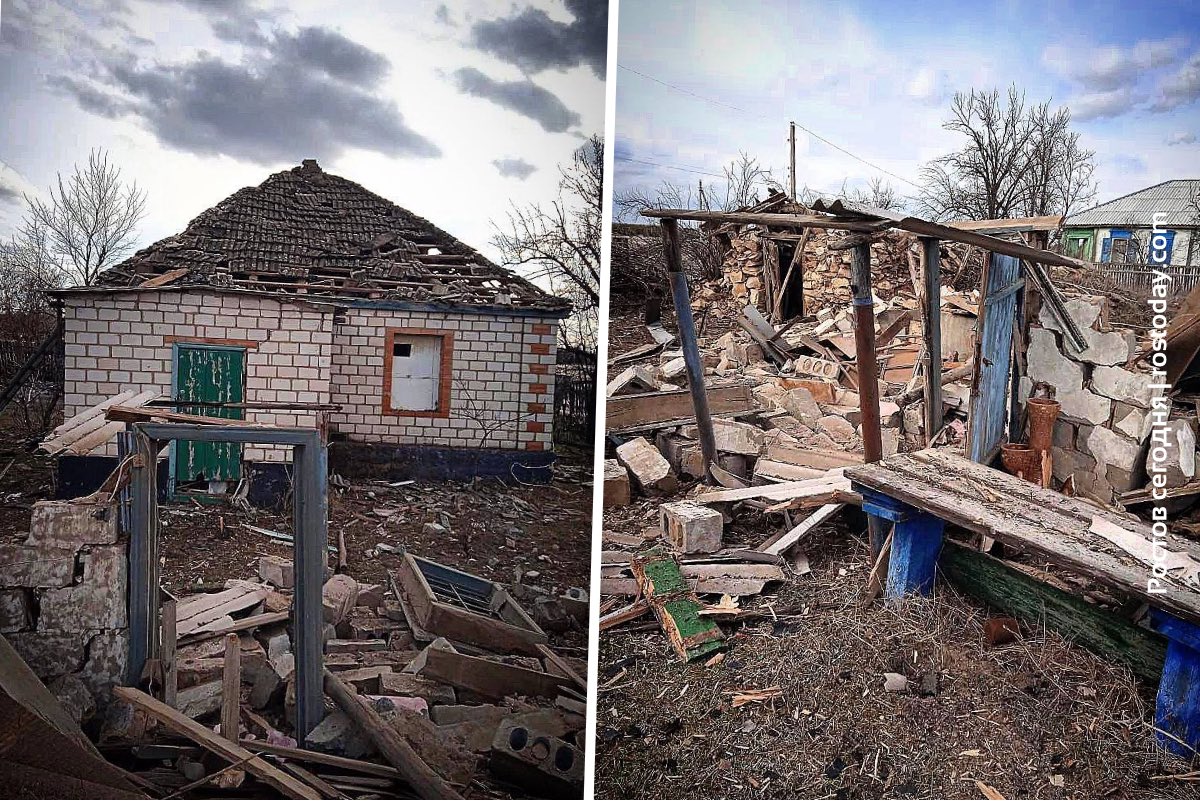 Vladimir Zhirinovsky: Erie war prediction for 22/02/2022
Those of you more familiar with Russian politics will know V. Zhirinovsky of the LDPR party. While an eccentric character, his analysis is rarely wrong
30 years of political prophecies – Vladimir Zhirinovsky
Vladimir Zhirinovsky is the leader of Russia's LDPR party (Liberal-Democratic Party). It is the third most popular in the country after United Russia (previously associated with Vladimir Putin, who in 2018 is running as an independent) and the Communist Party. Zhirinovsky is known for his eccentric character and a lack of "political correctness." This has earned him the reputation of a political clown, yet he is often correct. This outtake goes back 27 years to feature some of his more prominent prophetic statements – including the return of Crimea, the MH17 disaster, the murder of Boris Nemtsov, the election of Barack Obama, and the emergence of ISIL in the Middle East