War News – 3 April, 2023
War News – 3 April, 2023
Prices for a barrel of oil jumped 7 to 8% last night in pre-market trading, after OPEC+ announced a reduction in oil production of about 1.1 Million barrels per day.
Last night, oil hit $80.98 per barrel, and continues to rise today: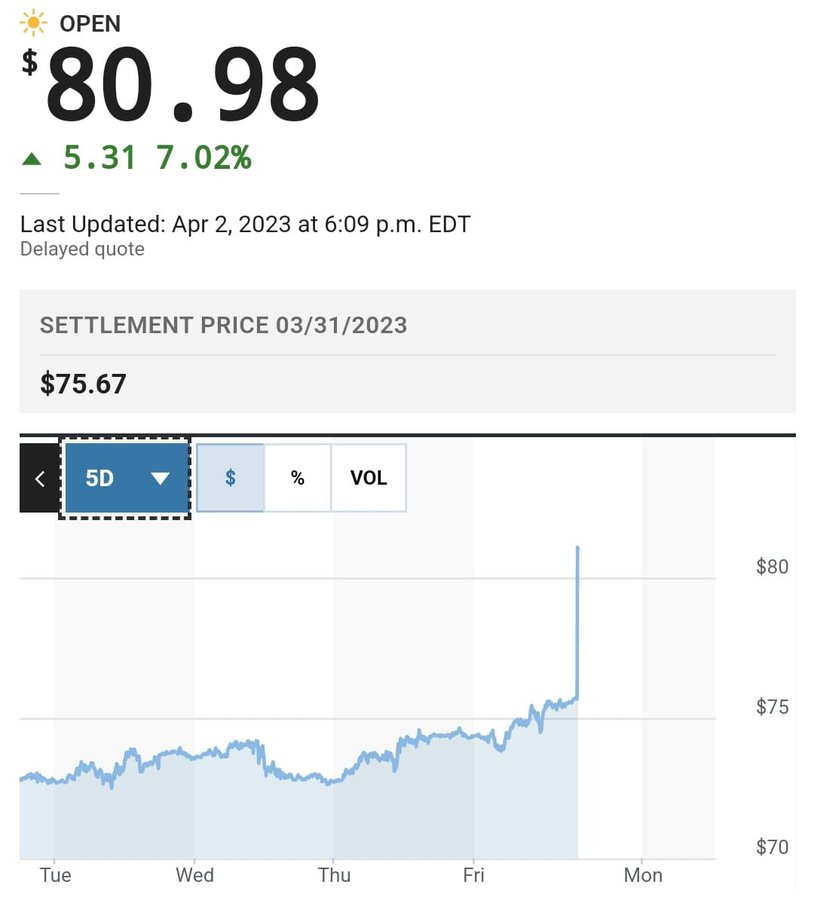 As this story is written, 10:04 AM EDT on April 3, 2023, The West Texas Intermediate contract jumped 5.74% to $80.01 a barrel, while Brent jumped 5.67% to $84.42
This will translate into higher prices at the gasoline pump for cars and the diesel pump for trucks, which then causes a rise in consumer prices for everything that has to move by truck.  This type of demand inflation cannot be halted by central banks raising interest rates.
NEW PRICING MECHANISM
More shockingly, the top oil producers in Russia and in India agreed to change the market pricing mechanism they use to price oil transactions.
The largest oil producer in Russia and India's top refiner have agreed to adopt the Asia-focused Dubai oil price benchmark. They have abandoned the Europe-dominated Brent benchmark. The signals are changing.
This will make it much easier for countries to buy oil WITHOUT USING THE U.S. DOLLAR!
That's huge.
They just told the US / Eurotrash to FOAD. (F*ck-Off and Die)
Basically, they're sizzling the West' bacon and there's nothing we can do about it short of war.
Evgeny Prigozhin dedicated the seizure of the key Donbass city's administration to a recently slain Russian war blogger
"We hoisted the Russian flag with the inscription 'Good memory to Vladlen Tatarsky' and the flag of PMC Wagner on top of the city administration of Bakhmut," Prigozhin said in the clip.
Prigozhin's announcement comes just hours after prominent Russian military blogger Vladlen Tatarsky (real name Maksim Fomin) was killed in an apparent improvised explosive device blast in a café in St. Petersburg on Sunday afternoon.
"Legally speaking, Bakhmut is taken. The enemy is concentrated in the western districts," the head of the PMC added.
The battle for Artyomovsk has emerged as one of the most intense and bloody engagements of the armed conflict in Ukraine, with both sides reportedly suffering significant casualties. Western officials have claimed that the city poses no strategic military value, but Ukrainian President Vladimir Zelensky pledged to defend it as long as possible after proclaiming the city a fortress.
Kiev's attempts to hold on to Bakhmut, regardless of the losses, has "almost destroyed the Ukrainian army," Prigozhin claimed earlier this week. However, Wagner fighters, who led the charge to capture the Donetsk People's Republic city, also took "a serious beating," he acknowledged.
Police believe 26-year-old Darya Trepova was involved in the bombing that killed Vladlen Tatarsky
A woman suspected of killing prominent Russian military blogger Vladlen Tatarsky has been detained, the country's Investigative Committee announced on Monday. Darya Trepova was earlier placed on Russia's wanted list.
Tatarsky, whose real name was Maksim Fomin, was speaking at an event at a café in central St. Petersburg on Sunday evening when a bomb went off, killing him and injuring more than 30 people. Witnesses said that a young woman had given Tatarsky a figurine as a gift shortly before the blast.
According to the Fontanka news website, Trepova was detained in a St. Petersburg apartment that belonged to a friend of her husband. The outlet said she had a plane ticket for a flight to Uzbekistan
North Korea is preparing to send 500,000 soldiers from its armed forces on combat missions in support of Russia's special military operation in Ukraine, a Russian state TV war correspondent has claimed. 
In his youtube video, Aleksander Sladkov, a seasoned Russian journalist specializing in military affairs, claimed that North Korea is firmly aligned with Russia in the ongoing conflict. 
He further added that Pyongyang is willing to contribute to the effort by dispatching its troops to take part in the special military operation – a term commonly used by Moscow instead of referring to the conflict as a war with Ukraine. 
However, Sladkov, citing sources in Pyongyang, also mentioned that this military assistance from North Korea would necessitate approval from China. 
Sladkov further said that an impressive force of at least 500,000 North Korean troops is prepared to assist the Russian military, and a decision regarding their deployment to fight in Ukraine could be made presently.