War News from Ukraine – 9 March, 2021
War News from Ukraine – 9 March, 2021
This comes as Russia's special military operation to demilitarise and de-Nazify Ukraine approaches its second week.
Deputy Head of the Ukrainian Presidential Office Igor Zhovkva said that Kiev is ready for a diplomatic settlement of the conflict in Ukraine and direct talks between the presidents of Ukraine and Russia, Volodymyr Zelensky and Vladimir Putin.
Speaking in an interview with Bloomberg, the official said that direct talks between Zelensky and Putin are essential "to stop this horrible war." He stressed that Kiev's major conditions for such talks are a ceasefire and withdrawal of Russian troops from Ukraine
.
(Update 16:35ET): Ukrainian President Volodymyr Zelensky has made a number of statements to German media on Wednesday sure to get noticed in Moscow. First, he reiterated that he stands ready to make compromises with Russia in order to end the fighting, but still emphasized he's not willing to concede anything that would be seen as a "betrayal" by Ukrainians, though without explaining exactly what this would look like in terms of the Kremlin's specific proposals on the table. 
He said to Bild TV, however, that "the other side must also be willing to make compromises – that's why they are called compromises." He added when pressed further, "We can't talk about the details yet." So far there's been three rounds of meetings between the Ukraine-Russia delegations over a possible ceasefire. 
And perhaps more provocatively Zelensky made comments on Russia's previous raising of its nuclear readiness level, calling Putin's threat of putting nuclear weapons use on the table but a mere "bluff". The response to Moscow's raised nuclear posture was given to German newspaper Die Zeit, and included the following:
Zelensky went on to say that Putin's nuclear threat "shows a weakness."  

"You only threaten the use of nuclear weapons when nothing else is working," Zelensky said. "Every use of nuclear weapons means the end for all sides, not just for the person using them."
President Biden signed an executive order banning the import of Russian energy supplies on Tuesday, claiming the move would deal a "powerful blow" to Russian President Vladimir Putin. Russia accounts for just a sliver of American oil consumption, but together with its Central Asian allies provides the US with nearly half of a key energy resource.
US imports of Russian uranium won't be affected by President Biden's ban on Russian energy, a source familiar with the situation has told Reuters. The text of the executive order signed by President Biden Tuesday does not include uranium in its list of banned Russian energy products.

First, Brazilian President Jair Bolsonaro declined to condemn the Russian invasion of Ukraine. Then, India followed suit – as the Modi government attempted to balance its historic ties with Moscow and its strategic partnership with Washington.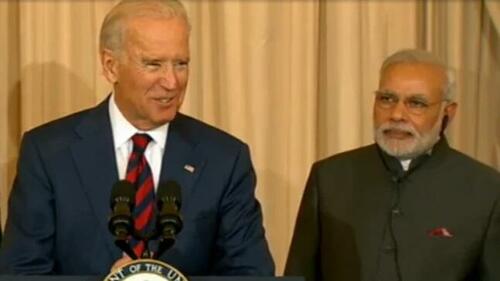 Now, Saudi and UAE leaders are refusing to take Biden's calls as the US president tries to contain surging oil prices, according to the Wall Street Journal, which adds that the Persian Gulf monarchies have signaled "they won't help ease surging oil prices unless Washington supports them in Yemen, elsewhere."
"There was some expectation of a phone call, but it didn't happen," said one US official of a planned discussion between Biden and the Saudi Crown Prince Mohammed bin Salman. "It was part of turning on the spigot [of Saudi oil]."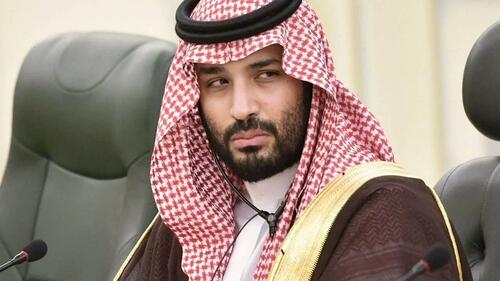 The U.A.E.'s Sheikh Mohammed bin Zayed al Nahyan also ghosted Biden in recent weeks according to Middle East and US officials.
Yet, both Prince Mohammed and Sheikh Mohammed took phone calls from Russian President Vladimir Putin after declining to speak with Biden, according to the WSJ. They also spoke with Ukraine president Volodymyr Zelensky.
Biden was able to get through to Prince Mohammed's 86-year-old father on Feb. 9, however the U.A.E.'s Ministry of Foreign Affairs said the call between Mr. Biden and Sheikh Mohammed would need to be rescheduled, according to the report.
President Putin has announced the return of the gold standard in Russia which could make the Ruble the single most stable currency on the planet.As of this week, the Russian government is abolishing the VAT (tax) on bullion.
(Bloomberg) — Russia threatened to cut natural gas supplies to Europe via the Nord Stream 1 pipeline as part of its response to sanctions imposed over the invasion of Ukraine, a move that could heighten the turmoil in energy markets and drive consumer prices even higher.
As it turns out, American megabanks like JPMorgan and Goldman Sachs aren't the only ones buying up distressed Russian assets. Chinese banks are also getting in on the fun.
China is considering buying or increasing stakes in Russian energy and commodities companies, such as gas giant Gazprom and aluminum giant Rusal International, according to people familiar with the matter, Bloomberg reports.
Beijing is in talks with its state-owned firms, including China National Petroleum, China Petrochemical, Aluminum Corp. of China and China Minmetals Corp., about potential opportunities for potential investments in Russian companies or assets, the people said. Any deal would be to bolster China's imports as it intensifies its focus on energy and food security, not as a show of support for Russia's invasion in Ukraine, the people said.
U.S. President Joe Biden's ban on American imports of Russian oil and other energy products, announced on Tuesday, does not include a ban on imports of uranium for nuclear power plants, a source familiar with the matter said.
The U.S. power industry relies on Russia and its allies Kazakhstan and Uzbekistan for roughly half of the uranium powering its nuclear power plants. The industry has been lobbying the White House to continue to allow uranium imports from Russia despite Moscow's invasion of neighboring Ukraine.
There is no U.S. uranium production or processing, though several companies have said they would like to resume domestic production in Texas or Wyoming if nuclear power producers sign long-term supply contracts.
Joy Reid has argued that there's greater concern over Ukrainians than victims elsewhere because they're white and Christian
The Russian government has decided to put things in order in Ukraine, and to put an end to a state threatening to expand its offensive nuclear capabilities. This is the opinion of Nikolai Azarov, who was Prime Minister of Ukraine three times.
In a message on Facebook, Azarov underscored that NATO had been planning a nuclear attack on Russia.
"NATO wanted to unleash a third world war by using nuclear weapons against Russia," Azarov said. "Since December 2021, Russia has been receiving information about NATO plans to station four army brigades in Ukraine." One of those brigades would have had nuclear warheads.
World War III
According to Azarov, NATO wanted to deploy troops in the summer. "In order to avert World War III and the nuclear attack on Russia, the Russian government decided to put things right in Ukraine," said Azarov, who served as prime minister in 2004, 2005 and again in 2010.
He stated that the Ukrainian army had also planned to launch a military operation in Donbass and wipe out the Russian-speaking population. The attack was co-ordinated with the United States and was set to launch on February 25.
One of Ukraine's main media sources, Hromadske, had described Donbass as a region that has a "huge number of absolutely useless people". Of the 4 million souls in Donetsk at the time, 1,5 million were "superfluous," and "simply must be killed". Donbass should be viewed as just a "source of resources" a source close to the Zelensky administration said.
Hundreds of thousands of lives saved by Putin
Russian President Vladimir Putin has saved hundreds of thousands of lives in Donetsk and Luhansk, the former prime minister said. Azarov pointed out that troops from the Donetsk People's Republic managed to get their hands on a map showing that a large-scale attack on Donbass was going to be launched.
Azarov left Ukraine after his car was shot at on February 21, 2014. His wife was in the car at the time. She survived the attack, but was severely traumatized.
It appears that the current US president knows quite well what is being done by NATO to incite a war with Russia. On C-Span, Biden had explained in 1997: "The only thing that can provoke Russia into a hostile and vigorous response is the expansion of NATO to the Baltic states."
Ukraine's border with Russia happens to be twice as long as the borders of the two little statelets combined.
Submitted by Paul Joseph Watson, of Summit News
The world is heading for a "catastrophic" global food crisis as a result of the war in Ukraine, which will cause "hell on earth" for food prices, according to experts.
"Half the world's population gets food as a result of fertilisers… and if that's removed from the field for some crops, [the yield] will drop by 50%," Svein Tore Holsether, head of agri company Yara International, told the BBC.
Known as "the breadbasket of Europe," Russia and Ukraine export around a quarter of the world's wheat and half of its sunflower products, such as seeds and oil.
"For me, it's not whether we are moving into a global food crisis – it's how large the crisis will be," said Holsether, noting that increasing gas prices were causing a steep rise in the cost of fertiliser.
David Beasley, the head of the World Food Programme, was if anything even more pessimistic with his comments.
"Just when you think hell on earth can't get any worse, it does," he said.
Noting that countries like Lebanon, Yemen, Syria, Tunisia are dependent on Ukraine for around 50 per cent of their grains, Beasley noted the stunning turnaround.
"So you're going from being a breadbasket to now, literally, having to hand out bread to them. It's just an incredible reverse of reality," he said.
With the number of people facing starvation worldwide having already spiked from 80 million to 276 million before Russia's invasion, thanks largely to COVID lockdowns, that figure is set to increase yet again.
Meanwhile, Russia has also threatened to close its main gas pipeline to Germany if the west bans Russian oil, a move that would cause oil prices to more than double to $300 a barrel.
Presumably, the ultra wealthy elite who are currently panic buying survival bunkers have already made preparations to cram them with storable food that will last for many years.
For those already on the poverty line or worse, it's a very different situation.
Ukraine's Secrets Are Coming Out
Biden bans Russian energy. Poland trolls Blinken
Biden bans Russian energy. Poland trolls Blinken
Oil Price Surges, China Says Friendship with Russia Rock Solid, Russia Tightens Trap Around Ukraine