Was the Turkish earthquake made by NATO/US?
Was the Turkish earthquake made by NATO/US?
We have had fairly definitive evidence that the United States exploded the Nordstream oil pipelines to ensure Germany did not get cheap natural gas from the Russians.
Is it such a stretch to imagine that the recent earthquake in Turkey was manmade by the same people?
In solving crimes detectives look first at motive and opportunity and then at forensic or other evidence. In my mind the first two requirements are met.
As for the third, I doubt that we will ever be able to say for sure. Is a good analysis by TruNews
Trending in Turkey: Turks ask, "Did NATO Punish Turkey with Induced Seismicity Attack?"
Did the US and NATO have a hand in the earthquake that hit turkey? Is NATO and the CIA trying to replace Turkey's president Erdogan with Cleric Fethullah Gulen, who is currently protected by the CIA in the US. Join us as we discuss this and more in today's Godcast!
Rick Wiles, Doc Burkhart. Airdate 2/9/23
Did The NWO Use HAARP To Punish Turkey? – Bowne Report

THE EARTHQUAKE IN TURKEY LOOKS LIKE A PUNITIVE OPERATION (HAARP) BY NATO OR THE US AGAINST TURKEY
BACKGROUND
In 2016 there was an attempted coup against Erdogan, probably by his arch-nemesis Gulen who is living in the United States under the protection of the CIA. Back then, accusations were made of plots to create an artificial earhtquake. 
The mayor of Ankara suggested on Tuesday that the U.S.-based cleric blamed for last year's failed coup might now be plotting an earthquake, with the help of foreign powers, to damage the Turkish economy.
Melih Gokcek said investigations needed to be carried out on a "seismic vessel" which had been in the vicinity of the Aegean coastal town of Canakkale on Monday when a small earthquake struck, the latest in a series of tremors in recent days.
"No matter what they say, I'm still worried about the possibility of an artificial earthquake," he wrote on Twitter, adding that the "Gulenist Terrorist Organisation" (FETO) had planned an earthquake before.
"Their plan was failed after the strategy was disclosed to the public on that time. But currently they are trying to originate an economic crisis with the help of the major earthquake (artificial)," he wrote in English.
Turkey blames the network of Muslim cleric Fethullah Gulen for last July's failed coup, in which almost 250 people were killed as soldiers commandeered tanks and fighter jets in a bid to seize power. Gulen denies involvement.
'Gulen plotting artificial earthquakes': Ankara mayor
MOTIVE
Well, the earthquake came just days ago and has certainly created massive problems for Turkey (not to mention Syria) at a key juncture when Turkey is experiencing high inflation and has been trying to scupper Sweden's plans to join NATO.
If you want evidence of the western attitude to Turkey then look no further than this op-ed from the Guardian. 
President Erdoğan's increasingly hostile stance towards Nato and democratic principles can no longer go unpunished
Erdoğan's blocking of Sweden's attempt to join Nato is the latest, egregious example of hostile behaviour. He claims Stockholm harbours "terrorists" from the militant Kurdish group the PKK (Kurdistan Workers' party). In truth, his veto stems from his long-running anti-Kurd vendetta, which includes legal moves to close the HDP (Peoples' Democratic party), the main Kurdish-backed opposition, before the elections. The Nato row now threatens to explode amid a spate of Qur'an burnings, diplomatic protests and violent retaliation.
Erdoğan is also demanding the extradition from Sweden of political refugees, notably Bülent Keneş, former editor-in-chief of the Today Zaman newspaper, whom he accuses of supporting a failed coup in 2016. Intimidatory tactics targeting journalists are part of a broader post-coup drive to stifle public debate, manipulate the constitution, subjugate judges, purge the army and civil service – and strengthen de facto one-man rule.
Turkey slams West over consulate closures, security warnings
Little confusion as to the response of the Turkish interior minister.
Turkey: 'Take your dirty hands off Turkey' – Interior minister to US ambassador

Turkey's Interior Minister Suleyman Soylu publicly criticised the US ambassador to Ankara, telling him to take his 'dirty hands' off the country, during a speech in Antalya on Friday. "Every US ambassador who comes to Turkey is in a hurry about … how I will make a coup d'etat. … What can I do, how can I harm Turkey, how can I help my superiors? … He gathers other ambassadors, he whispers furtively with them," Soylu claimed. "I say to the American ambassador here: I know which journalists you use to write articles, take your dirty hands off Turkey," he continued. "We know what you are doing, what steps you have taken, how much you want to stir up Turkey."
Ankara summoned the US ambassador Jeffry Flake and those from eight other European countries after they temporarily shut their embassies in Turkey and issued travel warnings, following a series of Quran-burning protests.
OPPORTUNITY
We know perfectly well that the United States and other countries have the means to create earthquakes and there is a strong sense that this has been used before, including in my country, New Zealand.
This phenomen has been observed before and acknowledged (rarely) in the media
Videos have emerged that appear to show the New Zealand sky lighting up in a range of colours as a magnitude-7.8 earthquake struck near Christchurch on Sunday night.
Footage uploaded to YouTube shows flashes of light in the sky which the uploader claims occurred "during the peak" of the quake.
This article contains external content that failed to load. It may have been removed or is no longer available.
A number of people commenting on the video from across New Zealand also claim to have witnessed the lights, which uploader Zachary Bell said lasted around "five to eight seconds".
"The lights happened right on the peak of the shaking … [and were] of colours mainly green and blue and white, but a bit of yellow and other colour was there too [sic]," he said.
Reports of lights occurring during earthquakes date back thousands of years, with similar accounts also emerging after the Christchurch earthquake in 2011.
The above article points to natural explanations such as lightning or electrical transformers blowing up. However, these too are hypotheses and there is no more evidence than there is for man-made causes such as HAARP.
Here Dutchsinse weighs in with his own views.
Facts – Turkey 7.8 EARTHQUAKE (Video of Destruction)
Here are a couple of articles on this theme from Russian alternative media
Танки не нужны: землетрясения в Турции и Сирии могут быть атакой с помощью проекта HAARP
Satirical magazine Charlie Hebdo wrote: "Earthquake in Turkey. And you don't even need to send tanks!" Although this statement can not be called a joke, it has a large "share of truth". The US has a seismic weapon-the HAARP project*.
Globalists don't like Turkey
The earthquake in Turkey and Syria on February 6 was the most destructive in the region in the last 85 years, the victims can be counted in the tens of thousands. The tremors occurred along two major fault lines along the Anatolian Plate. The epicenter of the first strong tremor was shallow-at a depth of 2 km.
Immediately after the tragedy, the Western media began to shake up the situation in Turkey due to the poor quality of built houses. In addition to high prices and low-quality materials, builders save on everything up to safety, according to such reports. The idea is also being whipped up that now no one will announce the true number of victims. The campaign's goal is obvious-to prevent President Recep Erdogan from being re-elected for a new term in May.
In English-language social networks, they are sure that the earthquake was the work of the Americans, since Turkey is trading with Russia and is preparing to withdraw from NATO.
"It seems that the dirty Rothschild bankers are fuming that Turkey is trading with Russia. Plus withdrawal from NATO, " one user wrote.
Was

the earthquake triggered by a man-made explosion?

Two kilometers of the epicenter is the depth at which man-made explosions are made. For example, seismologists in Sweden and Denmark recorded at least two earthquakes in the Baltic Sea on September 26, and then it turned out that they were explosions of "Northern Streams".

At the end of October, earthquakes were recorded in the Gulf of Finland. Seismologist Jari Kortstrom told the Helsingin Sanomat newspaper that it was man-made explosions, and if it was dynamite, then judging by the magnitude (from 1.3 to 1.8 points on the Richter scale), it was a charge of 50-100 kg.
Russian seismologists confirmed that "most likely, the foci of these events are of man-made origin, since all of them are near-surface (less than a kilometer deep)," the service said.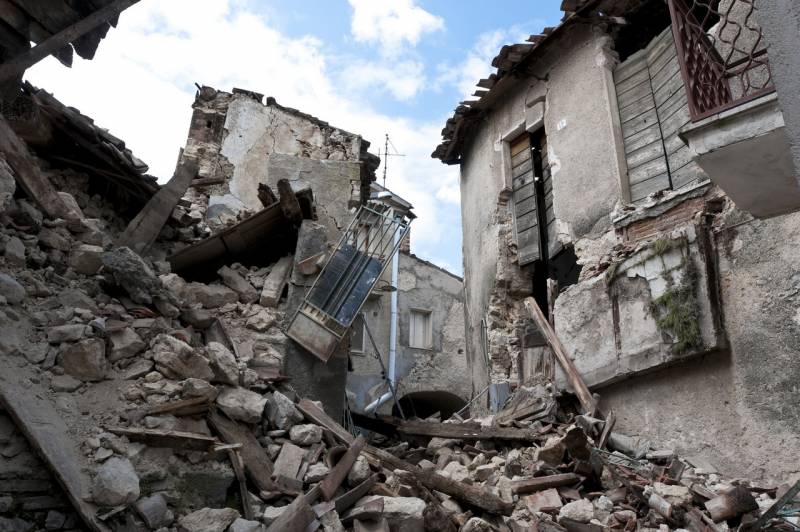 On February 5-6, 2023, a series of the most powerful earthquakes in the last 80 years occurred in the Middle East. A series of aftershocks, the strongest of which reached a magnitude of 7,8, led to the fact that thousands of houses were destroyed in Turkey and Syria, burying a huge number of people under them. The number of victims has already crossed over 5 thousand, but it is obvious that this figure will only grow. The earthquake was so strong that the vibrations of the soil were felt in dozens of other countries, reaching Kazakhstan and other countries of Central Asia. At the same time, in the very epicenter of the disaster, in Turkey, the earthquake was so powerful that residential concrete high-rise buildings simply folded like houses of cards.
On February 6, tremors were registered in other countries as well. A series of minor, but very noticeable earthquakes swept through the countries of Southeast Asia, Latin America, and was also recorded near the coast of Japan and Taiwan. All this had such an effect on the inhabitants of our planet that at some point, especially exalted personalities began to talk about the beginning of the end of the world. At the same time, rumors began to spread in some media that such a catastrophe could well have been of artificial origin and was nothing more than the result of testing a new tectonic weapon.
Indeed, it is impossible not to notice that the current cataclysm occurred as if by order. Elections are on the nose of Erdogan and this tragedy will not play into the hands of the current Turkish president. In addition, the events that have taken place will certainly force the stubborn Turkish leader to take his mind off problems in Europe, and perhaps even push him to agree to the admission of Sweden and Finland to NATO. Particularly attentive people also noticed that in just a few days "because of the threat of terrorist attacks" in Istanbul, the embassies of Canada, the consulates of Germany, Britain and a number of other Western countries were closed, which could indicate the presence of some inside information about upcoming events. But could such a catastrophe really be artificial and how real is the existence of the notorious tectonic weapon capable of wiping entire cities off the face of the earth in minutes? Let's try to figure it out.
How does a hypothetical tectonic weapon work?
In theory, a tectonic weapon is understood as a certain device or system that can somehow affect our planet, causing earthquakes, volcanic eruptions or other tangible seismic events. Moreover, it does not have to be directed directly to the earth's crust, since it is hypothetically possible to cause earthquakes even through electromagnetic influence on the atmosphere. It is believed that it is best to use such weapons in areas of tension and tectonic instability, since in such places even a small impact from the outside can provoke a fairly powerful earthquake.
Despite the fact that such a weapon is considered hypothetical, and partly even fantastic, developments in this direction have indeed been carried out more than once. It is known that even during the Cold War, underground nuclear tests were carried out in the USSR, the USA and some other countries, the purpose of which was to test the ability of nuclear weapons to cause powerful tremors. In some cases, with the help of such explosions, it was possible to achieve earthquakes with a magnitude of up to 7 points, but such phenomena were often of a short-term nature.
In addition to underground (or underwater) explosions, a fairly common theory for the implementation of artificial earthquakes is the so-called. Tesla vibrator. According to legend, the famous scientist at one time invented a relatively small but powerful electromechanical resonator capable of performing oscillations at a very high frequency. By tuning this frequency in a certain way and attaching this resonator to a house or other structure, it is allegedly possible to cause quite strong shocks, resembling an earthquake in effect. This legend has been refuted many times, but stories about the existence of an improved Tesla vibrator are sometimes found today.
Who can have such technologies?
Naturally, the main contenders for the possession of tectonic weapons are the superpowers. It is believed that the name of this weapon was coined by the Soviet seismologist Alexei Nikolaev. He believed that the existence of some device that could lead to a sudden release of the stored energy of tectonic plates is quite possible. However, the use of such weapons can have very unpredictable consequences.
It is known that in the USSR, even work was carried out on the secret programs "Volcano" and "Mercury-18", which pursued the goal of studying the possibilities of remote influence on earthquake sources. Within the framework of these programs, a number of successful experiments were carried out, but after the collapse of the "Country of the Soviets", nothing is known about the continuation of research on the development of tectonic weapons in Russia.
Similar programs have also taken place in the United States. Considering that after 1991, the overseas superpower only gained momentum in terms of the development of the military-industrial complex, it is possible that they have moved much further in the development of tectonic weapons. In the early 90s, the achievements of Soviet scientists fell into the hands of the US military, who, on their basis, created a number of engineering and technical devices. It is known that in the later stages in the USSR they studied the possibility of creating artificial earthquakes not only with the help of underground explosions, but also due to electromagnetic radiation. Some believe that the notorious American HAARP installation in Alaska was just created in order to cause large-scale geophysical disasters in different parts of our planet through the emission of electromagnetic waves.
Conclusion
True or not, we are unlikely to find out in the near future. Considering that back in 1978 the UN adopted a convention prohibiting the use of any military means of influencing the natural environment, it can be said with a high degree of probability that certain states are at least developing tectonic weapons. But as for the current earthquake in Turkey and Syria, it is hard to believe that this was really caused intentionally. If such a weapon exists, it is characterized by a very indiscriminate effect. Therefore, if we assume that the United States used it against Turkey, then it could well hook on other countries, including those allied to Washington and NATO. Although, when across the ocean they thought about the fate of the allies, who were always considered vassals and dependent servants …
What do you think about the events that took place? Could they really have been caused artificially or are they all inventions of conspiracy theorists?
CONCLUSION: Although there is little doubt about motive and opportunity I doubt that we will ever know the full truth and this will all be memory-holed except for a few "conspiracy thoeorists".