Whaddya know?!: a few moments in the insanity that is Biden's America
Whaddya know?!: a few moments in the insanity that is Biden's America

Biden now wants to RESTART construction on Trump's border wall to 'plug the gaps' – with kids' camps way over capacity and a new surge of migrants coming from Guatemala
Joe Biden is considering restarting construction on Donald Trump's southern border wall, DHS Secretary Alejandro Mayorkas told border enforcement Friday 
Resumed construction would help fill 'gaps in the wall,' Mayorkas said 
The administration is facing a massive influx of migrants arriving at the border 
NASA have asked their employees if they are willing to volunteer to help at the overcrowded facilities  
The move to resume construction would come as Biden made a big spectacle on Day One by issuing an order freezing Defense funding for the border wall
He later officially ended the national emergency order at the border
https://www.dailymail.co.uk/news/article-9441641/Biden-wants-RESTART-construction-Trumps-border-wall-plug-gaps-DHS-head-Mayorkas-says.html
VIDEO: Psaki Admits Biden's DHS Is Quietly Resuming Construction On Trump's Border Wall
"There is some limited construction that has been funded and allocated for"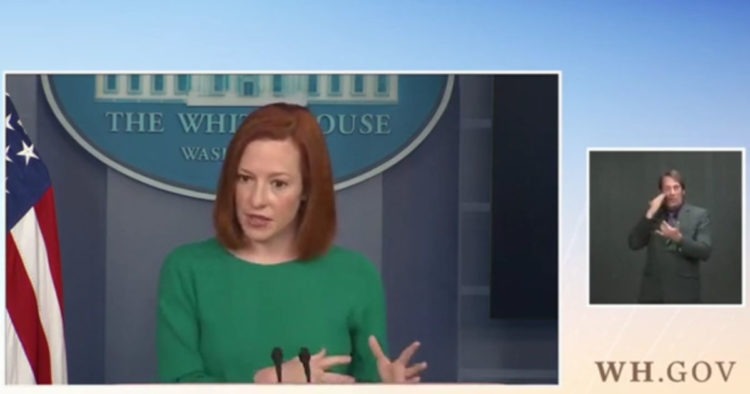 Mea Culpa: Oregon's Largest Newspaper Admits Defunding Police Was A Terrible Idea As Homicides Skyrocket
Oregon's largest newspaper, The Oregonian, has published a mea culpa over their previous endorsement of defunding the police, after 266 shootings and 25 homicides in the first quarter of 2021. In fact, in a Monday article from the paper's editorial board, they heaped praise on the city's gun violence reduction team and defended the mayor's recent proposal to restart the 'canceled' unit after a spate of violence ensued.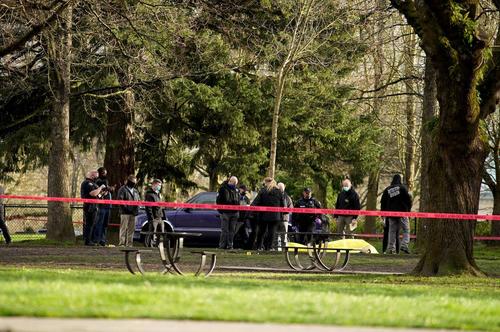 "While we supported the move at the time, we – and all Portlanders ­– should recognize what has also been lost. The gun violence reduction team responded to every shooting, identifying incidents that were connected and helping disrupt potential retaliatory action. Officers had established relationships with many of those considered high-risk for being involved in gun-violence, connecting people with resources in the community as well as communicating with them about ongoing disputes to keep violence down. And as part of their work, they took dozens of guns off the street."
The paper then slams the city council for ignoring the "reality of the threat" that removing cops from enforcement jobs has had on the city, saying that a proposal by commissioners to hand $3.5 million to unspecified community groups reflects a "startling lack of seriousness, if not outright naivete," which "fails to show the urgency or understanding of the scope of this crisis."
"The council's three newest commissioners told Mayor Ted Wheeler that they oppose the $2 million proposal to revive the gun-violence unit that he developed with members of the Interfaith Peace & Action Collaborative…"
— Ryan Chittum (@ryanchittum) April 4, 2021
As PJMedia's Jeff Wreynolds noted last month, after (George) Floyd's death, the "defund the police" movement sprung up under misplaced motivations of social justice, and many people died unnecessarily.
Crime policy expert Sean Kennedy, a fellow at Maryland Public Policy Institute, crunched the numbers, based on Portland Police Bureau stats and media reports:
Since June 2020, there has been a 255% increase in murder in Portland through February 2021;

Shootings increased 126% in 2020, and Year to Date have increased 93%.
The numbers are truly alarming. From January through April 2020, there were a total of three murders in Portland. Just in January and February 2021, we've already seen 20 murders. For the period of June 2020 through February 2021, 71 murders have occurred in Portland. That's a staggering 255% increase over the same period one year prior.
* * *
"These shootings and murders are happening now ­­– on streets, in convenience stores, in homeless camps as well as in parks, with homicides occurring at a pace to reach a record-busting 100 this year. Many shootings are tied to retaliatory violence between rival groups – a complex dynamic of relationships, families and history that was well understood by the disbanded Portland Police's gun violence team but whose connections now go largely unrecognized as investigations are handled by whoever is on duty," the editorial continues, adding that restarting the gun violence unit would not be an easy undertaking.
Then, the paper suggests that "somehow" the city has become polarized to the point where everything has been painted as a "zero-sum game" in which "support for one thing translates into rejection of another."
When will leftist lawmakers stop making sweeping, kneejerk decisions that affect entire communities so they can signal their virtue? We won't hold our breath.
https://www.zerohedge.com/political/mea-culpa-oregons-largest-newspaper-admits-defunding-police-was-terrible-idea-homicides?utm_source=feedburner&utm_medium=feed&utm_campaign=Feed%3A+zerohedge%2Ffeed+%28zero+hedge+-+on+a+long+enough+timeline%2C+the+survival+rate+for+everyone+drops+to+zero%29
Editorial: Portland's gun violence surge needs dedicated police team
An investigation is underway after one person was fatally shot in March near a North Portland park, police say
Contemplating the 266 shootings and 25 homicides in just the first three months of this year, Antoinette Edwards was struggling to understand how Portland city commissioners could oppose the mayor's proposal to restart a Portland Police gun-violence team.
What more do commissioners need to know to understand the trauma neighbors feel about repeated shootings on their street, Edwards, who headed the city's office of violence prevention for 10 years, asked at a Thursday press conference. What daily data report can bring the reality of the threat home to commissioners? How many more loved ones need to die before commissioners match the urgency of this crisis with courageous action of their own?
https://www.oregonlive.com/opinion/2021/04/editorial-portlands-gun-violence-surge-needs-dedicated-police-team.html
"We Are Struggling" – Capitol Police Union Head Warns Of Officer Exodus 
The US Capitol Police (USCP) union commander warned of a possible officer exodus and the need to bolster security following the latest attacks. 
"We are struggling to meet existing mission requirements even with the officers working massive amounts of forced overtime," Gus Papathanasiou, chairman of the Capitol Police Labor Committee, said in a statement.

"I've had many younger officers confide in me that they're actively looking at other agencies and departments right now."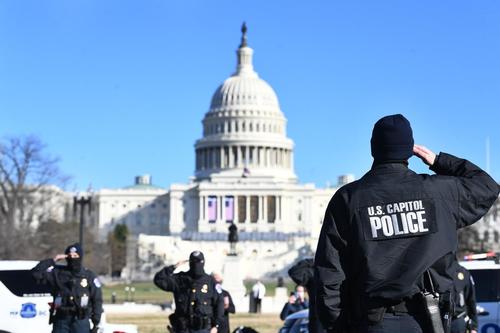 USCP has had a remarkably traumatic year. Last Friday, the latest incident occurred when a driver slammed into a barricade, killing one officer and injuring another. The attack came months after Trump supporters stormed the Capitol complex on Jan. 6, injuring 80 officers. 
"We have now lost two officers in the line of duty this year," Papathanasiou said.

"Another officer has taken his own life, and we have 80 officers who were seriously injured in the insurrection. Some of those injured officers may never return to duty."
The union chief said police are short-staffed and morale is low. Younger officers are moving to other agencies or departments, and older officers are putting in their retirement papers. 
"In the next three to five years, we have another 500 officers who will be eligible to retire," he said.

"Many of these officers could put in their retirement papers tomorrow."
Papathanasiou said the department is 233 officers below its authorized level of more than 2,000. The shortage has already forced some officers to work "massive amounts of forced overtime," he added. 
The Capitol Police is the law enforcement agency responsible for protecting Congress – its members, visitors, and facilities. 
… and perhaps the shortage that could transform into a mass exodus at any moment is the reason why the Pentagon recently extended National Guard presence around the Capitol complex
https://www.zerohedge.com/political/we-are-struggling-capitol-police-union-head-warns-officer-exodus
Chicago Shootings In March Top Four Year High As Mayor Lightfoot's Plan To Combat Crime Fails  
Two years since Chicago mayor Lori Lightfoot won that runoff election, her multi-year plan to combat violent crime across the Democratic-run city is in shambles. 
The Chicago Police's Monthly Crime Newsletter shows the number of shootings in the metro area in March – and the number of shooting victims – jumped to a four-year high. The report is a stark reminder of Lightfoot's anti-violence plan to reduce violent crime and rebuild communities has hit a snag. 
In March, there were 233 shooting incidents and 298 shooting victims, the report showed. This compares to 146 shootings and 175 victims in March 2020, 136 shooting incidents and 165 victims in March 2019, and 136 shootings, with 151 victims in March 2018. 
Homicides in the Democratic stronghold city were up 33% in the first three months of this year compared with the same period in 2020. For the same period, shootings were up 40%. 
The surge in violence comes as Lightfoot is fighting the unprecedented socio-economic impacts of COVID-19 across the metro area. Her multi-year plan to heal the community, protect and secure public places, improve policing, among other goals, has yet to decrease violent crime.
At some point, her stated goals will have to come into question as some public health experts warn of a "perfect storm" of socio-economic collapse, virus pandemic, mental health crisis, and drug epidemic are some factors resulting in the wave of violent crime. There's also a community-based movement calling for de-policing that continues to widen the trust between the community and police. 
Just this weekend alone, seven people were killed and at least 27 others wounded in shootings across the city. An uptick in shootings and violence could be associated with warmer weather trends as criminal gangs fight for turf. 
Data compiled by HeyJackass shows on a year-to-date basis, homicides, and shootings are significantly higher than last year. This is problematic ahead of the summer season when much of the killing occurs.
On a community basis, HeyJackass shows a high number of homicides and shootings have occurred in Englewood, Grand Crossing, Austin, and Garfield Park.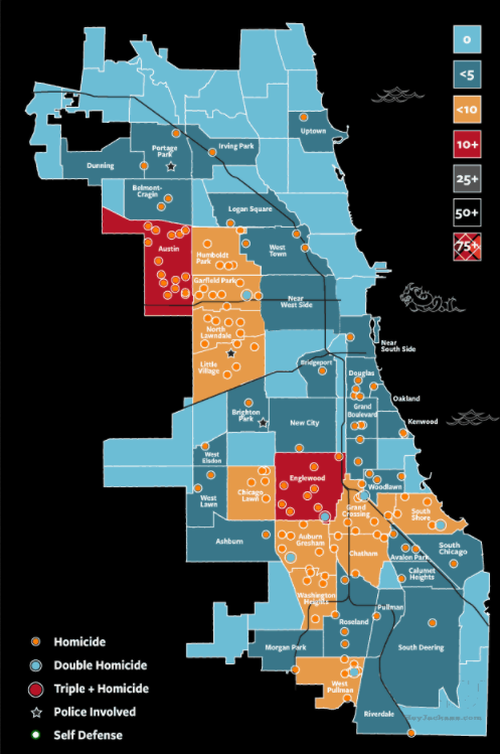 In the last 30 days, 52 people have been killed and 257 wounded.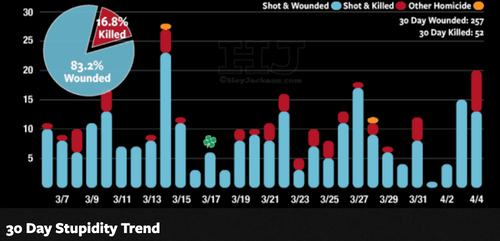 Black-on-Black shootings in Chicago are out of control,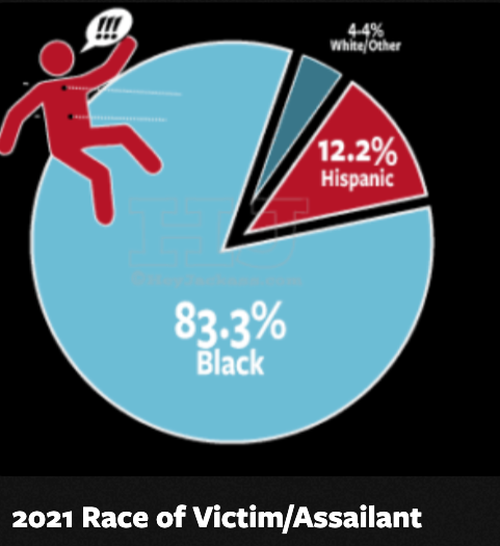 Already, the year-to-date homicide trend in 2021 appears to be nearing the decade record. This suggests momentum in violent crime will continue into summer.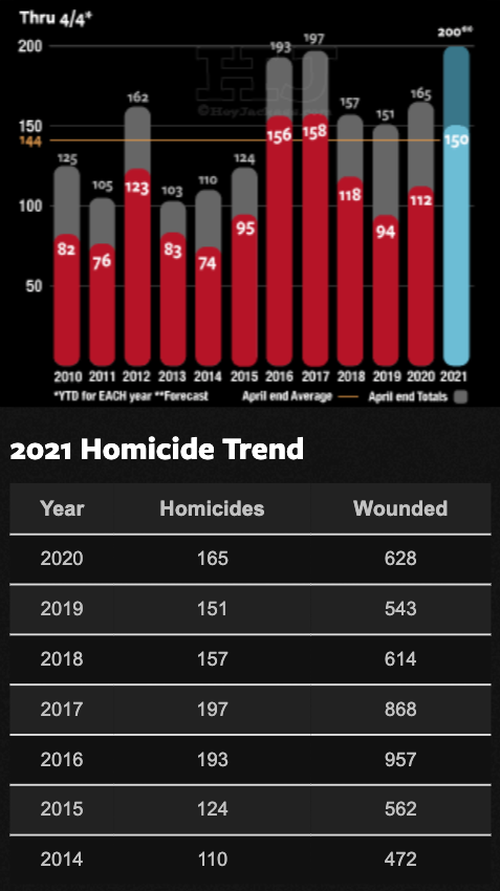 Chicago's situation echoes that of many other liberal-run cities, where crime has run rampant since last summer's "peaceful protests," which consisted of property damage, assaults, looting, and lighting cities on fire. The latest "police reform" protest turned violent last month. 
https://www.zerohedge.com/political/chicago-shootings-march-top-four-year-high-mayor-lightfoots-plan-combat-crime-falters