What happened with the truck drivers' strike in Australia
What happened with the truck drivers' strike in Australia
There is a great lack of clarity over what happened with the truckie strike in Australia.
Three things are clear: 
There was a strike but not in all locations
In South Australia at least, the truckies got what they needed – a requirement for them to get tested every time they crossed the border. 
There are empty shelves in supermarkets – but the reasons given for this may deviate from the true picture
From my experience with the trade unions it would be unusual for unionists to come out for the "Greater Good".  I think it was to satisfy their own (very justifiable) demands.
From 2 days ago
Two videos emerged yesterday of Aussie truckies appearing to be engaged in a blockade over vaccine passports. These videos have been copied, shared and viewed by hundreds of thousands of people on Telegram and Gab.
One video claims to have been recorded at 9:57 am, Saturday September 4 at Pottsville, NSW.
A line of trucks can clearly be seen either side of the overpass.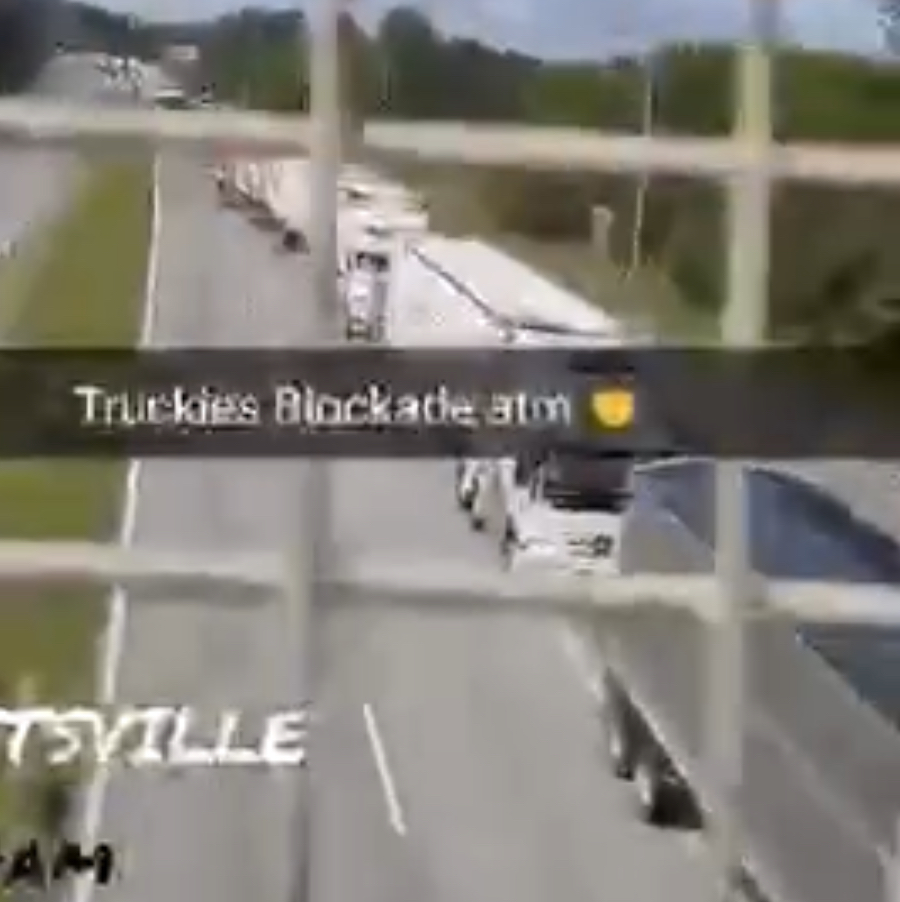 The line stretches as far as the eye can see.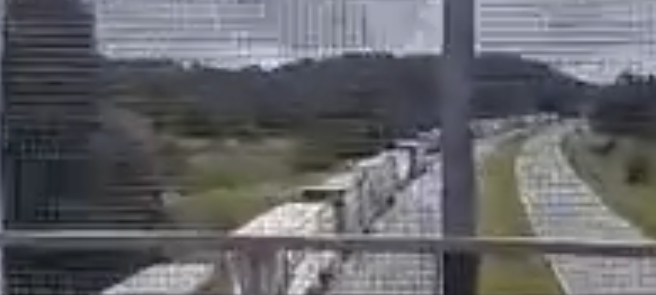 Pottsville lies about 30-40 kilometres south of the Queensland border.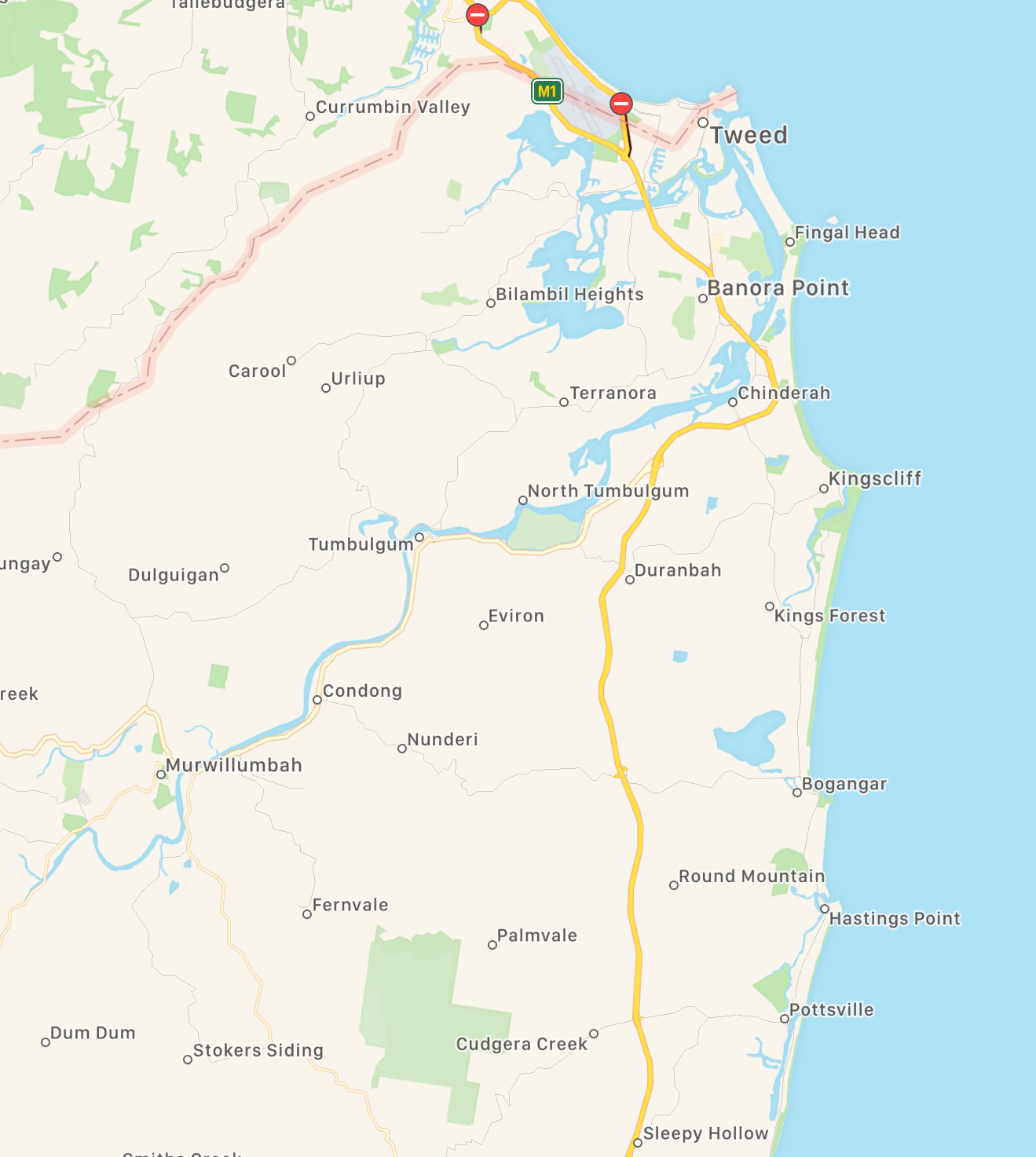 The overpass would be here.
The other video is taken from ground level inside a car. It could be at at the same location, as the driver states the road he is coming off to get onto the freeway – it sounds like "Cloffiers Creek Road" but he could mean Cudgera Creek Road.
The video also emerged yesterday, Saturday 4 September, 2021. It lasts about a minute and the line of trucks only ends at the end of the video. Note the Coles and Woolworths trucks involved.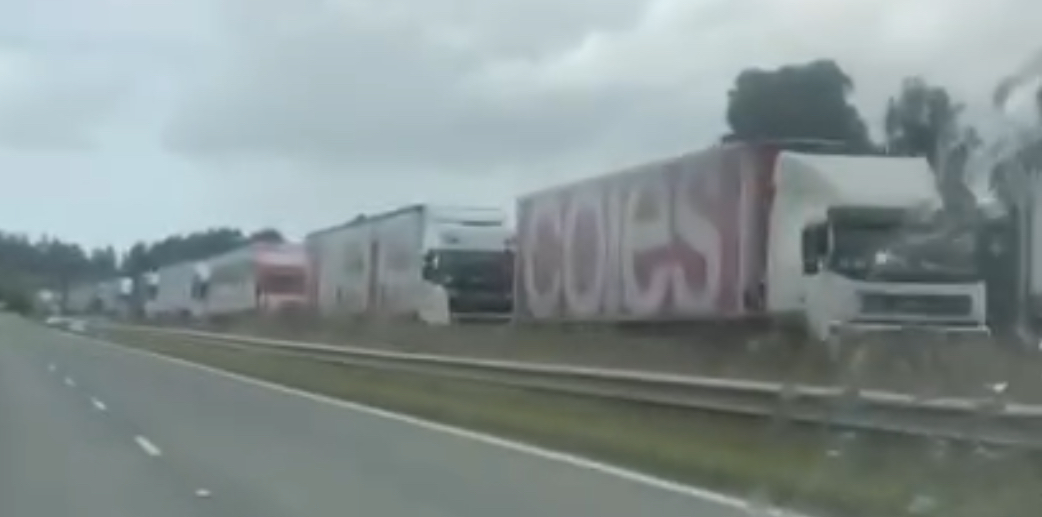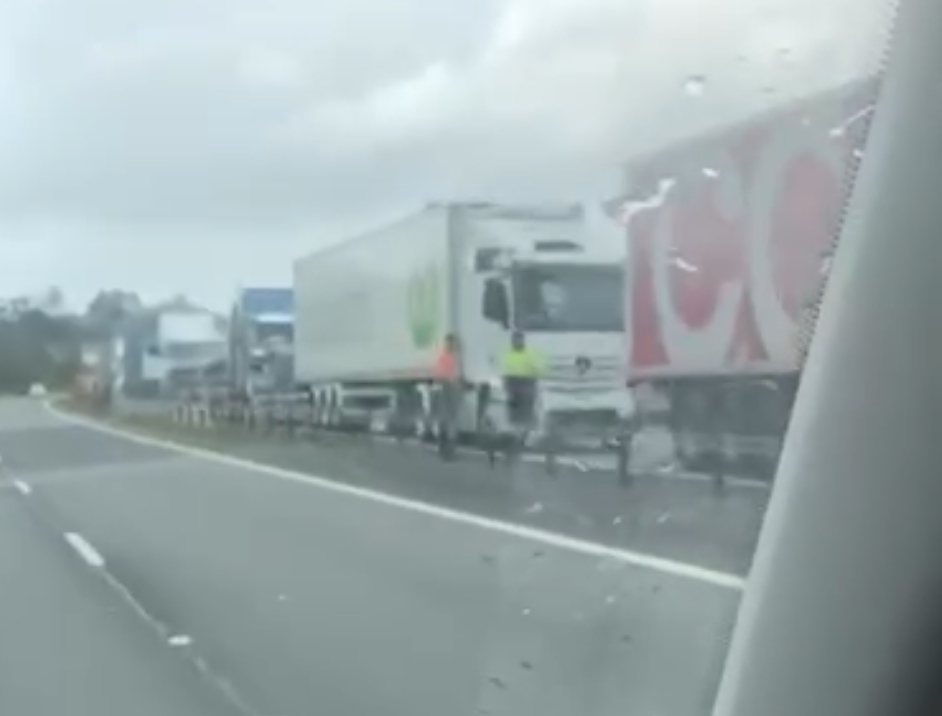 It's intriguing. The XYZ reported on this several days ago, sharing footage of trucks backed up on Australian roads.
We have advised people to take the footage with a grain of salt. The fact is, we still don't know what is going on. There has been nothing in the Lying Press about this, but we know that the Lying Press lies, so it doesn't mean that it isn't really happening.
They did refer to a truckie dispute in the week leading up to the 31st, but they misleadingly claimed it was merely over "working conditions" and "casualisation of the workforce". The working conditions at the heart of the dispute are the mandatory vaccine passports for "essential workers" to enter Queensland, invasive testing requirements, and ridiculous covid regulations such as being forbidden from using public restrooms.
There is a lot of information being shared on Telegram. Some good sites to go to are:
Aussie Truckies United: https://t.me/AussieTruckiesUnited
Down the rabbit hole we go folks: https://t.me/downtherabbitholewegofolks
Senator Roberts Group Channel: https://t.me/malcolmrobertsuncensored
Lockstep Australia Group: https://t.me/lockstepaustraliagroup
Naturally, claims are going back and forth. The claim is made that there are delays at every border town, and that you can check this by going to Google maps. This is countered with the claim that these are traffic accidents or hold ups from border Covid checkpoints.
People are sharing photos of Google maps, claiming that the red spots are being changed to show traffic accidents or roadworks. People are claiming that social media posts are being deleted and a media blackout is being enforced.
Pictures and videos of empty shelves in supermarkets are also being shared, making clear that they are from 2021, not from The Great Toilet Paper Panic of 2020. This has been countered with a photo of a letter from a supermarket claiming its supply chain has been disrupted due to workers having to self isolate.
As stated, it is still unclear what is going on. What would shed more light on the situation is if multiple people in the region were to investigate, take multiple videos and photos and post them on as many platforms as possible.
You can't stop the signal.
Some people are under no doubt
Australian Supermarket Shelves Are Empty After Truckers Go On Strike
The regulation was set to go into effect on September 24th, and would have required truck drivers entering the state of South Australia to have received at least one COVID vaccine shot. Now, the regulation has been scrapped, but it is still unclear how much effect the planned trucker protests had on the sudden change of plans. 
According to XYZ News, "yesterday's protests [in Australia]  have taken a serious toll on people. There were mass arrests, mass fines, and completely unnecessary police brutality against people who were simply standing still in silence," as people stood together to support truckers and their medical freedom. Some of the demonstrations were even described as "complete and utter chaos."
This was earlier on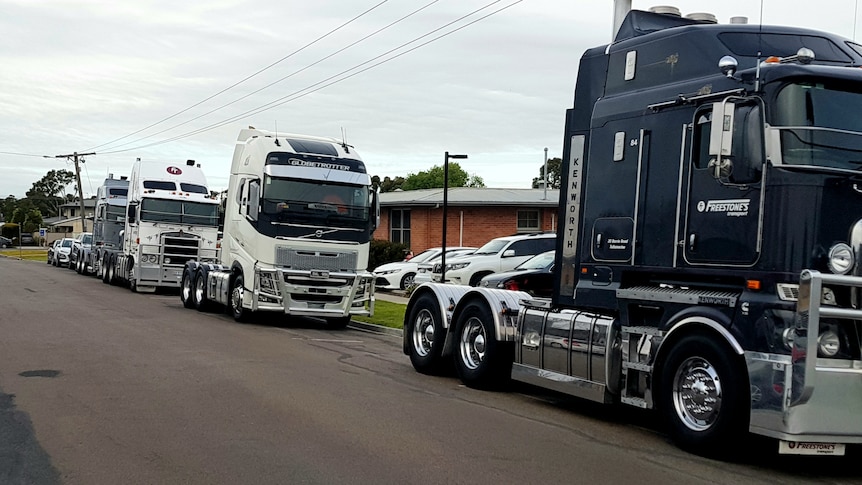 The streets around the Wimmera Base Hospital in Horsham have been lined with dozens of prime movers after a sudden change to South Australia's border rules stopped them crossing from Victoria
South Australia altered its cross-border directions on Friday and required a driver trying to enter from Victoria to produce evidence of a negative COVID test from the previous 72 hours. Previously it had been seven days.
This forced drivers to unhitch their trailers near the border and make the 120-kilometre trip back to Horsham to get tested.
A temporary clinic was established by the Wimmera Healthcare Group to cater to the asymptomatic drivers, separately from their regular testing patients
Here are some other comments on the situation in Australia
CONNECTING THE DOTS: TOTALITARIAN AUSTRALIA BY COMPUTING FOREVER
Australian health chief Dr. Kerry Chant says that COVID will be with us "forever" and people will have to "get used to" taking endless booster vaccines.
The New South Wales Chief Health Officer made the alarming comments during a recent press conference.
"We need to get used to being vaccinated with COVID vaccines for the future … I can't see COVID is not going to be with us forever," said Chant said during a press conference last week.
"As a public health doctor we always want to have diseases go, to be totally eliminated, but that is not on the horizon in the near future," she continued. "Booster doses and repeat doses will be part of it."
"I can assure you that the commonwealth government has purchased large quantities of vaccine into 2022 and this will be a regular cycle of vaccination and revaccination as we learn more about when immunity wanes."
In a separate answer to a reporter, Chant again asserted that people "will be getting vaccinated regularly" against COVID.
Given that Australians were previously told authorities "wouldn't hesitate" to go door to door to carry out COVID tests, what's to stop them doing the same thing for vaccines?
As we previously highlighted, the infamously stern-faced Chant previously warned Aussies that they shouldn't even be talking to their own friends and neighbors, even if they're wearing a mask.
"Whilst it's human nature to engage in conversation with others, to be friendly, unfortunately this is not the time to do that," said Chant.
"So even if you run into your next door neighbor in the shopping center…don't start up a conversation, now is the time for minimizing your interactions with others, even if you've got a mask, do not think that affords total protection," she added.
Australia continues to pursue a disastrous 'zero COVID' policy enforced via endless lockdowns that have characterized the country as a "prison island" with no escape anywhere on the horizon.
Anyone who challenges the policy via protests faces fines of up to $11,000 dollars while police have also carried out home visits to people who merely promote anti-lockdown demonstrations via social media.