What Zelensky said in France
What Zelensky said in France
This has been so under the radar that when TruNews mentioned Zelensky was going to Paris I thought they must have got it wrong and I had to get the text of an interview with le Figaro via the Russian.
Ukrainian President Volodymyr Zelensky has arrived on a working visit to France, the President's Office has reported on Twitter.
"President of Ukraine Volodymyr Zelensky and First Lady Olena Zelenska have arrived on a working visit to France," the tweet reads.
Zelensky and his wife will stay on a working visit to France on Friday. It is expected that the main topic of the meeting between the presidents of Ukraine and France will be the escalation by Russia of the security situation on Ukraine's eastern borders.
https://www.ukrinform.net/rubric-polytics/3229181-zelensky-arrives-in-france.html
Hal Turner made a pretty big claim.
I don't see any sign of it here.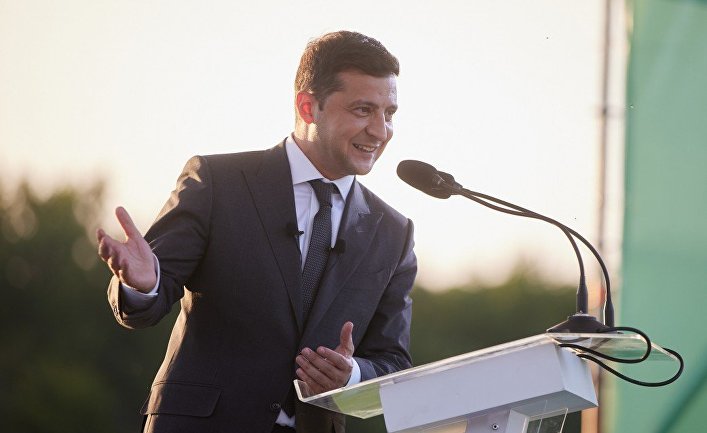 In a detailed interview, President of Ukraine Volodymyr Zelenskyy convinces Le Figaro that it is time to take Ukraine's relations with the EU and NATO to a new level, in other words, appeals to Europe for help in what Ukraine itself cannot cope with. He complains that Russia does not want to celebrate Ukraine's successes, and speculates about Putin's thoughts.
Le Figaro (France): facing a threat from Russia, Zelenskiy appeals to Europe for help
Le Figaro (Франция): столкнувшись с угрозой со стороны России, Зеленский взывает к Европе о помощи
Volodymyr Zelenskyy: First of all, I am looking forward to this meeting. We have a very good relationship with Mr. Macron. The relationship is long-standing, despite our age. I am grateful to him, because from the very beginning, when I was not yet president, between the first and second rounds, he supported me.
What am I waiting for now? I would very much like Europe to have one hundred percent understanding of how to assess Ukraine. If they see Ukraine in the European Union, then they need to speak it openly. It's not just that in the future, when Ukraine will do the first, second, third, fourth, fifth, sixth … And if the security of any country is membership in the Alliance, then steps must be taken in relation to an action plan … and in relation to the EU.
Emmanuel Macron and I are friends. If they really want to see us in the EU as a member of their family, I think now is the time for each of us to do what we have to do for each other. We want to increase our trade. This year, because of covid-19, we have $ 2.5 billion. But if we want to reach 5 billion, we must do it. Don't just tell the press, the media, all our friends what we want to do. We have to do it, and we will do it. And after that, the media will ask: how did you manage it? This is the question that I want to hear as president.
Of course, I am very pleased with the support from President Macron. But we want to talk directly about what worries us: about the war in the east of Ukraine, about the occupation of Crimea. Yes, he did a lot. He, the EU, as well as Angela Merkel, Charles Michel, many European presidents and prime ministers support us. But we are talking about security in Europe. And if the EU leaders say that the security situation in Europe depends on Ukraine, if we pay for it with victims – and more than 14 thousand people have already died – then we must have some kind of status. Ukraine cannot feel itself as a guest in the EU and NATO. We want to be our own. I believe that we deserve it a long time ago.
I believe that we should be in the European Union, should receive an Action Plan for NATO membership. I always say that Ukraine should have this status. This is true. Then we will feel like subjects. Then the citizens of Ukraine will never feel lonely. It is important. Because in the security situation in Europe, in the world, in the history of mankind, we are subjects. I think France is a great country, she is a subject. We must have an equal relationship – that's what I'm waiting for.
We will also have a conversation with Angela Merkel. Talk about equality. Because so far there is no meeting in the Normandy format, the three leaders have already talked with the leader of Russia. There should be the same meeting where the subject is Ukraine.
In addition to the economy, we have several projects with Alstom, Airbus, there are new projects, we will continue to do something. There are also a few things related to medicine, with the MIC. But I don't like to talk only about projects. I believe that this is like a relationship between people – you can't meet all the time, you need to move on to more serious relationships. And if we are one family, we must conclude legal contracts. I may be conservative, but I believe that in these relations it is more correct to "give birth to children". I mean a common future.
– What do you think about the policy of Emmanuel Macron in the Russian direction?
– Let's be frank. I would very much like my relations with President Macron, and hence relations between Ukraine and France, to be even better than Emmanuel Macron's relations with other leaders, for example, with the President of Russia. Especially now, when we really need the support of Europe, when we have suffered greatly from the aggression of Russia.
It seems to me that President Macron wants to be on friendly terms with Russia, and I understand him. But he must also understand my aspiration, which I spoke about. It never hurts that much when it's not about you, and it always seems like it won't be like that. But history doesn't pat you on the head, it hits you with a hook when you don't wait. You have to be ready.
What does it mean to be ready? To have such countries, such friends, such presidents, to whom you can always turn your back and not be afraid of anything.
This is how we lived in post-Soviet times – and before we were one country called the Soviet Union – we lived like this with Russia. We fought Nazism together, we won together. Therefore, Ukraine did not expect such a blow and did not expect the occupation of Crimea, the war in the east, did not expect such deeply bad relations. Why are they so bad? Always, when there is a war between loved ones, you are three times more painful than when there is a war with someone you never knew close.
Therefore, there can be no predictions here. And I believe that the President of France supports us. He understands us. But this is not happening in his country. And I wish him that this never happened in France. I have seen many conflict moments, and I do not know one hundred percent whether Russia was involved in these conflicts, strikes in France, or not. In any case, I looked at it, and I did not like the conflict situation. But this is zero compared to what is happening here. It seems to me that he, as an intelligent leader, must realize the danger before some actions similar to ours can occur, which, God forbid, will take the lives of people. Therefore, the balance will not work, I think so.
– What is Russia doing in Donbass now?
"They are definitely trying to show that we should be afraid, and they are definitely trying to provoke us. We see how many shots. We see sniper fire from the occupied territories. We have various intelligence data, and we see a buildup of troops both in Crimea, Donbass, and on the borders of Ukraine and Russia in various directions. They seem to interpret this as preparation for the Zapad-2021 exercises. But we all understand – this is pressure. The pressure is political, militarized, psychological.
Why psychological? Because they shoot and expect us to respond in the same way. Moreover, they expect us to go on the offensive in eastern Ukraine. But we will not give them that kind of happiness. We see their rhetoric, the rhetoric of the circle of the President of the Russian Federation. I think this is very dangerous for us, for Europe and, ultimately, for his country. This is a dangerous rhetoric: we, they say, are ready to defend "our" Russian citizens in any case.
You know, all over the world there are Russians, as well as Ukrainians, and French, and other nations. The world is wider than the former Soviet Union, than Europe, the United States, China. We cannot restrict people on the basis of ethnicity to live or work somewhere. Take the same IT people. After all, we can say that in Silicon Valley we must protect the citizens of Russia, India, Ukraine, Great Britain and other countries. Even Americans are not in the majority there. But this does not mean that each of these countries should protect their citizens and send troops there. Then it is already a world war.
That is why I say that it is very dangerous. First there was certification in the temporarily occupied Donbass. Now there are 250-300 thousand people with Russian passports. They do this in order to later say that "we are protecting the citizens of Russia." Look: this is our land, our territory, on all not conventional, but real maps of the world. And our people live in these territories. And we are very open, and there are citizens of different countries. Because this is the world. And there is no need to defend our territories from us.
And here is the story of what happened in the Crimea. We know that since the beginning of Ukraine's independence, Russia has been distributing Russian passports in Crimea. And then she came in and said that she was protecting the Russian people. But 14 thousand people do not die from protection. It sounds the same in Ukrainian, and in French, and even in Russian: when you defend, people are alive.
– Is the mobilization of troops by Russia a kind of test of the new US President Joseph Biden?
– In any case, it seems to me that it is somehow connected. I think everyone in the world is showing their muscles. I would like it not at the expense of Ukraine. Russians make such steps all the time, conduct certain exercises. At the same time, they become very tense when, for example, NATO ships appear in the Black Sea. They are very tense when they observe the rapprochement between Ukraine and the Alliance. When Ukraine succeeds in certain economic breakthroughs in cooperation with other countries, Russians also think deeply. They don't need a strong, independent Ukraine. We understand this. Although I believe that such a desire is their weakness.
Everything is like in life. There are people who rejoice at your victories: when you found your other half, you had a child, you signed a cool contract and made money, or you just wanted a car and were able to buy one for yourself. And there are other people who see something negative in your every victory. It is believed that you have stolen something, so you have a car. That is, there are people who are simply happy, they are happy, naturally happy. And the neighbors should live like this. Then the citizens of your country will be very happy.
I don't understand when it happened that Russia stopped rejoicing in Ukrainian victories, successful steps, and the happiness of Ukrainians. Probably since independence. Because Ukraine has matured and simply strives for what belongs to it. And we are definitely not the property of Russia. It's not about toys. I think they need to deal with their country.
– Do you think that Putin wants to take the Donbass by annexing it completely?
– I think I know what he wants, but I would not want to push him. Because there is always hope for the one percent who does not want it. And even if he wants to, he will not do it. We have heard this rhetoric that he will take the entire Donbass. But you must know our people, and I would like you to understand me: we will not give them a single centimeter of our land. Whatever it takes. And this is very important to understand.
Therefore, I very much hope that they will not go further, to escalate. Because, as I said, it will be a loss for everyone. And historically, primarily for them. Because we are on our own land.
– How long does it take to return the temporarily occupied Crimea to Ukraine?
– This is one of the most difficult questions. People who do not live in Ukraine sometimes say that everything is clear with Donbass, it will return, and Crimea will never return. Other people, even in Ukraine, say that you will return Donbass, and Crimea, perhaps, only after the president in the Russian Federation is replaced.
I live in a different paradigm. For me, Crimea and Donbass did not go anywhere, and these are definitely our territories. And they will not be happy without Ukraine. We see this in those territories where there is occupation – in Abkhazia, Transnistria and so on. I have not seen there any scientific breakthrough, cool enterprises, Hong Kong skyscrapers. I have not seen life there. Therefore, I do not see happiness there. And when people are unhappy, they leave. Hence, it will be dead territory. It will be worse than Chernobyl. Because even tourists come to Chernobyl. And these will be just dead regions, unfortunately.
Or people on the ground should understand that they are all Ukrainians and they should want to be in Ukraine. Just like Ukrainians in controlled territory want to be with them. Because, I know, many civilians live there as in captivity. But they consider themselves Ukrainians.
There are people in Crimea who at one time shouted that Russia would come and they would be "a pearl by the sea." But nothing happened. It got worse, there is no tourism, no enterprises, no work, high prices, no water. Therefore, I believe that there is no future for them without Ukraine.
– Will Joseph Biden be a better US president for you than Donald Trump?
"We're not in the supermarket of the presidents of the United States. And, fortunately, there is no way to choose. The American people choose. There is a relationship between the United States and Ukraine. Yes, presidents can improve these relationships, but the general mood is difficult to change. The United States treats Ukraine well and supports it. Whatever the president of the United States is, whatever the president of Ukraine is, such a relationship will exist.
But relationships can be better, deeper, when the presidents have more than an official call. And even more than the work of teams. When there is chemistry. And it does not depend on gender, not on age, it is simply there or not. And it always depends on how you personally feel about this country.
President Biden knows Ukraine better because he has been there. He understands the Ukrainian issue better, it seems to me. But you still have to judge by the results. And it takes some time for the result. When time passes, I will definitely tell you which of the US presidents is better for Ukraine.
– But you have been waiting for a phone call from Joseph Biden for a long time …
– Yes, for a long time. But that's okay. I understand that the United States is a large country and that it has relationships, support, or difficulties with many nations. I'm not saying that we are special and the most important for the United States, but I would very much like it to be so. Although, it seems to me, now in the European part of the world, due to what is happening in Ukraine, we are very important.
– You wanted to talk to Vladimir Putin, but he did not agree. This is true?
– Yes it's true. I made a request when four of our soldiers were killed and two were wounded. I asked the head of the Office to contact him, I wanted to talk to Putin. But they did not confirm the conversation – there was no conversation. At first, they officially said there was no request. But I remember.
Incidentally, this is an indicator. Because they ask me if Russia wants to end the war. This question can be answered with actions: I called – they did not answer me. To date, this is the answer.
– What do you think Putin thinks of you?
– What does he think of me? Honestly, I do not know. I represent Ukraine, and it is very important for me what he thinks about my country. And I carry it over to myself. I don't think I am who he expected. Because I am about equality in everything. About equality of spirit, equality of relations. I respect a person and do not look at him from top to bottom, but I am not ready to look from bottom to top either. Because I am the president of an independent country, I represent it. And for me the number of the population is not important. I am about equal rights. Our territory is occupied, the support of the militants is not equal rights. Here we entered our territory. Then some guests came to my apartment, whom I certainly did not invite.
– You have recently been to Turkey. What did you talk with Erdogan about?
– We now have good relations with Turkey. We have a lot of questions. For example, the question of the Crimean Tatars or Crimeans, who lost their homes, left after the occupation. Now we are going to build 500 houses for them – for their temporary residence. True, we do not know when this temporary residence will end and when they will return home. But we provide them with this.
Now we have a trade turnover of 5.5 billion dollars with Turkey, and we want to double it. I would like the representatives of Turkey to come to us and support us on the 30th anniversary of Ukraine's independence, and I think that it will be so. I will also invite the President of the French Republic – I would also like him to support us. Let's see.
– Do you think Erdogan will help you get closer to joining NATO?
– It is important for us to cooperate in the Black Sea region. Much depends on Turkey in terms of security. And I would like to have a common view of security in the region. I know that they support Ukraine as a future NATO member. If you believe what I see and hear on international platforms, at least officially, Erdogan supports this.
– Is the Normandy format dead?
– I think that it is Mr. Macron who can do artificial respiration now. Yes, right now. It seems to me that the Normandy format was in a coma, then we were able to meet at the end of 2019. And I really saw that this format, if we continue the allegory, has a heart beating, a pulse has appeared. But now we see that there are problems with the health of the format due to the fact that one body does not want to work. Support is needed here, first of all, from Mr. Macron, and then, let's believe, Russia will have a desire. Because now, no matter what Russia or its representatives say in the Trilateral Contact Group in Minsk, I know for sure that they are blocking everything.
There are specific things. In the Normandy format, at the end of 2019, the four of us agreed on concrete steps to be taken by two of us. And two more – France and Germany – must monitor how this is being done, help and, if there are difficulties, push. For example, open an entry-exit checkpoint so that people from the occupied part of Ukraine can go and receive various administrative services. Since the beginning of my presidency until now, we have opened four modern, high-level service checkpoints with new roads. More than 80 services are provided at these checkpoints: pensions, banking services, post office, telephones, account replenishment. There is everything you need, even a mother and child room.
They had to do the same – they didn't discover anything. As there was one checkpoint with a destroyed bridge before the Norman meeting … They did not open anything from that moment. I don't know at what level, but we see that they can open. When humanitarian trucks travel, they open the checkpoint. But out of spite, they do not let people in. And they always have a reason – covid-19, special mode, whatever. I will sometimes come back to the question of whether Russia wants to finish. About the checkpoint – this is one of the answers to the question whether they want to.
Then we agreed on an exchange. All-for-all exchange. We took the first step – we really exchanged a lot. Then they blocked everything.
Then we agreed on a ceasefire. The ceasefire is the most important point – it comes first in the Minsk agreements. We understand that without this nothing can begin. What are the conversations, exchanges, elections, borders, when they shoot?
On July 22, 2020, we started a ceasefire. It really was our victory. For seven months, the ceasefire was observed more or less. For the first two or three months we were generally happy. I figured we went ahead. Difficult, but look at the steps. Then the situation becomes more complicated, and from the beginning of the current 2021 until that moment – 27 dead. That's all. And they shoot, and the number of the military is growing. I ask for the third time: does Russia want to stop the war? Look at the satellite photo – here is the answer.
– You have a lot in common with Macron. First, he loves theater. Secondly, he entered politics without party support. So my question is: does the work resemble a theater, a stage?
– There is something similar. Indeed, sometimes you need … Theaters are different. Sometimes you find yourself in a theater where the audience behaves differently, for example, they start talking on the phone, and something happens on the stage. Here also. You have to work on this "stage", in spite of what sometimes happens around.
This is not really a role on stage, because there, after an hour and a half, you bowed, and people applaud standing. And here this performance does not end, no one applauds, and flowers are unlikely to be brought to you. This is a very difficult scene anyway.
– How difficult is it to engage in politics without the support of political parties at the start, without experience in this?
– I don't know how else, I have only this case. But I know from life experience: if you go up, to the top, and I have done this several times in my life, you do not need to carry a heavy backpack. You will go very slowly, and then it's definitely not about reforms. So I go without this baggage, I have no climbing experience, and I have a goal – just forward. Sometimes, in some matters, I may be confused, climbing this mountain, but I definitely lead the country quickly and only up. I would not like, however, to fall at the end.
– Why is it so difficult to reform Ukraine?
– Many different people and forces, both outside and inside, do not want to see a strong country. As independent as possible. Preserving its history, writing, traditions, its own face as much as possible, because it is always easier to manage the same. I understand that in many issues Ukraine does not march in step, and therefore all these forces have been crushing our country from the very beginning.
Second. The country is resourceful, beautiful: mineral resources, forests, water, mountains, the same Crimea. Historically, they always wanted to have Ukraine under them, seeing only as an agricultural country and a resource base for certain states. And they also put pressure on the country for many years.
Third. When Ukraine gained independence in the early 1990s, due to the fact that the country is so attractive and rich, they began to plunder it not only from the outside, but also from within. This was done by many of the people who today are respected businessmen. I consider them just bandits, that is, they have become multimillionaires or billionaires in what is left from Soviet times – in enterprises. They did not build them, they just took and took them, graded them. Those were the times. And these people are financial groups. Today they have real estate, yachts, by the way, in England and France, in elite areas, in Monaco. Today they are businessmen, respected throughout Europe, they not only visit it, but also live there.
This is why all these groups need to be fought. And we do it.
– Is it effective?
– Yes.
– There is a lot of influence from Russia, which seeks to hinder the Ukrainian reforms. How do you think Russia is blocking reforms? Propaganda or spies?
– Disinformation, propaganda. This is one of the tricky situations. A Center for Countering Disinformation has appeared in Ukraine, it is two weeks old. I am also going to officially open our Cybersecurity Center in the coming month. This is very important to counter misinformation. Disinformation kills everything today – it affects the exchange rate, the investment climate – we understand how investors are being dragged out, and therefore new factories and plants may not open, which means that new jobs will not appear.
That is, penetration is a new kind of competition. Unfortunately, this is unfair competition. But these are the modern challenges we live in. We understand that war is a calf that cannot be fed; she constantly needs to be given food, money, and she sucks everything out of the Ukrainian economy. That is, we must constantly have 200-250 thousand people ready. They live in war.
– And the spies?
– Yes. We have cases, we find them. And SBU understands. They can be at different enterprises and in some state verticals that manage one or another direction, for example, energy, – medium and small levels. The SBU even found it at home. We do not stop and find new cases.
– What about the Constitutional Court, which is trying to impede reforms? Why?
– We know that some financial groups influenced the Constitutional Court. They are also represented by some members of the Verkhovna Rada. I think they are losing influence. And the Constitutional Court is such a strategic path, some judges hit the anti-corruption infrastructure hard. We blocked all this promptly and powerfully. Today the President of the Constitutional Court cannot be present at the sessions, he was not admitted. Already two judges have also been denied access to court hearings.
All anti-corruption bodies are working. The reboot of the Constitutional Court has not yet taken place, but we are on the right track.
By the way, it has never been so difficult. Just during the time of my predecessor – he changed the law on the Constitutional Court so that nothing could be done with them. They gave them too much authority and made it impossible to fire them. That is, it was done on purpose to control the Constitutional Court.
Thank God that this person is already in the past. We will change all this.
– What, in your opinion, is a successful presidency?
– Only when after the end of the term people will say about me that I was a successful president.
– What do you regret the most since you started working?
– I never regret it when I decide to do something. I always try to achieve results. If after these five years I realize that I did not do what I wanted and wasted those years, I will regret this time. It's terrible to regret.
I always think about time. This is my time or the time I spend with my children. Because of this work, I have very little of this time. And I hardly see how my children grow up. But there is a spouse, so I am calm.
– I had an interview with Macron three weeks ago, I asked the same question. And there was the same answer …
– I think the translation was similar.
– What's your biggest success?
– It will be in the future. I really hope. I think we will give Ukraine a different speed, a different face. I am sure that after me the people of Ukraine understood that such a president could exist. I believe that this is a very important point, that Ukrainians will no longer be able to choose a person with political mothballs for themselves. I believe this affects a lot of things. Because, as they say, the fish rots from the head, and no matter how Poroshenko or Medvedchuk tries to bind me some kind of corruption, they fail. Everyone can see that this is impossible. Therefore, I believe that I am setting this tone for politicians. They see: if I do not allow myself, then they are already ashamed.
This has always been the case in Ukraine. Everyone looked and said: if he can, I can too.
– Which of the leaders inspires you?
– I'm afraid to disappoint …
– There are no such?
– There are great people, and they don't care what to do. I'm sure that if Steve Jobs went into politics, and he was also hated by many people, he would still definitely do something breakthrough. If Elon Musk did not launch rockets, but decided to go in for sports, I am sure that he would become a good teacher for Michael Phelps.
That is, they are just great people. This is beyond physics, but I want to say: the planet does not rotate, it is rotated with great speed by great, breakthrough people. And those who make the whole world change are such people for me.
It's hard for me to answer. Roosevelt must have been such a person. But I cannot evaluate only from books, because there is success, and this success is shared only by those people who were near at that moment. I do not know when Churchill was great – at the moment when he talked with his wife, and she suggested something to him, after which he became great, or when he was very young and fought. I don't know at what point these people become great. I don't know when Lee Kuan Yew became a great man. When did he completely change his country with tough, dictatorial moves? He just made a great country out of nothing. Therefore, for me these people are great people, and sometimes they are not from politics.
– How will Nord Stream 2 end, in your opinion?
– There are two factors. The first is the United States. And the second is the unity of European countries. I believe that the US sanctions policy will help Ukraine, and I am grateful to them for that. And here they have an open position. There are different positions in European countries. Russia is taking advantage of this.
This is an energy war. As in any war, you cannot fight if there is no unity. Someone will definitely lose. If Nord Stream 2 is completed, not only Ukraine will lose. This is a precedent, it means that this is not possible. And this is the same as with our occupied territories. If people recognize and get used to it, live with it, then it means that this is possible. Starting from Abkhazia, from Nagorno-Karabakh, Transnistria, and now – Crimea, Donbass … Crimea and Donbass would not exist if even then the world had said "it is impossible".
Nord Stream is another blow, an energy one. This is what modern wars are called. Hybrid Wars. This is an information war, an energy war. So it is with gas, and the food war. We know how countries are blocked, and they do not receive food. Also – a war of vaccines, when there is no supply of vaccines to a particular country, and you are blackmailed by this. This is hybrid warfare.
So what difference does it make which troops are fighting against you? It must be remembered that Nord Stream is not a question of business in Europe and Russia. No, it's a matter of war.
– Which of the European countries, in your opinion, understands Ukraine best of all? And which of them does not understand at all?
– It is hard to say. We are very well understood by the countries that were republics in Soviet times. These are the Baltic countries. They understand very well. I think Belarus understands us perfectly. I know they treat us very well, young people treat us well – they come, they love us very much. I believe that they deserve a different future, even a different present. We are well understood today in Italy and Portugal, because there are many Ukrainians there. And they probably understand quite well in Poland, because many Ukrainians also work there. I know that Ukrainians are very loved.
Canada has a very large diaspora. I think that, in principle, all European countries from the point of view of our sovereignty, territorial integrity – everyone understands us. But he named the closest ones. Those who, it seems to me, deeply understand us, who understand: if Ukraine falls, the Baltic countries will be next. Poland could be next. It seems to me that they think about it. And due to the fact that there is such a threat, they understand you more.