White House Says Russian Forces 20 Miles Outside Ukraine's Capital
White House Says Russian Forces 20 Miles Outside Ukraine's Capital
Ukraine War, West's Loss, China's Gain
Update(10:50pmET): Possible cruise or ballistic missiles have reportedly hit targets in or around the Ukrainian capital of Kiev. It's unclear the degree to which the strikes are sustained at this point. 
The White House has informed lawmakers in Congress that it believes Russian forces are now a mere20 miles from Kiev.
Large blasts are being reported by Western correspondents in the early morning hours local time. 
CNN is reporting: 
The Ukrainian capital Kyiv was targeted with missile fire early Friday local time, according to an adviser to the country's government.

"Strikes on Kyiv with cruise or ballistic missiles continued," Anton Gerashchenko, advisor to the Head of the Ministry of Internal Affairs of Ukraine told reporters via text message.
President Zelensky in an earlier appeal to the world, said a new "iron curtain" is descending over Europe. 
* * *
Update(6:42pmET): Shortly before 1am Kiev time Ukraine's President Zelensky announced: "The enemy's sabotage forces have entered the capital. Me and my family are remaining." 
"We need to talk about a ceasefire with Russia," he added in the video message. Then what followed suggests the brutal reality is finally sinking in that despite years of 'promises' from Washington and the West of a "path to NATO membership" – none of his backers or Ukraine's allies are coming to help: 
"We are not afraid to talk to Russia. We are not afraid to talk about security guarantees for our state. We are not afraid to talk about neutral status. But what security guarantees will we have? But which countries will give them?" Zelensky says in response to a prior Russian offer to begin to negotiation "terms of surrender". 

"We are left alone in defense of our state. Who is ready to fight with us? I don't see it. Who is ready to guarantee Ukraine's accession to Nato? Everyone is afraid," added Zelensky.

"I asked the 27 leaders of Europe whether Ukraine should be in Nato. I asked directly. They are all afraid. And we are not afraid," he said.
The world is now witnessing in real time what prominent geopolitical analyst John Mearsheimer predicted over a half-decade ago against the backdrop of the initial West-backed Ukraine coup…
"The West is leading Ukraine down the primrose path & the end result is Ukraine is going to get wrecked," Mearsheimer said in a clip that's lately resurfaced and widely circulating. 
Zelensky's latest comments showing deep frustration and desperation came hours after President Biden in an address on the crisis confirmed that "US forces are not going to fight in Ukraine" while also rolling out fresh sanctions which stop far short of what Congressional hawks are demanding. On the energy front, he had said while crucially sparing key Russian energy exports from sanctions:
"In our sanctions package, we specifically designed energy payments to continue. We are closely monitoring energy supplies for any disruption," Biden said from the East Room of the White House. "We have been coordinating with major oil-producing and consuming countries…"
After the first full day of fighting, the Commander-in-Chief of the Armed Forces of Ukraine says that in total 30 Russian tanks, 130 armored fighting vehicles, 5 aircraft and 6 helicopters were taken out by Ukraine's military. However, without doubt the Ukrainian losses are much, much more severe. 
Meanwhile fresh reports say Russia is preparing to begin a "large-scale bombardment of Ukrainian capital Kiev around 03:00am Ukraine time," based on a CNN correspondent citing US intelligence sources. 
Ukraine's Defense Ministry is vowing to continue defending the country, also as Zelensky belatedly issued a 'full mobilization order' – which alsobars all military eligible males from fleeing the country ranging in age from 16 to 60. 
Below: a round-up of confirmed footage via NY Times…
* * *
Update(4:28pmET): The US and NATO are apparently doubling down: despite Ukraine seeing overwhelming Russian forced used to subdue the country (along with Belarussian troops), Ukraine's Foreign Affairs Minister has announced Kiev will receive "new defensive weapons" from Washington.
Simultaneously, Ukraine's defense minister says Russia is "preparing a new wave of attacks, including air strikes."
However, it appears the debate inside the administration may be continuing on the extent it wants to go on provoking Russia further, after Biden earlier in the day made clear the US won't send troops to Ukraine to engage Russia.
This also as Ukraine's government is touting that its arming a local resistancemade up of civilians and military veterans…
Some evidence has emerged in the last half-day of fighting that in some places the Russians may not be encountering much resistance as they approach Ukrainian forces and bases. 
However, one major reported reversal happened in the last hours at the major Hostomel airfield near Kiev, which is reportedly back in Ukrainian military control after fierce fighting. Russia took it early in the day after a major aerial assault. 
* * *
Update(1:49pmET): Ukraine's government has confirmed that the Chernobyl power plant site has been seized by Russian forces. "The Prime Minister made the announcement in a televised briefing, saying Russian troops had taken control of the zone and the nuclear power plant," Bloomberg confirms. 
"The facility is located about 80 miles (129km) north of Kyiv, several miles south of the Belarus border. Holding Chernobyl would provide Russian troops a staging point that couldn't be shelled," the report adds, in reference to the potential for dangerous radioactive fallout given the permanent presence of nuclear waste there. Speculation remains that should the site come under direct shelling, there could be nuclear contamination released into the air, potentially impacting other areas in Europe. 
Russian state media is in the evening Thursday (local time) citing Kremlin spokesman Dmitry Peskov to say that Moscow is offering Kiev "terms of surrender". Meanwhile…
WESTERN ALLIES SEE KYIV FALLING TO RUSSIAN FORCES WITHIN HOURS
Peskov said: The president formulated his vision of what we would expect from Ukraine in order for the so-called 'red-line' problems to be resolved. This is neutral status, and this is a refusal to deploy weapons.
And further: 
The operation has its goals – they must be achieved. The president said that all decisions have been made, and the goals will be achieved,"Peskov continued, suggesting that, if Kiev were to agree to meet the demands, the current military attack on Ukraine could be called off.
* * *
Update(10:11amET): The potential is rising for greater fallout from the war across Europe, as intense fighting is being reported centered in the Chernobyl area. Ukrainian authorities are sounding the alarm over potentially disastrous scenarios which could ensue in areas of the Chernobyl containment zone, which includes an expansive region surrounding the Chernobyl Nuclear Power Plant where radioactive contamination is highest, since the April 1986 disaster. Russian troops are reportedly entering the area from Belarus, according to Interfax:
Advisor to Minister of Internal Affairs of Ukraine Anton Gerashchenko said that Russian troops from the territory of Belarus entered the zone of the Chornobyl nuclear power plant (NPP).

Gerashchenko stressed that "if a nuclear waste storage facility is destroyed as a result of enemy artillery strikes, then radioactive dust can cover the territories of Ukraine, Belarus and the EU countries!"
Ukraine's President Zelensky has also reportedly sounded the alarm over combat in the containment area:
UKRAINE PRESIDENT SAYS RUSSIAN OCCUPATION FORCES ARE TRYING TO CAPTURE THE CHERNOBYL PLANT
It goes without saying that given the ferocity of Russia's ongoing air and ground campaign, any major incident there could spark broader panic for Europe, and a possible long term negative health impact in parts of Europe.
Meanwhile Russia's air war continues to intensify…
* * *
Now many hours into Russia's attack that started around 5am Kiev time, it's become clear that a full-scale 'shock and awe' type invasion is clearly on – which is not just limited to Donbas in the east. Stunning videos from on the ground show what can be described as an ongoing air war on Kiev and several other cities across the country. Tanks have also been seen speeding across Ukraine's border from Belarus, with widespread reports that Belarusian soldiers are mounting the attack alongside Russian troops.
Russia's military had announced within just a couple hours into the offensive that all of Ukraine's air defense systems have been taken out. A massive Russian aerial presence, including fighter jets and helicopters, has been confirmed over much of the country. 
Soon after the initial attack which also included cruise missile launches, which likely came from Russia's Black Sea fleet, Kiev authorities cited "hundreds" of Ukrainians killed, including civilians. 
It's believed that much of Ukraine's command and control military infrastructure was targeted and hit in the first wave, also as Ukraine border guards were attack, with some reports of soldiers fleeing the Russian advance. Moscow has declared safe passage for any Ukrainian soldier laying down their arms. 
Ukraine's state emergency service has also said a Ukrainian military plane was downed, which killed five people. This as surreal battlefield footage continues to evidence the ferocity of an air war in progress.
Kremlin spokesman Dmitry Peskov on Thursday issued comment on the scope and goal of the military objections, citing Putin's aim of the "demilitarization and denazification" of Ukraine. 
"Ideally, Ukraine should be liberated, cleansed of Nazis, of pro-Nazi people and ideology," Peskov said, saying that operations would end only once these objectives have been reached. It remains unclear whether this will mean regime change in Kiev, though at this point that scenario is looking more than likely. There were early reports that President Zelensky has been offered safe passage if he leaves Ukraine.
Ukraine national police and emergency services have said there's been fighting throughout the entire country, with Russia conducting over 200 attacks, with severe clashes ongoing in various parts of Ukraine.
President Biden has vowed severe and far-reaching new sanctions, which he said will be announced in an address on Thursday. German chancellor Olaf Scholz and other Western leaders condemned what Scholz called a "reckless act by President Putin," and "terrible day for Ukraine and a dark day for Europe."
"There is no justification for any of this — this is Putin's war," Scholz said at a news conference in Berlin. 
The large in scope Russian campaign is now being widely described as Putin's "shock and awe" war – to borrow from America's Iraq War – in the heart of eastern Europe. Bloomberg and others are calling it Europe's worst security crisis since World War II.
Military operations will continue
U.S. officials said the Ukrainian capital could fall within the next 96 hours and the country's resistance could be neutralized a few days later.
In particular, three US officials, speaking on condition of anonymity, said that Vladimir Putin's military operation was aimed at encircling the Ukrainian forces and in 96 hours could overthrow Kiev, while in about a week it could be occupied. the leadership of Ukraine.
This view was expressed by a former senior US intelligence officer with extensive experience in Russia.
The initial phase
Russia's attacks on the Ukrainian government and military positions, combined with reports of ground forces seeking strategic positions such as Chernobyl, are the beginning of a more comprehensive ground campaign.
"Once the airstrikes and bombings are over, and the land war really starts, I think Kiev will fall in a few days," said the former senior US intelligence official.
A source close to the government of Ukrainian President Zhelensky, who also asked not to be named, agreed with the US estimate that Kiev could be surrounded within 96 hours .
But they do not believe that Zelensky's government will collapse.
A NATO official, who also did not want to be named because he was not authorized to speak publicly about the issue, said of the US assessment : "My personal view: unfortunately, sounds rather plausible. However, I think now the first 24 hours are the most critical ".
Circulation strategy
When Vladimir Putin spoke of a "special military operation" to "demilitarize" Ukraine, he meant to encircle Ukrainian forces and force them to surrender or be destroyed.
" Army operations will take a little longer," the former intelligence official added, "but that is not going to last long . "
The top US intelligence official later said that the next steps could be determined by the ability and willingness of US President Joe Biden to risk further provocations in Moscow by supporting the efforts of a possible Ukrainian resistance.
The Ukrainian Resistance
"Then whether there is a strong uprising or not depends largely on Biden," said the former senior US intelligence official.
Asked if the government was sure it could break a possible Russian siege, the source said:
"I think it's too early to say. They say Ukraine is holding up better than they expected."
Mykhailo Podolyak, an adviser to the Ukrainian president, described Moscow's goals and the possibility of Russian forces occupying government buildings in major cities.
"The Office of the President of Ukraine believes that the Russian Federation has two regular objectives – to occupy territories and to attack the legitimate political leadership of Ukraine in order to spread chaos and to establish a puppet government that would sign a peace agreement with Russia." said Pontoliak.
"The enemy is trying to destabilize the situation in the big cities, especially in Kharkov and Kiev. "There is a possibility that the Russian armed forces will occupy government districts."
Watch video
HELICOPTERS IN BELARUS PREPARE TO TAKE OFF TOWARDS UKRAINE #BELARUS #UKRAINE PIC.TWITTER.COM/Q9XMRODWRP

– MILITARYLAND.NET (@MILITARYLANDNET) FEBRUARY 24, 2022
VIDEO REPORTEDLY SHOWS RUSSIAN TANKS IN THE STREETS OF KHARKIV, UKRAINE. PIC.TWITTER.COM/ANJVWBCA0R

– MOSHE SCHWARTZ (@YWNREPORTER) FEBRUARY 24, 2022
STREET CLASHES BETWEEN #UKRAINE & #RUSSIA ARMIES IN CITY OF #OKHTYRKA WHICH IS LOCATED IN NORTHWEST OF #KHARKIV . PIC.TWITTER.COM/TVLNNTASOK

– BABAK TAGHVAEE – BABAK TAGHVAEE – BABAK TAGHVAEE (@BABAKTAGHVAEE) FEBRUARY 24, 2022
#UKRAINE #SUMY PIC.TWITTER.COM/ETQ6RAJAKY: LOOKS LIKE THE RUSSIAN INVASION FORCES SUFFERED SOME SUBSTANTIAL LOSSES AS THEY ENTERED THE CITY OF

– THOMAS VAN LINGE (@THOMASVLINGE) FEBRUARY 24, 2022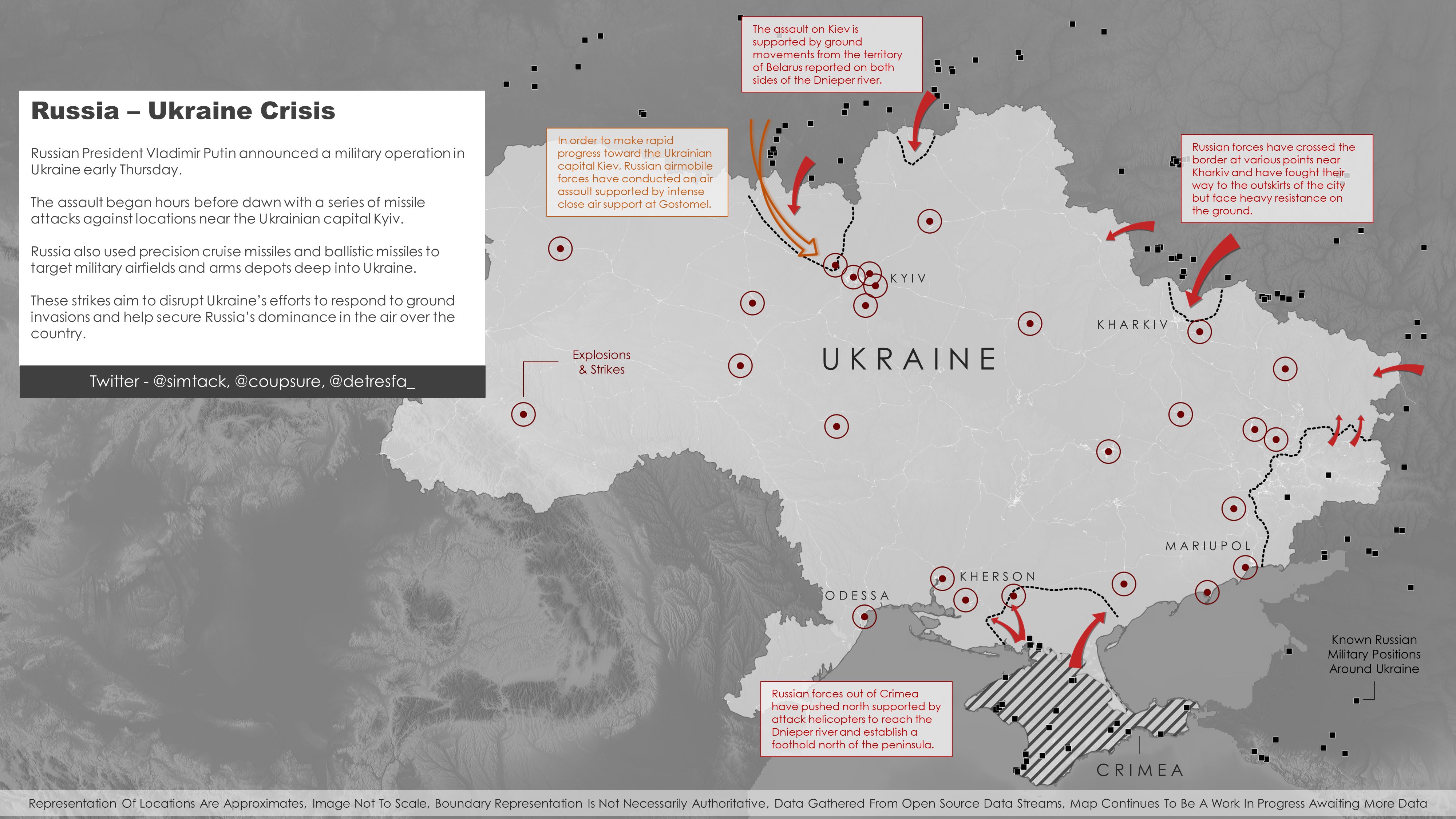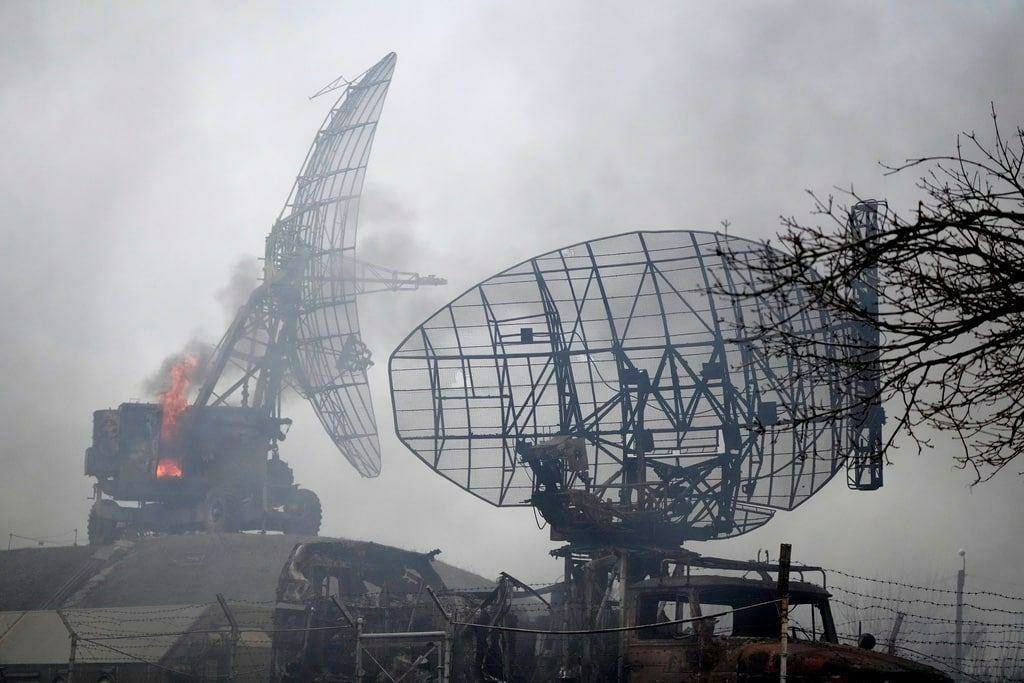 I am getting emails from all types of sources about Ukrainian cities already being liberated.  The problem is that there are, as predicted, A LOT of fakes out there, including from anti-Putin Russian interests.  So rather than risk getting it wrong and list those cities, I will just offer a few comments and then take a break.
I was expecting an operational-level Russian operation, but what I see today this is clearly a strategic operation. This is way bigger than what I expected.
We are in the very early phases of the operation, but I see all the usual signs of a Ukrainian strategic collapse.  By tomorrow morning we should know a lot more.

The first strike phase of the operation has been extremely successful and the Ukrainian ground forces are now not only without any kind of cover or support (the Ukie Air Force and Navy passed away today), they are also without orders: not only has the Ukronazi HQ in the Donbass been totally destroyed, the Russians are, no doubt, putting down their EW blanket on the full area of operations.

I think that by tomorrow evening the operational envelopment of the Ukie forces in the eastern Ukraine will be completed.  After that, only two types of Ukie soldiers will be left: those who surrendered and the dead.

The Russians have either approached or even  surrounded several major Ukrainian cities.  I won't list them now.  Why?  Because by tomorrow we will have that list confirmed.

Belarus is fully backing Russia (Lukashenko was very emphatic about that today), as does Iran.  Our Chinese friends have been rather restrained and proffered only well-intended generalities, let's see if that changes in the future.
I also suspect that tomorrow will be the last day for the US PSYOPs to try to control the narrative, after that there will be too many cellphones with cameras to conceal the magnitude of the disaster.
For this reason, I still expect a major false flag.

The Poles and Hungarians have declared that they fear a massive influx of refugees and that they are therefore deploying more forces to the border to "control the situation".  These forces could be easily and quickly moved inside the Western Ukraine to seize the Lvov and Ivano-Frankovsk regions.  Best of all (for them) is that they can be pretty sure that the Russians won't object.  And with all the NATO facilities in the Ukraine being destroyed right now, the Russians can toss this (mostly Nazi) and faraway bone to whoever in the EU who wants it (The Hungarians are probably too smart for that, but the Poles???).  Whatever may be the case, I expect a minor NATO operation into the western Ukraine in the next couple of days.  Frankly, I couldn't care less.

Another MAJOR risk is the presence in the Ukraine of A LOT of very dangerous part of the civilian infrastructure (including 15 nuclear reactors which barely function)  The Ukies have already blown up at least one (pretty small) damn near Lugansk.  I hope that the Russian and Belarusian special forces will secure these facilities as soon as humanely possible.

Next: watch the Russian Black Sea fleet.  Something tells me that tomorrow we will see it A LOT and, probably, along the entire Ukie coast.

Last but not least.  Iraq has shown that it is one thing to destroy an army, and quite another to deal with an insurgency, even one armed with only small arms and RPGs.  I remain categorically opposed to any Russian mid/long occupation of the Ukraine.  I am confident that Putin will soon declare the end of major combat operations (if only because there won't be many enemies left) and that many Russian forces will begin a pullback.  But the nightmare of having hundreds of thousands of assault rifles distributed to "the population" but which, in reality, armed what NATO will want to see as a "stay behind insurgency" will begin.  And I want the Ukrainians to fight that battle by themselves, with some Russian help if needed, but not by hiding behind Russian forces.  So A LOT really depends on the people of the Ukraine: the coming days will show us who and what they are.  Now is the time for them to do the right thing.
That's it.  I wish we had more info, but here we need to stop and wait.
By tomorrow we will know A LOT more.
Goodnight everybody
Andrei
A Ukrainian Air Force fighter jet was shot down by a Russian missile over the Ukrainian Capital City, Kiev, as Day #2 of the war with Russia begins.  The Russian missile was fired from Russian forces just outside Kiev, as the Russian Army moves to encircle the entire city.  Kiev is expected to fall . . . today.
The Ukrainian Air Force SU-27 fighter jet exploded in flight when the Russian missile hit, and fell in numerous pieces, slowly to the ground in a ball of fire.  The pilot likely died horribly by burning to death in the cockpit.
As the plane came down, it struck a residential apartment building, doing extensive damage and setting part of the building on fire.   Here is imagery of the building and the plane wreckage on the ground: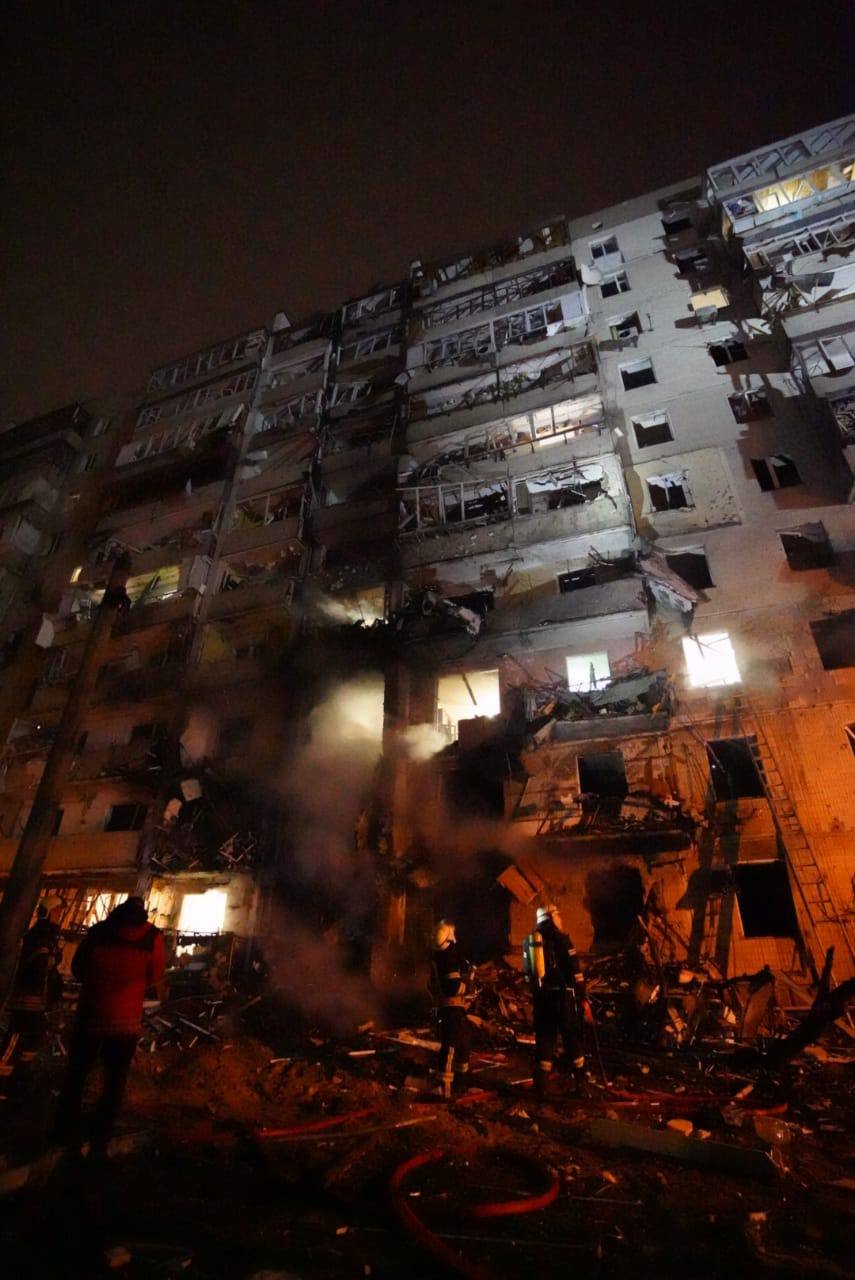 Fire crews extinguished the blaze.   It is not yet known if anyone in the building or on the ground was injured or killed.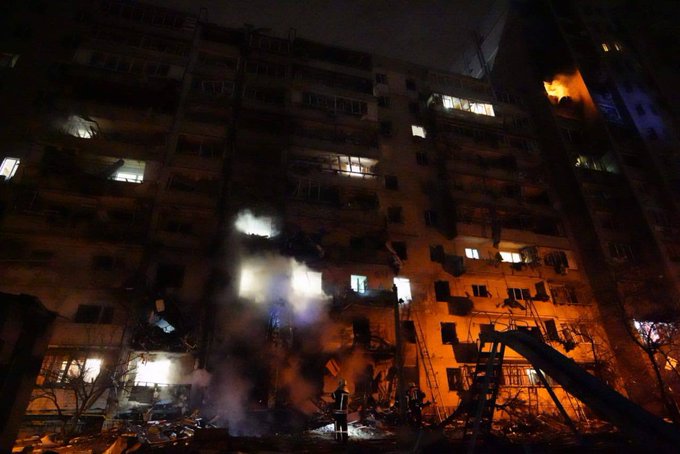 Numerous people on the ground in Kiev, caught video of the aircraft being hit and falling from the sky.  The videos are now appearing all over social media:
and here:
This caught the actual moment the plane flew over an apartment building, continued on its way, only to be hit by the missile; the explosion in the air is clearly audible and the blaze from the exploding aircraft is enromous:
In the 24 hours since hostilities commenced, Russian army troops have entered so far into Ukraine, the capital city is no longer safe for Ukraine's own military planes.  Ukraine has now los control over the air space above its own Capital city!
Earlier today satellites and ground intelligence revealed two very large columns of Russian infantry troops were making decisive transit from the north, toward the Ukrainian capital of Kiev, along both sides of the Dneiper River.  The Russians were moving so far, so fast, that EVERY defense source we spoke with told us they expect the capital city Kiev, to fall to the Russians within hours.
One aid to Ukrainian President Zelensky said earlier on Thursday "Tomorrow will be much worse than today."
The Su-27 is believed to have been shot down by a Buk-series medium-range air defense system that is escorting Russian ground forces heading to Kieviv.
Additional news updates will appear below  . . .
UPDATE 11:39 PM EST — Ukraine's capital city is now under missile attack from Russian troops said to be only twenty miles from the city.  VIDEO:
Extremely fierce fighting is said to be taking place just north of Kiev as Ukrainian troops engage the Russians.
30 Russian tanks, 130 armored fighting vehicles, 5 aircraft and 6 helicopters lost on the first day of the invasion- Commander-in-Chief of the Armed Forces of Ukraine.