Who do you think is actually winning?
Who do you think is actually winning?
Europe's anti-Russian virtue signaling and harsh language are nothing more than a facade as the number of European companies opening accounts with Gazprombank JSC has doubled as President Vladimir Putin demands rubles for natural gas. 
Bloomberg reports a person close to Gazprombank said twenty European companies had opened accounts with the private-owned Russian bank to swap euros for rubles to purchase natgas. Another 14 companies are requesting paperwork to facilitate transactions in rubles. 
European gas buyers quietly paid for supplies in rubles, and the list continues to grow — despite being in breach of Brussels sanctions. 
"Under the new mechanism, clients have to open two accounts: one in foreign currency and one in rubles in Gazprombank," the person said. 
This comes as deadlines for April supplies are near for major European buyers. The person said the payment structure involves European clients paying foreign currency to Gazprombank, then the funds automatically convert to rubles and won't involve Russia's central bank, which is under EU sanctions. 
Last week, former Goldman partner and ECB head – Italian Prime Minister Mario Draghi – confirmed companies will be able to pay for natgas in rubles without breaking EU sanctions. 
"Most of the gas importers have already opened their account in rubles with Gazprom," Draghi said during a recent press conference. He added that German companies were already paying rubles for natgas as both countries are top importers of Russian fossil fuels. 
On April 27, European Commission President Ursula von der Leyen specifically warned companies not to cave to Russia's demands to pay for gas in rubles: "companies with such contracts should not accede to the Russian demands," von der Leyen said. "This would be a breach of the sanctions, so a high risk for the companies."
It should be evident that more and more European companies are going against Brussels' sanctions. The bloc's harsh words against Putin are nothing more than fluff. 
Putin forcing natgas to be paid in rubles, on top of capital controls, has transformed the ruble into the world's best-performing currency this year. It's now up more than 11% against the US Dollar since the start of the year, even outpacing the Real's 9% increase to become the top mover in 31 major currencies tracked by Bloomberg.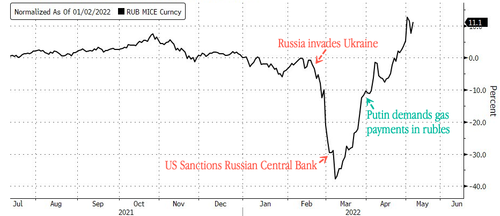 The person close to Gazprom said four clients paid in rubles and expects more to come. So much for the worthless EU sanctions to put an end to Putin war funding. 
EU Caves on Gas Ban, Says Companies Can Open Russian Accounts to Keep Supply Flowing – Report
© Photo : Nord Stream 2 / Nikolai Ryutin
US Economist Dr. Jack Rasmus tells Sputnik News that the move reflects a recent acknowledgment that European economies simply "can't find alternative sources for Russian gas."
The EU has "softened its stance" on Russian natural gas imports in new guidelines issued by the EU Commission, according to a report in Bloomberg News Monday.
According to the outlet, the new regulations pave the way for the dozens of European companies who've opened accounts with Gazprombank in recent weeks to continue doing business with the Russian company, marking a major departure from the EU's previous insistence that any payments made via such a mechanism would violate new anti-Russia sanctions.
The new guidelines reportedly state that EU sanctions "do not prevent economic operators from opening a bank account in a designated bank for payments due under contracts for the supply of natural gas in a gaseous state, in the currency specified in those contracts," but stipulate that "operators should make a clear statement that they intend to fulfill their obligations under existing contracts and consider their contractual obligations regarding the payment already fulfilled by paying in euros or dollars, in line with the existing contracts."
The language implies Europe intends to leave up to Russia the conversion from euros or dollars to rubles required by new Russian regulations implemented in response to Western economic sanctions.
Italian energy giant Eni SpA reportedly expressed intentions to open accounts in both rubles and euros with Gazprombank by Wednesday to keep supplies flowing. Germany's Uniper SE and Austria's OMV AG reportedly echoed the sentiment.
According to economist Dr. Jack Rasmus, the decision boils down to pure European desperation: "Unlike Russian oil, they can't find alternative sources for Russian gas."
Citing a shortage of modern Liquid Natural Gas (LNG) ships and a lack of deepwater ports in Europe necessary to accommodate them, Rasmus told Sputnik News Monday that currently, "there just isn't any way to increase the flow of gas. According to Lloyd's Register, "There are currently only four yards across the world building full-size LNG carriers in any number," and the Times reported Sunday that British "energy companies expect further reductions at the country's three LNG terminals in the coming months, even as oil and gas-rich countries offer to ramp up supplies."
And with Europe's LNG supply already stretched thin due to what analysts have described as a "perfect storm," the Telegraph reported Sunday that "critical shipments of natural gas are being turned away from British ports" because the UK's "National Grid fears it will be overwhelmed by supplies intended to tackle the European energy crisis" and has "dramatically reduced the amount of capacity offered" at its Milford Haven terminals.
While European nations "could wean themselves off [Russian] oil, probably by next winter," Rasmus says they're still "2-5 years" away from removing Russian natural gas from their supply.
"In the Middle East, Qatar and others say it's gonna take them two years to build up their output to be able to satisfy the natural gas needs of Europe if they cut off natural gas. So they're not gonna do it." For now, Rasmus says, the plan is to "keep the flow going of natural gas."
Regarding long-term efforts to marginalize Russia, Rasmus says "the elites in Western Europe are pretty much united except for a few exceptions there–Hungary, Serbia, Croatia."
"Maybe Italy's wavering a little bit," Rasmus notes, but by and large, he says the rest of the European ruling class "is very much in lockstep with the US," and what he describes as the US foreign policy establishment's "Brzezinski 2.0" strategy to "debilitate Russia economically and militarily."
"The US, I'm sure, has quietly made them some very large concessions, in supplying them and providing them with rebates and so forth. Who knows–we'll find out later. But they're all in lockstep with the US in terms of the sanctions, particularly with regard to oil."
The energy shortage has already proved to be enormously profitable for massive energy corporations. The Wall Street Journal explained in early May that one of the biggest "winners" in the crisis is British oil giant BP, whose "four European refineries," they say, "are minting money."
In the US, energy industry lobbyists have used skyrocketing prices to push for new permits to be issued for gas and oil drilling. But Rasmus says the talking points merely mask a push for higher profits:
"Before COVID, Big Oil was pumping 13.4 million barrels/day in the US. Now it's barely 11. They don't want to increase it at all, you see. What they want to do is to open up more drilling. They're bargaining for that."
Though elites on both sides of the Atlantic may be willing to take advantage of Russian energy for now, there seems to be little doubt about the long-term direction of the West.
"I don't think the US wants an end" to the Ukrainian crisis, Rasmus says. "There's a lot to be gained by just dragging it out… There's too much to be gained in Western Europe, geopolitically and economically," he says, "for the US" to do otherwise.
US retail gasoline prices soared to another record on Monday as global refineries struggled with adding new capacity ahead of the driving season. 
Before diving into Goldman Sachs' new commodity note explaining how global refining will be tight for the foreseeable future, last week, Saudi Energy Minister said, "the bottleneck is now to do with refining … many refineries in the world, especially in Europe and the US, have closed." 
Goldman's commodity analyst Neil Mehta outlines a rash of refinery retirements, reduced Russian energy exports, recovering jet fuel demand, and tight global inventories for products, particularly diesel, have supported higher retail fuel prices.