Whole town is on fire': Canadian village evacuated as flames consume homes and cars after record 49.6C temperature
Whole town is on fire': Canadian village evacuated as flames consume homes and cars after record 49.6C temperature
Small B.C. village levelled by fast-moving wildfire
A fast-moving wildfire engulfed Lytton, B.C., on Wednesday night and forced hundreds of residents from their homes, many without their belongings. The mayor said: "It took, like, a whole 15 minutes from the first sign of smoke to, all of a sudden, there being fire everywhere."
Residents flee Lytton as wildfire takes village
'Whole town is on fire': Canadian village evacuated as flames consume homes and cars after record 49.6C temperature (VIDEOS)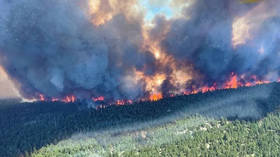 The residents of a village in Canada's British Columbia province have been ordered to evacuate after a wildfire sparked by the country's hottest-ever temperatures ripped through homes and other buildings.
On Wednesday evening, Mayor of Lytton Jan Polderman issued an evacuation order after a high of 49.6C (121.1F) was registered there on Tuesday – a new record for Canada.
"It's dire. The whole town is on fire," Polderman told CBC News after asking all residents to move to a "safe location."
"It took, like, a whole 15 minutes from the first sign of smoke to, all of a sudden, there being fire everywhere," he added.
Dramatic footage from Lytton, a community of around 250 people, showed the fire tearing through homes, cars, and what appeared to be a shop.
The flames also engulfed woodland areas, sending large plumes of black smoke into the air, severely reducing visibility on nearby roads.
Lytton, situated about 260km (162 miles) northeast of Vancouver, also experienced record temperatures for Canada on Sunday and Monday.
On Wednesday evening, winds of up to 71km/h (44mph) pushed a nearby blaze into the village, according to CBC meteorologist Johanna Wagstaffe.
Over 100 die suddenly in Vancouver area in 4 days, police say, as heat wave batters Western CanadaStarting on Sunday, Canada, and some areas of the US, including Portland, have been blasted by a heatwave.
Hundreds of people have died amid the rising temperatures, including in British Columbia, which has registered 486 deaths in the past five days, compared to its usual 165 fatalities at this time of year.
The province's wildfire service said it had responded to the blaze in Lytton and confirmed on Thursday that there were four general clusters of multiple wildfires across British Columbia.
"Ground crews, helicopters, air tankers, members from volunteer fire departments, and heavy equipment have responded and will continue to do so over the coming days," it said in a statement.
Before the scenes in Lytton, at least three major wildfires were burning in British Columbia, with 26 blazes having started between Tuesday and Wednesday alone.
Video from the scene shows people fleeing in vehicles as dense smoke blankets the main road and wild winds shake the trees
Vancouver Sun,
1 July, 2021
Public Safety Minister Mike Farnworth said that 1,000 people fled the town on Wednesday evening after a fire erupted suddenly in the downtown core.
Farnworth said the people had gone to several communities to the north, south and east and that all evacuees were being traced. These communities include Lillooet, Ashcroft, Spences Bridge, 100 Mile House, Kamloops, Chilliwack, Kelowna and Merritt.
There are no reports of fatalities at the moment and the RCMP and Red Cross were working to ensure everyone is accounted for.
All evacuees are asled to register online at ess.gov.bc.ca, or call the Emergency Operations Centre phone at 250-377-7188 or 1-866-377-7188 or email emergency@tnrd.ca.
Farnworth said most buildings were destroyed, including the RCMP and ambulance detachments.
B.C. Premier Horgan said the fire that destroyed Lytton was not directly linked to a nearby wildfire.
"Wildfire did not engulf the town," Horgan said. "The origin and cause is  not yet known."
Horgan said the federal government has promised to fund the rebuilding on Lytton.
He said he had heard an anecdotal report that the Lytton fire was caused by a train that was passing through the town – but this was not confirmed.
Mayor Jan Polderman ordered all residents to evacuate immediately due to a "fire event" within the village at around 6 p.m. on Wednesday. This came a day after the village posted a Canadian record 49.6ºC as a heat wave gripped the province.
The order stated "because of the potential danger to life and safety, the Village of Lytton has issued an evacuation order for all properties" in the downtown and surrounding areas.
By Thursday morning, most of the village had been destroyed by flames.
"The town has sustained structural damage and 90 per cent of the village is burned, including the centre of town," said Brad Vis, Member of Parliament for Mission-Matsqui-Fraser Canyon. "Neighbouring Telus and BC Hydro stations have suffered extensive damage. In addition, rail and highway infrastructure are affected."
Vis also said there were reports of several injuries, but that has not been confirmed by emergency officials.
The B.C. Wildfire Service says the Lytton fire is roughly 80 square kilometres in size and classified as "out of control."
Video from Wednesday's evacuation  shows people fleeing in vehicles as dense smoke blankets the main road and wild winds shake the trees. There were several buildings on fire — including residences and businesses — as well as vehicles, including RVs.
The fire spread so swiftly, within 15 minutes according to the mayor, that people were forced to leave behind their belongings and pets.
At 9:30 p.m., MLA for Fraser Nicola Jackie Tegart reported damage to the village was "catastrophic" and that she was waiting for a briefing from the B.C. Wildfire Service. Lytton does have its own small department but there was no way they could control the situation.
Erica Berg, a provincial fire information officer, said the evacuation order was issued about an hour after the blaze began but she did not know the size of it.
"We're in intense response mode so our main priority is getting resources to the area," she said.
Scott Hildebrand, chief administrative officer of the Thompson-Nicola Regional District, said the evacuation order was issued as soon as possible.
"It didn't matter because people were already fleeing," he said, adding smoke blanketed the area within minutes and structures were burning as residents left.
The cause of the fire hasn't been determined but Hildebrand told reporters on Thursday that officials suspect a passing train may have sparked the blaze.
Hotel rooms around the area were already booked by people seeking relief from the heat wave and by those getting away for Canada Day as most COVID-19 restrictions in the province were lifted, as well as by crews working on a pipeline project, Hildebrand said.
He said about 1,000 people in First Nations communities may also be ordered to evacuate, but it was hard to get in contact with their local governments.
"It happened so quickly that we're struggling to connect with everybody because power is down, cellphone lines are down. It's a tough situation."
Loved ones can't connect with each other
Rosanna Stamberg is looking for her son and daughter, Alfred and Marjorie Nelson, who live about eight kilometres from the centre of town in Lytton.
"I don't know which direction they went. I don't know if they went down towards Chilliwack. I don't know if they went to Lillooet. I don't know if they went to Spencer's Bridge or Merritt or Kamloops. I have no idea," she said in an interview from her home in Enderby. "Or if they stayed home."
Efforts to reach her children by phone have been unsuccessful due to a lack of cell service, she said.
"I'm very worried," she added.
Telus, the B.C.-based telecommunications company, said it planned help solved the communications difficulties by transporting a cell tower on wheels to the area to ensure emergency responders can stay connected.
The company also said it would also be deploying satellite phones, cellphones, chargers, and comfort kids with toothbrushes and hand sanitizers to evacuees.
A spokeswoman for BC Hydro, which services about 600 customers in the area, said the Crown corporation doesn't yet know how its equipment was affected.
"We know obviously there is damage but I have no idea what the extent to it is and we won't know until we've got the OK from fire crews to go in, and that might take a few days," Mora Scott said.
"We don't understand exactly where everybody went."
John Haugen, a deputy chief with the Lytton First Nation, says there has been a lot of "devastation and loss."
He says the nation, which has evacuated people to a recreational centre in Lillooet, is still trying to account for all of its members.
He says part of the issue is a lack of cell service in the community, as well as people being forced to leave with little time to prepare.
Hildebrand said a reception centre has been set up in Kamloops but some people may have gone to Boston Bar or Merritt.
"That direction was the safest, I think. That's part of our struggle now, is that we don't have people registered and we don't understand exactly where everybody went."
An emergency reception centre has been established in Merritt, which is about 100 kilometres southeast of Lytton, and around 50 evacuees had registered there by Thursday morning. The city says it can also accomodate livestock from Lytton.
B.C. Wildfires Map 2021: Updates on fire locations, evacuation alerts/orders
B.C. Wildfires 2021: Evacuation orders, alerts issued for B.C. communities because of spreading fires
B.C. heat wave: Wildfire risk pushed to dangerously high levels
---
Lytton smashed the national heat record on Tuesday, recording 49.6ºC as a wildfire burned near.
Jo-Anne Beharrell and Marshall Potts were ordered from their home on Tuesday, a day before the latest evacuation alert.
They first spotted a wildfire around 5 p.m. on Monday from their kitchen window when it was about 1.5 kilometres from their front yard.
"It looked like, you know, a small brush fire, but we knew there was a problem," Potts said in an interview Wednesday evening from Pinantan Lake, just outside Kamloops, where the couple are staying with family.
Beharrell said the heat wave has made the area "very dry, very dusty."
"I'm telling you, it was like being in the desert," she said.
They drove back to the village Wednesday afternoon to check on their friends and neighbours.
"There's a massive, massive white cloud over the whole area," Beharrell said.
"The smoke is in various colours. … It definitely feels dystopian, that's for sure. It definitely feels apocalyptic."
Highway 1 is closed between Boston Bar and Spences Bridge, and Highway 12 has been shutdown to southbound traffic between Lillooet and Lytton.
"We are all in shock"
Edith Loring-Kuhanga, an administrator at the Stein Valley Nlakapamux School, says she and fellow staff members were forced to end a Zoom interview with a prospective teacher as the fire burned down their block.
The Lillooet First Nation established a muster station at the school, only to be told to leave for Lillooet once it was set up, she added.
"This is so devastating – we are all in shock," Loring-Kuhanga wrote in a Facebook post. "Our community members have lost everything. I understand our Band office is also gone."
Jean McKay said she smelled smoke at her home in the First Nations community of Kanaka Bar, home to about 100 people and approximately 15 kilometres from Lytton.
McKay said her 22-year-old daughter, Deirdre McKay, started to panic as the smell of smoke grew stronger.
"I was still sitting there and wondering what to pack, emotionally walking out my door but thinking, 'I'm leaving all this behind.' It's hard. Very hard. When my girlfriend told me her house was burning it really hit home," McKay said.
"My daughter phoned before we lost services and stuff, she's telling us, 'Get out of there, get out of there.'"
Leaving their home was extremely difficult, she said: "I cried. My daughter cried. She said, 'I don't even know why I grabbed my key. We might not even have a home.' I said, 'Yeah I know. As long as we're together we'll survive.' I just pray that our houses are OK."
There was one memento her daughter couldn't leave behind: "She grabbed my dad's picture off the wall," McKay said. "I'm telling her, 'We're walking out and this is the home we built forever and that you guys grew up in.' It's harsh."
McKay said that with nowhere to go, she, her two daughters, her granddaughter and her mother went to stay at a CP Rail bunkhouse in Boston Bar, where she works as a cleaning supervisor and where crews often stay overnight.
Her thoughts late Wednesday night were on the damage the wildfire may have inflicted on Lytton and the surrounding area.
"Now I'm wondering if the bridge is still standing in Lytton. There's a train bridge that the community walks on too. That fire was all around that area."
McKay said there was no sign of any trouble shortly before the stench of smoke blanketed the area around her home.
The first major wildfire of the season was reported two weeks ago seven kilometres south of Lytton alongside Highway 1 at George Road, and while managed over the course of several days using helicopters and ground crews it re-erupted and is now classified as out of control.
There was also a small fire reported on Tuesday along Conte Creek just north of the George Road fire, but officials say neither was connected to the fire that forced the evacuation of the village.
Dozens of wildfires have erupted over the past four days in British Columbia amid the most extreme heat wave ever experienced in Canada and intense heat rising from the surface created a towering pyrocumulus, a mushroom-shaped cloud that can generate dry lightning, over the Lytton area.
U.S.-based meteorologist Chris Vagasky tweeted that more than 3,800 lightning events were detected.
"Just truly extreme fire behavior in British Columbia today," Vagasky said
The B.C. Wildfire Service says of the 82 active fires in the province, 58 have ignited within the last two days. Lightning is the suspected cause of more than 52 per cent of the active fires, while humans are believed to have started a further 13 per cent.
Horgan said 62 new fires had been reported over the past 24 hours and that there had been 29,000 lighting strikes in that time.
The suspected cause of the remaining 34 per cent of active wildfires is unknown.
The fire risk across most of the province is rated at high to extreme.
More to come ….
— with files from Canadian Press, Reuters and the Washington Post
---
 Meanwhile…
CO2 Hits 421 ppm
It comes month after scientists called temperatures in region 'mind-boggling'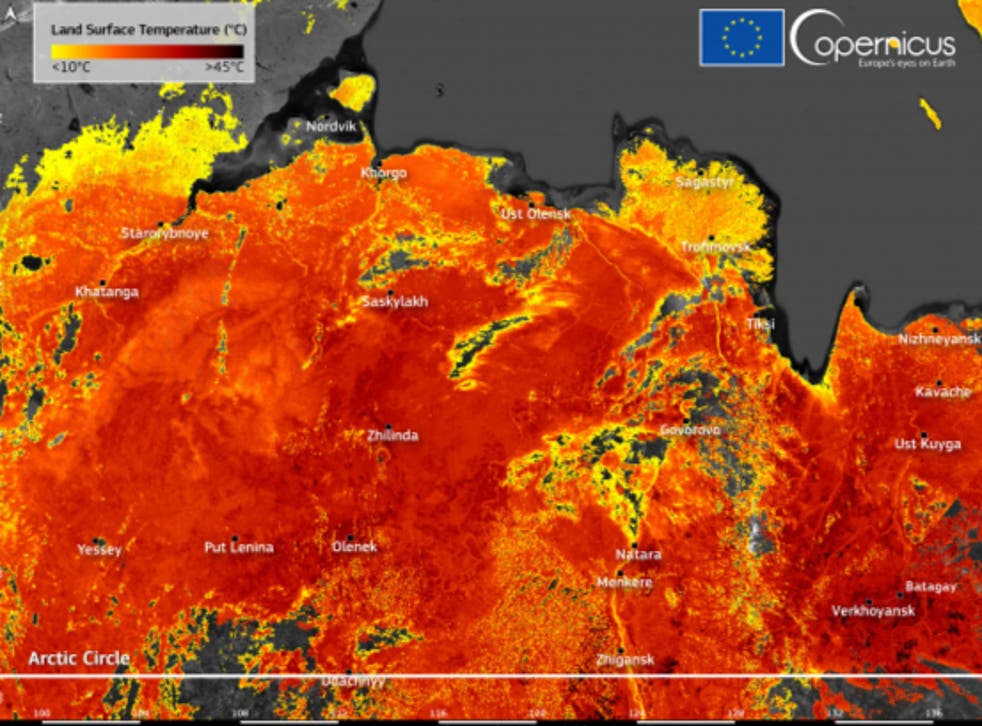 30 June, 2021
Land temperature in the Arctic Circle has reached peaks of 48C during a "persistent heatwave" in Siberia.
The European Union's Copernicus Atmosphere Monitoring Service said land surface temperature "widely exceeded" 35C across the Russian region on the first day of summer.
Siberia has been hit by wildfires and hotter than usual temperatures in recent years.
Scientists found the heatwave experienced by the far northeastern region last year would have "effectively impossible" without the man-made climate crisis.
It appears parts of Siberia in the Arctic Circle are once again recording record-breaking temperatures this year.
Saskylakh, an Arctic town, recorded 31.9C on 20 June, according to the EU's Copernicus programme, who said it was the small community's hottest temperature since 1936 before the summer solstice.
Copernicus said Siberia – and especially its Republic of Sakha – was experiencing a "persistent heatwave" at the moment.
The EU programme's satellelites found land surface temperatures – different from air temperatures – widely surpassed 35C across Siberia on 20 June, with peaks at 48°C near the town of Verkhojansk, 43°C in Govorovo and 37°C in Saskylah.
Last month, scientists called the heatwave gripping the Arctic "mindboggling" as temperature records in Siberia were once again broken.
Temperatures rose above 30C in areas of the Arctic in May, which is much higher than the average for the time of year.
Rising temperatures are causing ice and permafrost to melt, which causes previously trapped methane to be released into the atmosphere – which contributes to global warming.
Towards the end of last year, there was a record-breaking delay in Arctic sea ice freezing.