World Economic Forum removes article by Sri Lankan PM from its site
World Economic Forum removes article by Sri Lankan PM from its site
Infowars has revealed in an article,
that an article by then- PM,

Ranil Wickremesinghe (the very one that just had his house torched by the mobs), written for the World Economic Forum has been DELETED from their website.
Fortunately, there is still a version republished in the Sri Lankan media in 2018.
By Ranil Wickremesinghe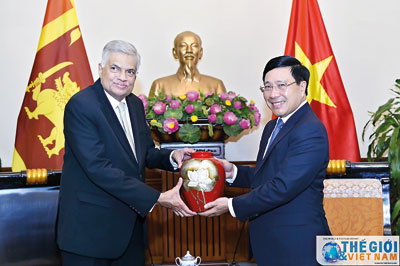 Prime Minister Ranil Wickremesinghe meeting Vietnam's Deputy Prime Minister, Foreign Minister Pham Binh Minh when he visited that country last week to attend the Indian Ocean conference. (Photo courtesy tgvn.com.vn/Tuan Anh)
This is an important moment in Sri Lanka's development, as the country continues to deliver on its plans for economic development and stands on the cusp of a transition to a knowledge-based economy.
Since the country and its people saw a vibrant transition in its political landscape in January 2015, further bolstered by the August 2015 general elections that formed a national unity government – a first ever political experience for the country since its nearly seven decades of independence – Sri Lanka has put in place many of the building blocks needed to reinvigorate its socio-economic and political architecture.
We have achieved many positive gains over the last three years through bold policy initiatives and pragmatic strategies that enabled the country to win back recognition and friendly engagements with the rest of world. This has been a key foreign policy achievement of our government. Doors are open again for constructive and friendly engagements that have eased economic and political pressures. However, as per the expectations of all our people, there is more to achieve and the government plans with due diligence to make Sri Lanka regain its centrality in the Indian Ocean and become a knowledge-based, highly competitive hub with a dynamic social-market economy.
The progress Sri Lanka has delivered over the past three years, and the success of its plans going forward, are naturally influenced by the global economic downfall and heavily tied to strategic trade relationships, in particular trade relationships across the Asian region. It is no secret that Asia is the future "economic engine", and in our endeavours to make Sri Lanka a rich country by 2025, it is our intention to "engage Asia" more steadily, utilising the strategic access to major growing markets in the region, from India, Pakistan, China, Japan and ROK to the ASEAN. Developments in Africa are also important in looking to South-South engagements and cooperation. While we undertake this re-orientation, we also continue to strengthen our partnerships with the West – particularly our top export markets of the United States and Europe.
Our economic policy, Vision 2025, is firmly embedded in several principles, including a social market economy that delivers economic dividends to all. In the first place we need to ensure we have a skill pool that matches the job market's demands. Sri Lanka's education system is being transformed through progressive and important policy reform: the minimum length of schooling has been increased to 13 years, while better education is being brought to rural areas through the 'Nearest School Is the Best School' programme, and Sri Lanka is investing in more teachers and better training. Also, opportunities for vocational training in selected areas during school education will be introduced. Further, we have taken action to empower new and innovative ideas by strengthening the intellectual property regime in Sri Lanka. The plan for an "Empowered Sri Lanka" identifies the priorities of raising incomes, ensuring employment and housing for all, and improving the quality of life for all citizens.
The plan is delivering impressive results. The current government has created over 460,000 jobs and helped more than 260,000 families secure a home. Strong progress is being made on plans to bring opportunities to rural communities by building necessary infrastructure such as roads and bridges, connecting rural and urban areas and linking Sri Lanka's economic hubs. A programme, Enterprise Sri Lanka, has been launched to encourage young and educated entrepreneurs, who will receive loans to start SMEs. The government has also invested in some mega projects, including the Colombo Megapolis constructions – to build a city of the future – and irrigation projects including the Moragahakanda-Kaluganga Dam, to generate green energy and provide water resources for agro-production.
With a domestic market of 20 million consumers with a modest per capita income, Sri Lanka recognises the importance of external demand for sustained, high and long-term growth. This is why the country is rolling out a plan to strategically position Sri Lanka as the hub of the Indian Ocean, securing opportunities for local businesses in global production networks and ensuring that the country is capitalising on opportunities to enter new global value chains. This outward-looking approach will increase the efficiency of the domestic economy, contributing to a better life for all Sri Lankans.
Sri Lanka is mindful of the shortcomings in its macroeconomic policies and institutional capacities that are required to respond to the challenges. We have encouraged strong public-private partnerships, and enabled institutions to become more transparent and efficient. We want them to function with independence, while ensuring transparency through being in compliance with norms set by the parliamentary oversight committees. The drive to end corruption is strong. We have enacted policy and legislative changes to facilitate doing business with Sri Lanka – it now ranks second in South Asia, according to the World Bank.
We have also played a constructive role in promoting international and regional initiatives in many areas, ranging from the environment and climate change to maritime security and migration. It is our commitment to use the strategic potential of the country, including its vibrant maritime connectivity, for enhancing friendly cooperation with all partners while reaping the economic benefits for all our peoples.
For the first time, Sri Lanka has now been linked to the large ASEAN region by entering into the free trade agreement (FTA) with Singapore. To have struck its first comprehensive trade agreement (including not only goods but services and investment) with a country like Singapore, regarded as one of the most open economies, with high-quality institutions, is an important milestone for Sri Lanka, and a major achievement for the current government. The Singapore FTA is a strong step towards closer integration with ASEAN, and in fact was signed in the same month that Singapore took over the chairmanship of ASEAN for the year 2018. It signals to ASEAN that Sri Lanka is interested in the region, and signals to the world that it is serious about reform.
The investment and trade resulting from the Singapore FTA is expected to drive the earning potential of Sri Lankans. Having created hundreds of thousands of jobs, the government is now focused on turning these into better paying jobs for people, in particular for youth and the younger demographics. The government has been clear that FTAs like this one are about opportunity, development and delivering a better standard of living for our people.
Sri Lanka has already begun preliminary discussions with another ASEAN country – Thailand – on a potential FTA, and formal talks were launched during the visit of the Thai prime minister to Colombo in July. This, too, is an important milestone, with Thailand taking over the ASEAN chair next year.
At present, Sri Lanka has "dialogue partner" status in ASEAN, as a member of the ASEAN Regional Forum along with 26 other countries. But the country will be using its trade agreements with Singapore and potential trade agreement with Thailand to bring it closer to obtaining observer status in ASEAN, with the goal of an FTA, as well as linking to the RCEP – the Regional Comprehensive Economic Partnership agreement.
The purpose of closer engagement with ASEAN is to generate more foreign direct investment (FDI), diversify export markets and create new technology and people linkages. ASEAN is important as a source of FDI inflows and a market for Sri Lankan exports. We have set ourselves the target of doubling exports by 2020 as part of our new National Export Strategy launched recently, which lays emphasis on the diversification of exports by strengthening emerging sectors, to chart the next export growth cycle of Sri Lanka. With our nation already delivering increased FDI and record growth in both its traditional and high-growth export industries, alongside its plan to redefine its international trade relationships, Sri Lanka is confident in its ability to deliver on its export targets. ASEAN has and will be a major part of Sri Lanka's growth strategy and its Engage Asia policy.
The 27th World Economic Forum on ASEAN in Ha Noi, Viet Nam, provides me with the opportunity to showcase the landmark changes in Sri Lanka and our growing economic interconnection with the ASEAN region and beyond. It will build upon the foundations of the historical and cultural ties that have existed for many centuries, and which bind our people irrevocably.
(Prime Minister Ranil Wickremesinghe will be participating in the World Economic Forum on ASEAN in Ha Noi, Viet Nam from Sept 11-13.)
Courtesy the World Economic Forum
The ruling Rajapaksas have strong ideas and expect everyone to adopt them
***
This is a thoughtful article on this by an American academic. I see things differently: less as "wrong" decisions than the predicaments of small countries that are encouraged to go into debt to follow globalist visions. 
I spent time in Sri Lanka in 1987 and again in 1999. The country was barely functioning and was fighting a two-front civil war and yet I did not hear about similar problems back then: Sri Lanka kept functioning.
I would argue that any small country such as New Zealand is quite vulnerable to a similar fate as that of Sri Lanka.
If we are looking at "solutions" we should be mindful of the reactions of those that seek to rule over to us, to the attempts of Russia to determine its own destiny.
Organic farm advocates said they wanted what's best for the 22 million people of the island nation off the coast of India. What went wrong?
Sri Lanka has fallen. Protesters breached the official residences of Sri Lanka's Prime Minister and President, who have fled to undisclosed locations out of fear of death. The proximate reason is that the nation is bankrupt, suffering its worst financial crisis in decades. Millions are struggling to purchase food, medicine and fuel. Energy shortages and inflation were major factors behind the crisis. Inflation in June in Sri Lanka was over 50%. Food prices rose by 80%. And a half-million people fell into poverty over the last year.
But the underlying reason for the fall of Sri Lanka is that its leaders fell under the spell of Western green elites peddling organic agriculture and "ESG," which refers to investments made following supposedly higher Environmental, Social, and Governance criteria. Sri Lanka has a near-perfect ESG score (98) which is higher than Sweden (96) or the United States (51).
To be sure, there were other factors behind Sri Lanka's fall. Covid lockdowns and a 2019 bombing hurt tourism, a $3 billion to 5 billion-per-year industry. Sri Lanka's leaders insisted on paying China back for various "Belt and Road" infrastructure projects when other nations refused to do so. Sri Lanka racked up a huge foreign debt. Growth had been declining since 2012. And higher oil prices meant transportation prices rose 128% since May.
But the biggest and main problem causing Sri Lanka's fall was its ban on chemical fertilizers in April 2021. Many other developing nations had to deal with similar challenges, including covid and high foreign debt, but have not collapsed. Indonesia has suffered terrorist bombings, which harmed tourism, but managed to rebound, and tourism rebounded in Sri Lanka starting last year. And while economic growth declined after 2012 but from astronomical peaks of 8% and 9% and remained above 3% and 4% until 2020.
The numbers are shocking. One-third of Sri Lanka's farm lands were dormant in 2021 due to the fertilizer ban. Over 90% of Sri Lanka's farmers had used chemical fertilizers before they were banned. After they were banned, an astonishing 85% experienced crop losses. The numbers are shocking. After the fertilizer ban, rice production fell 20% and prices skyrocketed 50 percent in just six months. Sri Lanka had to import $450 million worth of rice despite having been self-sufficient in the grain just months earlier. The price of carrots and tomatoes rose five-fold. While there are just 2 million farmers in Sri Lanka, 15 million of the country's 22 million people are directly or indirectly dependent on farming.
Things were worse for smaller farmers. In the Rajanganaya region, where the majority farmers operate just a hectare (2.5 acres), families reported 50% to 60% reductions in crop harvest. "Before the ban, this was one of the biggest markets in the country, with tonnes and tonnes of rice and vegetables," said one farmer earlier this year. "But after the ban, it became almost zero. If you talk to the rice mills, they don't have any stock because people's harvest dropped so much. The income of this whole community has dropped to an extremely low level."
But the damage to tea was the key to Sri Lanka's financial failure. Tea production had generated $1.3 billion in exports annually. Tea exports paid for 71% of the nation's food imports before 2021. Then, tea production and exports crashed 18% between November 2021 and February 2022, reaching their lowest level in 23 years. The government's devastating ban on fertilizer thus destroyed the ability of Sri Lanka to pay for food, fuel, and service its debt.
The crisis accelerated from that moment forward. At the end of August 2021, President Gotabaya Rajapaksa declared a state of emergency and two months later tried to reverse course. But it was too late. "We don't have enough chemical fertilizers," Rajapaksa said, "because we didn't import them. There is a shortage." In May 2022, Sri Lanka failed to pay $77 million on its foreign debt repayments. It seems like a small amount but the default made it hard for Sri Lanka to borrow money, and so it devalued its currency, inflation rose 30%, and the government ran out of the cash it needed to import fuel, food, and medicines.
What, exactly, were Rajapaksa and other Sri Lankan leaders thinking? Why did they engage in such a radical experiment?