Zelensky Visits Kherson; CIA & Russian Intel Chiefs Meet In Turkey
Zelensky Visits Kherson; CIA & Russian Intel Chiefs Meet In Turkey
There is an alternative to arguing and bickering: that is to wait and see
Zelensky, "We are ready for peace." CIA Burns meets Russia's Naryshkin
Ukrainian President Volodymyr Zelensky showed up in the southern city of Kherson on Monday, after last week Russia made an unusually blunt defense ministry televised announcement that its forces would withdraw from the city, citing a desire to preserve troop and civilian lives. 
Zelensky took part in a flag raising ceremony in the newly liberated city center. "This is a great pleasure for my heart and soul. I want to thank you for who you are and for returning Ukraine to the Kherson region. We are returning our Armed Forces, our state, our flag," Zelensky said from Kherson's central square. He called the Kherson victory "The beginning of the end of the war."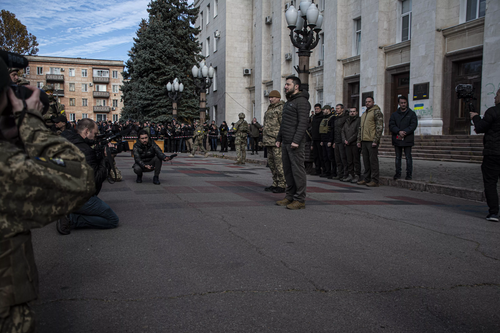 While standing before a crowd, Zelensky led the ceremony in a moment of silence for all the Ukrainians who had died defending the city. It marks a major defeat for Russia, given it was the only regional capital to have been held by Russian forces since nearly the start of the invasion. Russia had firm control of it starting in early March.
"All of us, our Armed Forces, our National Guard, intelligence have shown that it is impossible to kill Ukraine," Zelensky said. But he said, "The price of this victory is considered very high," underscoring it came at the cost of "a lot of people wounded and a very high number of dead."
Most importantly, the Ukrainian leader suggested he could be ready for negotiations, after reports emerged this month that Washington has been pressing him to be open to ceasefire talks. He hinted at this possibility from Kherson: 
The liberation of Kherson marks the "beginning of the end" of the war with Russia, Ukrainian President Volodymyr Zelensky said on a visit to the city.

Ukraine is "moving forward" and ready for peace, he told soldiers.
He had stressed the government and people are "ready for peace, peace for all our country."
Official flag-raising in Kherson with the participation of the President of Ukraine pic.twitter.com/djFHbFRbCB

— Special Kherson Cat 🐈🇺🇦 (@bayraktar_1love) November 14, 2022
Additionally, Zelensky suggested it wouldn't have been possible without support from the US and Western allies: 
He thanked Nato and other allies for their support, adding that high mobility artillery rocket systems (Himars) from the United States had made a big difference.
Zelensky last week reiterated that while he's open to talks, Ukraine will never agree to territorial concessions, which makes the possibility of negotiations unlikely, given President Putin has signed into law the Russian Federation's annexation over the four territories of Luhansk, Donetsk, Zaporizhzhia and Kherson. Putin recently called this "non-negotiable" and irreversible. 
Ukraine's US-funded army defends democracy in Kherson by capturing and torturing civilians accused of collaboration – this one apparently because his old military ID identified him as Russian pic.twitter.com/lkBeUiDQ4S

— Max Blumenthal (@MaxBlumenthal) November 14, 2022
Putin spokesman Dmitry Peskov reacted to Zelensky's appearance in Kherson on Monday, saying "We leave this without comment." He added: "You know, this territory is part of the Russian Federation." 
Western media outlets have been reporting on Ukrainian retribution attacks now happening in the city…
Meanwhile, President Biden while speaking from the G20 summit in Bali reiterated the US position of "nothing about Ukraine without Ukraine" – responding to a reporter's question about the possibility of a negotiated settlement. Biden further hailed Kherson a "Significant, significant victory for Ukraine."
On November 9, the Russian Defense Minister ordered the pullback of Russian forces from the right bank of Dnieper under the proposal of Sergey Surovikin
Ukrainian President Vladimir Zelensky
KIEV, November 14. /TASS/. Ukrainian President Vladimir Zelensky said that the Ukrainian side is ready for peace during his trip to Kherson on Monday.
"We are ready for peace, peace for all our country," Reuters quoted him as saying.
As the Ukrainian leader stated earlier, Kiev does not intend to let journalists in Kherson due to the necessary mine-sweeping.
On November 9, Russian Defense Minister Sergey Shoigu ordered the pullback of Russian forces from the right bank of Dnieper under the proposal of Sergey Surovikin, commander of the joint group of forces in the special military operation zone. The military official underscored that Russian forces have been successfully repelling Ukrainian attacks, and the decision to move the forces out was due to the threat of the group getting isolated because of potential flooding of the territory below the Kakhovskaya HPP dam. According to Surovikin, all civilians who expressed their desire to evacuate, which is over 115,000 people, have been brought to the left bank.
In a rare diplomatic opening of dialogue after nine months of war in Ukraine, CIA Director William Burns is in Turkey on Monday for talks with his Russian counterpart aimed at reducing nuclear tensions between the two superpowers. 
Burns is holding the talks with Sergey Naryshkin, the head of Russia's Foreign Intelligence Service, or SVR, in Turkey's capital of Ankara. This marks the highest-ranking face-to-face meeting between US and Russian officials since President Putin ordered the invasion of Ukraine on Feb.24. 
The Kremlin confirmed that the meeting is taking place at Washington's request. "Such negotiations really took place. It was the initiative of the American side," TASS quoted Kremlin spokesman Dmitry Peskov as saying. 
According to Al Jazeera, citing regional sources, "Burns reportedly warned Naryshkin of the consequences Russia would face in the event it used nuclear weapons in Ukraine."
The two intelligence chiefs are said to not be discussing settlement of the Ukraine war, but are focusing on the potential for a prisoner exchange between the US and Russia, as well as the de-escalation of nuclear tensions.
According to a White House national security official cited by The Associated Press:
The official, who was not authorized to comment publicly and spoke on the condition of anonymity, said Burns and Sergei Naryshkin, the head of Russia's SVR spy agency, would not discuss settlement of the war in Ukraine. Burns is expected to raise the cases of Phoenix Mercury star Brittney Griner and Michigan corporate security executive Paul Whelan, two Americans detained in Russia whom the Biden administration has been pressing to release in a prisoner exchange.
Washington and NATO allies have long accused President Putin of making nuclear threats while citing 'red lines' in Ukraine – something which Putin has denied, explaining his words were taken out context. The Kremlin has repeatedly said its nuclear doctrine has not changed, explaining that it will only use nukes if Russian territory and sovereignty comes under direct existential threat.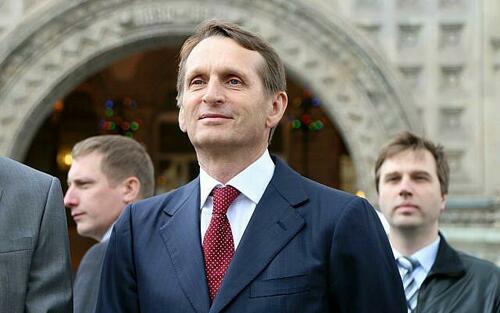 Meanwhile, at the G20 summit in Bali on Monday – which Putin was not in attendance for, President Biden and China's Xi Jinping "reaffirmed our shared belief in the threat for the use of nuclear weapons is totally unacceptable." The two had discussed Ukraine, finding common agreement on the need to avoid ratcheting nuclear rhetoric among superpowers.
But the real question remains: will Ukraine's recapture of Kherson lead to any serious attempt at negotiations? It certainly gives Kiev the battlefield leverage it has long sought. Influential voices within the Biden administration have also begun talking about pushing for peace, however, so far the hawks have prevailed, arguing that Ukraine must continue its military momentum and that seeking a ceasefire would only suggest weakness.
CIA director Bill Burns "is not conducting negotiations of any kind" with his Russian counterpart.
Suuuuuuuuuure. https://t.co/xxYsprVb0a
— Aaron Maté (@aaronjmate) November 14, 2022
From Moon of Alabama
U.S.-Russian Intelligence Chiefs Discuss Ukraine
Earlier today the Russian news outlet Kommersant reported on U.S.-Russian negotiations in Turkey (machine translation):
As it became known to "Kommersant", today, November 14, negotiations between the Russian and American delegations are taking place in Ankara, the capital of Turkey. Director of the Foreign Intelligence Service Sergei Naryshkin flew to Ankara from the Russian side.This meeting has not been publicly announced before. The source has so far declined to provide details of the talks.

Press Secretary of the President of Russia Dmitry Peskov said that he could neither confirm nor deny the information about the talks in Ankara.

The last time the Russian and American delegations met in Geneva was on January 10 for talks on security guarantees. The lack of practical results of the January negotiation process is often seen as a diplomatic prerequisite for the outbreak of hostilities in Ukraine.
The U.S. counterpart of Sergei Naryshkin is CIA director Bill Burns.
The negotiations have long been requested by Russia:
In the last month, the volley of calls for negotiation from Putin has intensified. On September 30, Putin called on Kiev "to return back to the negotiating table." On October 11, Russian Foreign Minister Sergei Lavrov said  Russia "was willing to engage with the United States or with Turkey on ways to end the war." Two days later, Kremlin spokesman Dmitry Peskov said that Moscow is "open to negotiations to achieve our objectives." On October 26, Putin sent a message to Zelensky through President Umaro Mokhtar Sissoco Embalo of Guinea Bissau, saying that "He wishes and thinks that a direct dialogue should happen between your two countries." On October 30, Lavrov said that Russia is "ready to listen to our Western colleagues if they make another request to organize a conversation" as long as Russia's security needs were considered. And on November 1, Putin said that "necessary conditions" could arise that would be a catalyst to talks.
On the U.S. side only one voice had recently publicly urged to start negotiations:
Gen. Mark Milley, the chairman of the Joint Chiefs of Staff. According to US officials, Milley "has made the case in internal meetings that the Ukrainians have achieved about as much as they could reasonably expect on the battlefield before winter sets in and so they should try to cement their gains at the bargaining table."

The top US general has made no secret of his stance. "When there's an opportunity to negotiate, when peace can be achieved, seize it," Milley declared in a public speech this week.
At the end of last week the Wall Street Journal reported that more members of the Biden administration agreed with that position:
As Ukraine Retakes Kherson, U.S. Looks to Diplomacy Before Winter Slows Momentum
American arms are flowing, but officials in Washington question how much territory either side can win Ukrainian cities including Kyiv have turned off streetlights to conserve energy after Russian attacks on power plants.
Senior U.S. officials have begun nudging Kyiv to start thinking about peace talks in the event winter stalls its momentum, following Ukraine's recapture of Kherson in one of its most stunning triumphs of the war.The imminent onset of winter—coupled with fears of inflation spurred by mounting energy and food prices, the billions of dollars of weaponry already pumped into Ukraine, and the tens of thousands of casualties on both sides—has prompted talk in Washington of a potential inflection point in the war, now in its ninth month.
Fact is that the 'west' is running short of ammunition it can deliver to Ukraine. That is why the U.S. is buying 100,000 rounds of 155mm artillery ammunition from South Korea:
"Negotiations are ongoing between the US and Korean companies to export ammunition, in order to make up for the shortage of 155mm ammunition inventories in the US," the ministry said. The Pentagon said in a statement it has been "in discussion" about "potential sales" of ammunition by the US from South Korea.But statements from South Korea and the US make clear that the deal, which has been in the works for months, has not yet been finalized. The purchase of such a large supply of artillery ammunition is highly sensitive for South Korea, especially given the recent missile launches and weapon tests conducted by North Korea.
To call 100,000 artillery rounds a 'large supply' is a joke. It is less than what the Russian army expenses in two days.
The 'west' currently no longer has the industrial capacity to make the products that are needed in a long high intensity war. It could rebuild that capacity but that would require a huge amount of money and long term commitments to buy significant amounts of such products.
Without a steady resupply of huge amounts of ammunition the Ukrainian army is done.
The Biden administration has now confirmed that CIA head Burns has met with Naryshkin. But it is lying about the content of the talks:
William J. Burns, the director of the Central Intelligence Agency, met with his Russian counterpart in Turkey on Monday to warn Russia against the use of nuclear weapons in Ukraine, a White House spokesman said.The National Security Council said Mr. Burns's meeting in Ankara was not in any way meant to negotiate or to discuss any settlement of the war in Ukraine. Ukraine was briefed in advance on the trip, the spokesman said.

President Biden has insisted that Ukraine, and not the United States, will dictate if and when negotiations commence to end the war.
Russia has not threatened to use nuclear weapons. There is no reason for it to do so and many good reason to refrain from using them. It would foremost alienate China and other Russian allies.  It was in fact the U.S. which planted nuclear scare stories in another of its attempts to smear Russia. The U.S. of course knows that there is no danger that Russia would use nukes and it is likely that Burns did not even mention them.
There are enough other problems. The electricity situation in Ukraine is getting worse as the weather gets colder. Some 40% to 50% of the 330 kilovolt network is down and more of it will fail.
What the U.S. needs is more time for Ukraine to repair damage and for the production and delivery of more weapons and ammunition. It needs a pause in the war. It may well hope for a kind of ceasefire during the winter. It is highly likely that Burns went to Ankara to talk about that.
Sure, the Biden administration has no interest in ending the war. It is setting up a headquarter in Germany where a three star general and his headquarter staff will direct the U.S. efforts in its, for now, proxy war against Russia. The claim is that the new command will be responsible for supplying Ukraine. That is unlikely to be true:
The Pentagon puts a 3 Stars General in Charge of War Operations — not Inventory. And you do not need a Headquarters Staff of 300 to do an Audit. It's a War Headquarters Staff. We are going to war against Russia unless the American People can figure out some way to stop it!
The headquarter means that the U.S. is planing for a very long and bigger war.
NATO General Secretary Jens Stoltenberg has said that a Russian victory in the conflict in Ukraine would be a defeat for NATO and that it can not allow such an outcome.
If you can not allow something to happen that is already mostly assured you will have to do something very serious to prevent that outcome. NATO is not united enough to go to war. But the chances for a direct conflict are growing by the day. It will be left to U.S. and some east European countries to send their own troops into Ukraine.
The U.S. public is not yet ready for such a step and it will take more time to get to that point.
It is another reason why the U.S. would like to pause the war for now. But Russia is unlikely to fall for such a scam. A ceasefire would allow the Ukrainian military to regain some strength and to build up more defensive lines.
After its mobilization of reservists in September Russia will soon have the forces available that are necessary to breach the Ukrainian front lines to then storm through and attack deep behind those lines. As soon as the ground freezes it will be ready to go. Any pause now would make a later move more difficult.
There will be no ceasefire now but the talks are good anyway. Both sides should do there best to keep them going.
Russia has asked for a lot: a pullback of NATO to its 1997 position, four parts of Ukraine to become parts of Russia, a guarantee that Ukraine will never join NATO. The U.S. is certainly not willing to commit to those steps – at least not yet.
It will need time and many more talks for the U.S. to come to its senses and to make the necessary concessions to end the conflict.
It will also require the defeat of the Ukrainian military, and anyone who joins it, on the battle field. Russia can do that if it concentrates on that  effort.
From the Saker
I have to begin with an admission here: while hurricane Ian was a total disasters for most of Florida, hurricane Nicole came right on time to spare me from having to react to the mass idiocy surrounding the announced withdrawal of the Russian army from Kherson.  In purely military terms, this was a no brainer and if you have not yet listened to Andrei Martyanov and Brian Berletic discussing this matter with Gonzalo Lira, please click here to listen to their conversation.
Also, please listen to Gonzalo Lira's comments here (he makes perfectly good sense).
Big Serge also posted a good discussion here: https://bigserge.substack.com/p/surovkins-difficult-choice
Next, I want to offer a tentative nomenkulature of the folks I will be referring to.  They are not a single, monolithic group, but rather a type of "PYSOP choir" with different voices.  Here is how I see them:
Paid for trolls and other US PSYOP talking point pushers: they are the real deal, folks who do that for a living.  Let's call them the "pros".  Some of them are AIs.
People who, for whatever reason, hate Putin, Russia or both.  For them, literally *any* event, decision, statement is immediately grabbed and used to "prove" that Putin is weak and indecisive, Russia is losing the war (and has been losing since day 1 and sooner rather than later the Almighty West will defeat Russia.  Let's call these the haters.
Then there are those who are in purely for the money.  They need to announce all sorts of major defeats, catastrophes, hidden conspiracies, etc. because that generates traffic and money.  Let's call these folks the clickbaiters.
Next come the folks who do not have access to the information Putin, the Kremlin and the Russian general staff has, but who feel sufficiently informed (and educated) to explain to the world what the Russians should be doing instead of what they are actually doing.  I call them the geniuses.
Then they are those who, trained by Hollywood and Tom Clancy, simply *know* that the West is the shining and most advanced civilization in history and everything it produces, be a people or technology, is just so superior to anybody else's that an eventual victory of the West against any foe or even coalition of foes is inevitable.  I think we can call them racists (as in racial supremacy).
Next we have those who really are trying to understand what is going on but simply lack the education/training/expertise to understand.  These are the folks who recently smoothly transitioned from being armchair virologists/microbiologists/epidemiologists to armchair generals and marshals.  These folks have an opinion on everything, and having that opinion on everything give them this warm feeling of being the real experts.  So let's call them that, the experts.
Last, but not least, we have to also mention people with no applicable education/training and who are too stupid to realize that they are stupid.  We can call them the imbeciles.
Of course, as soon as Surovikin announced that Russia will move her defenses in Kherson to the right bank and withdraw from the city all these folks instantly joined forces into one vociferous  "PYSOP choir" and flooded the Internet with their inanities (including our comments section, but most got intercepted).
Frankly, I have no desire or energy to debunk the idiocies this "PSYOPS choir" solemnly proclaims, but I do want to mention two things which might have been missed.
First, had the Russians NOT moved out of Kherson and had NATO blow up the Kahovka dam and flooded the city, the result would look something like this (I got that image from Andrei Martyanov's blog):
The Russians have not announced how many soldiers they had in Kherson, but the Ukronazis said 20'000.  Okay, let's run with that and assume that 20'000 soldiers would cut off from the rest of the Russian forces and only resupplied with great difficulty.  Next, let's assume that the (much larger) NATO force would have moved into the city.  Can you imagine the optics?  Hundreds of Russian POW, many more dead, KIA, MIA and, finally, the "proof" that Russia is (and always was!) losing.
I can absolutely guarantee you that pros, haters, clickbaiters, geniuses, racists, experts and imbeciles would all join forces in a loud "musical forte" and scream from the top of their lungs that "aha! see! we were right all along!!!".
The second thing I need to address is what I believe is an analytical mistake by Bernhard on Moon of Alabama.  He wrote that "This move is operationally sound" and yet he added "Strategically the move is bad".  We could wonder how a move could be operationally sound but strategically bad, but let's not even go there.  Bernhard's argument is that "It closes for now the possibility of moving into Nikolaev (Mykolaiv) and further towards Odessa".  The problem here is that when we look at a map of the region we realize something very important: there are plenty of streams and rivers which flow north to south and which flow into the Black Sea.  See here:
So any move along the coastline would imply having to get across quite a few river.  Is this possible?  Yes, absolutely.  But is that the best option?  I am not so sure at all.  I will simply say that this is the option the Ukronazis and NATO have been preparing for.
Another option might be to move not West but North and then turn West to basically take all the NATO defenses around the Black Sea coastline from behind.  Did I mention that there is now a joint Russian-Belarussian force deployed in Belarus which seems to worry NATO a lot and which could be used to pin down NATO forces near and north of Kiev.
Is that what the Russians are planning?  I don't know.  All I know is that it is wrong to assume that the only way to get to Odessa is by fighting along the coastline.
Last, but not least, there is the (inevitable) rumor of a deal having been made between Putin and… …  huh… well… somebody in the West (who?  Brandon? Sunak?  Macron?).  Now that is pure, unadulterated bullshit which only true doubleplusgoodshiteaters could swallow (though clickbaiters will use it to get their clicks and visibility!).  Russia and the West have been locked into an existential war for survival since AT LEAST 2013 and we are very close to a possible nuclear war, but some folks still think that Putin works for the US, the WEF, Klaus Schwab, Bibi Netanuyahu. etc. etc. etc.  My position on that is simple: anybody seriously believing this crap is not worth talking to, you would have better success arguing with a door nob.  I sure won't bother with them.
I would also note that IF a real behind-the-scenes deal was made, the chances of Putin finalizing that deal with Western leaders at the G20 would be a perfect opportunity to finalize a deal.  Yet, in reality, Putin is not even going to attend.  Reach your own conclusions.
It is particularly comical, in a sad way, to hear US "experts" offering their precious insights and advice as to what the Russians should do next.   Considering that the US never war a real war since WWII while the Russian General Staff is older than the USA as a nation only a crass ignorance of history could embolden these hyper-losers to give advice to the Russian hyper-winners, if you wish 🙂
And while Russia did lose quite a few battles and even campaigns in her history, at the end she always defeated all her enemies.  Yet the Anglos are still out there preaching to Russia.
Speaking of Anglos, I heard a funny factoid the other day: the entire British military could fit inside the Luzhniki stadium in Moscow.  Puny Britain indeed…
Anyways, these are the folks who have lost control of their empire and who are now losing control of their own country but, rather than try to fix their own ugly mess, they are still out there preaching to the Kremlin how to fight a war.
Truly, sic transit gloria mundi…
Conclusion: is the Kherson withdrawal some kind of disaster?
Not in the least.  It was a planned moved and it was well executed.  Please keep in mind that the issue of Kherson was always known to the Kremlin, yet they did allow the referendums to go ahead and now Kherson is legally part of Russia.  So while the Russian did withdraw (most) of their forces from the right bank of the river, that in no way changes the legal status of the city or its people.  There is a French saying which goes "you have to give time to time" and this is what I suggest.  Let's see what happens to Kherson and the rest of the theater of operation in the next 2-3 months.  And, maybe, in hindsight it will all become clear.
Still, it is undeniable that the Russian social media literally exploded with fear, uncertainty and doubts (FUD) and there is now a growing segment of the population which a) does not understand what is going on b) is listening to all the FUD on the Russian Internet and c) which still has not understood the simple fact that Russia is at war.  A war every bit as real, and crucial, as WWI or WWII were.  However, the longer this war lasts, the more polarized the Russian society becomes and, as I have mentioned it in the past, I welcome this polarization because it show the real "who's with whom" here.  And there will be hell to pay down the road for folks like, say, Dugin, who are now committing actions which would have them shot for treason during WWII.  Well, at least now I hope that the "Dugin is Putin's advisor" canard has been finally buried.  And NOW you know why I never posted a single article by Dugin or even mentioned him.  I saw him for the fake he is a long long time ago.
So for the time being, let's just ignore the usual choir of pros, haters, clickbaiters, geniuses, racists, experts and imbeciles and let them enjoy their 5 mins of fame before their entire mental edifice comes tumbling down, destroyed by reality and facts on the ground.
Andrei