Zero Hedge: Prospect For Regional Conflagration Growing
Zero Hedge: Prospect For Regional Conflagration Growing
Update(1735ET): Israeli media is reporting that the United States is currently in talks to establish 'safe zones' in Gaza after it was widely reported that the IDF has been given the green light by the Netanyahu government to go into the Gaza Strip. There are also emerging reports that an Orthodox Church in Gaza has suffered attack by an Israeli strike, via Times of Israel: 
The Hamas-controlled interior ministry says several displaced people who had taken shelter at a church compound in the Gaza Strip have been killed and injured in an Israeli strike.

There was no immediate comment from the IDF, which tells AFP it is looking into the potential strike.

The strike left a "large number of martyrs and injured" at the compound of a Greek Orthodox church, the ministry says.

Witnesses tell AFP the strike appears to have been aimed at a target close to the place of worship where many Gaza residents have taken refuge.
Additionally, Russia has said it is moving more military assets to its bases in Syria:
Moody's has meanwhile said Israel is under review and could soon be downgraded:
The Moody's international credit rating agency announces that it is reviewing Israel for a possible downgrade of its A1 credit rating.

Moody's says the review has been "triggered by the unexpected and violent conflict between Israel and Hamas."

It notes that while Israel has "proven resilient" in past conflicts, the current level of violence "raises the possibility of longer lasting and material credit impact."
The Pentagon has confirmed that American troops suffered injuries during the last 24 hours of drone and rocket attacks against bases in Iraq and Syria:
Two drones targeted a base in western Iraq used by U.S. forces, and one drone targeted a base in northern Iraq. U.S. forces intercepted all three, destroying two but only damaging the third, which led to minor injuries among coalition forces at the western base, according to a statement Wednesday by U.S. Central Command.

"In this moment of heightened alert, we are vigilantly monitoring the situation in Iraq and the region. U.S. forces will defend U.S. and coalition forces against any threat," Central Command said in the release.
On Thursday, several drones and rockets also targeted US troops locations in Deir Ezzor Syria and Al-Tanf.
* * *
Update(1458ET): A huge escalation from Iran-linked militants, just after international headlines reported Israel's military has been given the "green light" to enter Gaza:
According to CNN, a U.S. Navy vessel operating in the Middle East region intercepted multiple missiles launched from Yemen. A U.S. official says the missiles were launched from the Iran-backed Houthi militant group.
According to more from ABC's senior Pentagon correspondent, US officials confirm to ABC "the destroyer USS Carney shot down multiple Houthi missiles last night. They were NOT aimed at the ship, but headed in a northerly direction." There's speculation that they may have been fired toward Israel in solidarity with Gaza. Israel media is reporting:
Israel believes that the missiles launched from Yemen and intercepted by a US warship today were aimed at Israel – Channel 13
The USS Carney (DDG-64) a Arleigh Burke-Class Destroyer with the U.S. Navy had 3 Missiles launched at it earlier today while in the Red Sea off the Coast of Yemen with all Missiles being Intercepted; the Missiles are believed to have been launched by the "Houthi" Terrorist Group… pic.twitter.com/5pJ5KPXTrF

— OSINTdefender (@sentdefender) October 19, 2023
Oil surged as the report hit headlines…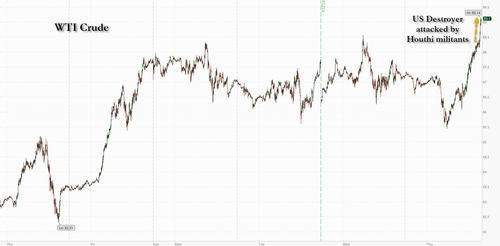 According to geopolitical analyst Jason Brodsky, this means Iranian-backed 'resistance' movements are achieving "unification of the fronts: first Gaza, then skirmishes from Hezbollah, Iraq, Syria, now Yemen."
* * *
With the whole region still on edge due to fast moving events in Gaza and on the Lebanese border, US troops in Syria have again come under attack, this time by drones which may have caused injuries.
Drones were sent, allegedly by "Iran-linked" paramilitary groups, against an oil facility in eastern Syria housing American troops, as well as against a US military outpost in the southern desert near Iraq.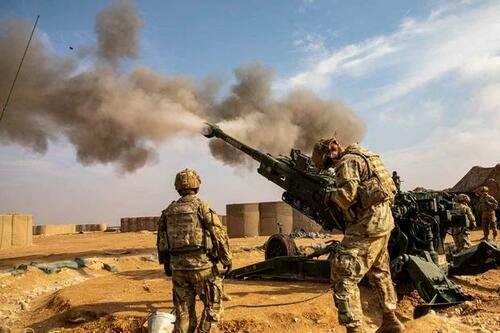 Al-Tanf base, which is the Pentagon's lone outpost in the south along the Iraq border, was the separate base that came under attack, per a Beirut-based news source:
According to informed sources who spoke with Al-Mayadeen, three drones were able to fly above the Al-Tanf base at the Syrian-Iraqi-Jordanian border and launch several successful airstrikes.

"The attack led to a major alert within [Al-Tanf], with continuous flights of military aircraft and helicopters in the area," Al-Mayadeen reported.

Sources within the US-led coalition that spoke with Iraq's Shafaq News on Wednesday claimed that the occupation forces "successfully intercepted and downed two of the drones, but the third managed to target the base."

The US occupation base at Conoco oil field in Deir Ezzor governorate was also hit by multiple rockets.
As of Thursday Israel's military has reportedly been given the "green light" to enter Gaza…
The Israeli military has a "green light" to move into Gaza whenever it's ready, a member of the country's security cabinet told ABC News.

Hostages and civilian casualties will be secondary to destroying Hamas, Economy Minister Nir Barakat told ABC News, "even if it takes a year."
And more dire threats from Israeli officials:
Asked about the miles of tunnels Hamas has built under Gaza, he said they'd become the "world's biggest cemetery." Hamas has claimed to be holding some or all of the 203 Israeli hostages it's taken within that vast network.

"We shall do all efforts to bring our hostages, to bring our hostages [back] alive…" he said, but the "first and last priority" is destroying Hamas.
In the overnight hours, exchanges of fire between the Syrian Army or paramilitaries and Israel were observed in the south. "Sounds of explosions rang out in the province of Quneitra after an Israeli strike against a Syrian army position," said a regional monitor.
The IDF has also in the last several hours affirmed it is striking against "terrorist positions" of Hezbollah in the region.
Some regional correspondents have said missiles were launched against US bases in Syria as well…
The US military has confirmed its bases in Syria have come under attack, after the day prior US positions in Iraq were attacked as well. Casualties or officials details have remained unclear.
Targeting American troops in Syria and Iraq shows just how dangerous things could rapidly get for Pentagon forces in the region. If Hezbollah and Israel enter full war along the border, these American bases would likely suffer much bigger attacks.